 Headlining the Oakland Raiders' historic 2014 draft, defensive end Khalil Mack is not expected to report to Raiders mandatory minicamp starting June 12th, according to NFL Network's Ian Rapoport.
Mack's holdout continues on into minicamp
This is not unexpected considering Mack was nowhere to be seen in late May and early June for voluntary OTA's. Mack, who is scheduled to make over $13 million this year after the Raiders picked up his 5th year option, has been in contract extension limbo since the end of the 2017 season.
Mack will join fellow 2014 first round pick and Defensive Player of the Year award winner Aaron Donald in skipping the first mandatory practices of the league year. Both will by vying for near quarterback level contracts once ink inevitably hits paper. For reference, the NFL's current richest defensive contract belongs to Von Miller, whose 6-year, $114.100 million contract includes $70 million guaranteed.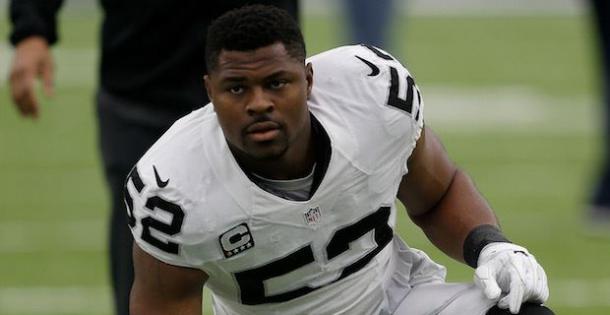 Although holdouts are naturally unsettling for fans, the inevitability of Mack playing this year is all but assured. In the mean time, Mack will be fined $84,435 if he misses all three days of minicamp from June 12-14.
Independent contractor
Despite being one of the league's premier defensive players, Mack's talent hasn't rubbed off on what has been a mediocre unit throughout his career in the silver and black. Over the past two seasons, the Raiders finished 24th, and dead last in sacks. Much of the team's defensive deficiencies had been shipped off with former Raiders defensive coordinator Ken Norton, who was let go before the end of the 2017 season -- a move Mack protested.
There might be some trepidation in Mack's delayed start considering he'll be playing in a new defensive scheme under coordinator Paul Guenther. Guenther has attempted to put some pressure on Mack to join the team this summer, and the team has signed former Arizona Cardinals defensive lineman Frostee Rucker for furthered depth on the line, but a talent like Mack should be able to pick up the subtleties of any scheme with relative ease.