 After pleading guilty to his DUI, Arizona Cardinals general manager Steve Keim has been suspended for five weeks and has been fined $200,000 on Tuesday.
The team's website announced that as part of Keim's suspension he will be "barred" from the team's facilities and "prohibited" from having contact with the team. The Cardinals also announced Keim will be allowed to rejoin the team only after he completes counseling, an evaluation and a DUI education course.
The Cardinals will donate Keim's fine to the Arizona chapter of Mothers Against Drunk Driving.
"Once again, I apologize to everyone who has been negatively impacted by my actions and incredibly poor judgment, in particular the Cardinals, our fans and my family," Keim said in the statement. "I fully deserve and accept the punishment that has been issued. My goal is to do everything I can to grow from this personally and help others learn from my inexcusable behavior."
Events leading up to the suspension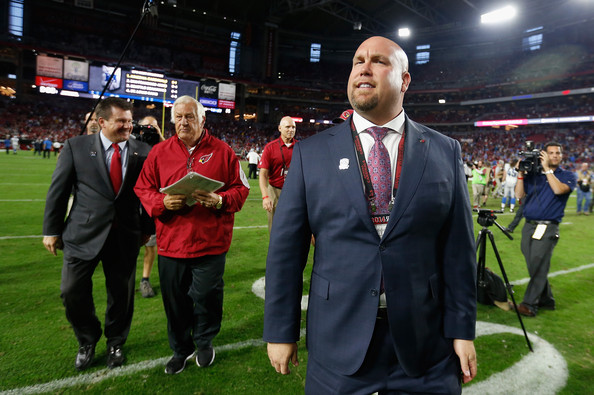 It has been a wild 10 days for one Steve Keim.
On July 7, it was reported that the Arizona Cardinals general manager had been cited for for driving under the influence on July 4 in Chandler, Arizona.
"I truly regret my incredibly poor judgment and inexcusable actions," Keim said in his statement, which was released by the team. "Everyone associated with the NFL and its teams is held to a high standard of behavior and I obviously failed to meet that. I sincerely apologize to our organization and its fans as well as to my family. I accept full responsibility for my actions and hold myself completely accountable. Moving forward, I will take the steps to ensure that I never put myself or the Cardinals in this type of situation again."
On July 11, the video emerged of Keim being pulled over and talking with an officer:
It all coincided on Tuesday, July 17 with his suspension from the franchise. The NFL will not impose additional punishment, a source told ESPN's Adam Schefter.
Test results showed Keim's blood alcohol content was more than twice the legal limit, according to court and police documents.
The blood test taken revealed his BAC was .193, just short of a super extreme DUI. An extreme DUI in Arizona is a BAC of .15 to .19. The legal limit is .08.
Keim was previously convicted of DUI in 1996.