It appears that Malcolm Mitchell's time in New England is now over.
Per Jason La Canfora, the New England Patriots have release the former Georgia product after two seasons:

Coming into the offseason, the Patriots seemed to be set at the wide receiver position. Jordan Matthews and Cordarrelle Patterson were brought in during free agency with Julian Edelman, Chris Hogan, Kenny Britt and Mitchell already in place.
Since then, Edelman has been suspended the first four games of the season due to a violation of the policy against using performance-enhancing drugs, Eric Decker has been brought in as a replacement and both Matthews and Mitchell have both been released.
In 2016, Mitchell caught 32 passes for 401 yards with four touchdowns. He also caught six passes for 70 yards in Super Bowl LI. Mitchell missed the entire 2017 season with a knee injury, and was attempting to work his way back onto the field in 2018 training camp.
Per Ian Rapoport, New England tried to trade the former fourth round pick before his release: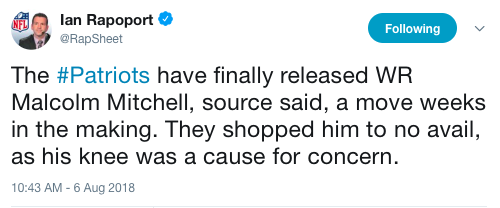 Could he still play this season?
Wide receiver needy teams such as the Cincinnati Bengals, Dallas Cowboys, New York Giants, Arizona Cardinals and Chicago Bears could kick the tires on a Malcolm Mitchell.
Wherever he goes he will have to prove that he is healthy and that he could play in the NFL. At just 26-years-old, he still has a lot to offer to teams in the NFL.