Week 1 of the National Football League preseason is often about players at the back of the roster proving they have what it takes to make an NFL team. For the Oakland Raiders, though, it is their $100-million dollar man trying to prove the game hasn't passed him by.
Seeing Raiders head coach Jon Gruden on the Oakland-Alameda County Coliseum is both a surreal and familiar sight. It wasn't long before Gruden's on-field persona began to manifest through expressive scowls and easily lip-read profanities. Although the result of Friday night's game against the Detroit Lions -- a 16-10 win for the Raiders -- will likely be lost in the re-telling of the 2018 season, Gruden made a strong case for why Raiders faithful should be excited for things to come.
Submerged under the box-office power of Jon Gruden's coaching encore, the Lions are also seeing a new man on their sidelines this season in Matt Patricia. The changes for the Lions are expected to be more subtle as much of the essential offensive staff, including offensive coordinator Jim Bob Cooter, were retained this offseason.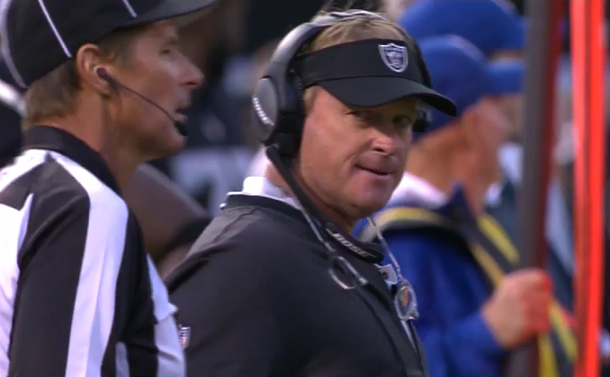 Nuts and bolts
It's important to note the Lions and Raiders have been exposed to each other's roster over the past week in joint practices before Friday night's game. Still, a proper scrimmage under prime time lights gives the coaching staffs highly tangible examples of how each team fares in game-like situations.
Both the Lions and Raiders played it conservatively with their starting quarterbacks. Carr plaed one series while Stafford was held out entirely. The majority of both starting offenses still played about two full series before mixing units with 2nd and 3rd stringers. Perhaps most telling in this limited time of good vs. good was a 60-yard left side run by Marshawn Lynch. The play was eventually called back by a non-egregious holding penalty, but it did give Raiders fan a glimpse of Gruden's penchant for cultivating an effective and dynamic running game.
For the remainder of the game, both teams were focused on getting exposure to their rookies and younger veterans under the lights. The Raiders tested the merit of backup Connor Cook, whom the Raiders traded up for in the draft in 2016. For the most part, Cook played up to the challenge, throwing for 141 yards and a touchdown. For their part, the Lions gave nearly equal time to backups Matt Cassel and Jake Rudock. Neither did much to ignite their offense, but the Lions did get a good look at their rookie running back from Auburn, Kerryon Johnson. Johnson led the Lions in attempts (7) and yards (34) and showed himself to be a competent receiver against the Raiders' backups with 4 catches for 33 yards.
Other standouts from Friday nights bout were from some of the bigger investments each team made in the draft. Raiders 2nd round defensive tackle P.J. Hall displayed his power punching through veteran right guard Joe Dahl for a sack and later showed his awareness in batting down a pass from Matt Cassel. Similarly, Lions first round pick Frank Ragnow showed the transition from center, his college position, to left guard hasn't stunted his effectiveness. Ragnow impressed on a goal line run in the first half clearing a path for Ameer Abdullah for a touchdown.
Late game stars included a pair of former power 5 conference undrafted rookies in Raiders runningback Chris Warren from Texas and Lions receiver Brandon Powell from Florida. Brandon Powell helped sparked an anemic Lions third team offense, and made what may have been the catch of the game by impressively pinning the ball on his hamstring to secure a 12-yard pass in the Lions' last drive of the game. Chris Warren did his part to lead all rushers with 86 yards on 13 carries, but perhaps his most impressive feat against the Lions came days earlier in joint practices when he lowered his shoulder into Lions linebacker Jarrad Davis, sending the defender flying in the opposite direction.
The Lions did try a come back in the late game with two minutes left be re-inserting presumptive backup Matt Cassel, but the Raiders were able to clamp down with a potent pass rush. Second year player James Cowser stunted inside on a 3rd and long with 32 seconds remaining to seal the victory for the Raiders.