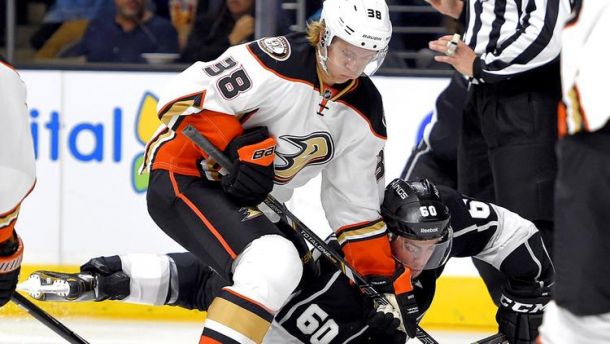 Anaheim Ducks general manager Bob Murray was a busy man this past summer. He made a big trade to acquire Ryan Kesler to compete with big centers in the West. He signed Clayton Stoner to beef up the blueline and Dany Heatley to give Getzlaf and Perry an extra weapon. Lastly he let Jonas Hiller walk in order to allow star rookie John Gibson the chance to shine. Murray was able to plug the holes he felt his team had save for one: Saku Koivu's vacant third-line center spot. For that he decided to allow two Swedish rookies, Rickard Rakell and William Karlsson, to battle it out.
Going into camp Rakell had the clear edge. The 2011 first-rounder had logged 18 games with the big club last season (0 goals, 4 assists, -3) as well as another 4 in the playoffs where he recorded his first NHL goal. Experience was in his favor though Karlsson had been impressing at every stop since being drafted in the second round in the same 2011 draft as Rakell. He led his Swedish club HV71 in scoring (37 points in 55 games) before making his North American debut with the Norfolk Admirals last season. He didn't skip a beat scoring 9 points in 9 games for the Ads.
All eyes were on these two to see who was going to win that spot. Rakell appeared to have had the stronger camp though Karlsson did manage to show flashes of his talent. Due to injuries to Dany Heatley and Kyle Palmieri, Boudreau had the luxury to keep both young Swedes on the roster to start the regular season. Rakell suited up for the season opener in Pittsburgh probably due to his slight senior status with the team. But the first game of the new season wasn't one Rakell would like to remember. The young line of Rakell, Emerson Etem and Devante Smith-Pelly was victimized all night against Sidney Crosby and the high-powered Penguins. This allowed Karlsson the chance to suit up for his first NHL game and he didn't disappoint.
Playing against the Detroit Red Wings at Joe Louis Arena, Karlsson was lined up with Andrew Cogliano and Jakob SIlfverberg for his first bit of NHL action. He made his presence felt in the second period ringing a blistering wrist shot off the post, nearly breaking the 1-1 tie. His performance earned him another game a few nights later against Buffalo which ended up being his coming-out party. "Wild Bill" (as people around the Ducks have started to refer to him) recorded his first two NHL goals, which included the game-winner. He showed amazing skill and concentration first taking a pass in his feet before roofing it from the high slot and later crashing the net then batting the rebound out of mid-air. He would be named first star of the game, an achievement he would duplicate the very next night in Philadelphia after he scored the winning goal in the shootout.
As the Ducks gear up for their home opener this Friday against Minnesota there's a lot of buzz surrounding this young man. Developing NHL-caliber centers is a challenge for teams and the Ducks are no different. Only Ryan Getzlaf and recently departed Nick Bonino can lay claim to being successfully developed by the Ducks at the center ice position. It was only last season that the Peter Holland experiment came to an end, a player highly touted after being selected in the first round in the 2009 draft. So Karlsson has a real opportunity to take this spot and run with it. He could potentially provide Bruce Boudreau with a talented scoring option in his bottom-six, something he had in abundance last season with Bonino and Mathieu Perreault putting up career years. Boudreau has even made the comparison between Karlsson's game and that of his fellow countryman Nicklas Backstrom (Boudreau should know, he coached the high-scoring Swede in Washington for almost five seasons).
What does that mean for Rakell? Fortunately for him the Ducks are currently plagued with injuries and there's room for both of these players for the foreseeable future. He may have to prove his worth as a winger in the interim. Not short on talent himself Rakell has the physical tools to be an everyday NHL player. He'll have to start showing it on the scoresheet however if he wants to avoid a plane ticket back to Norfolk once the troops are healthy.
There may only be room for one of these kids when all is said and done. Healthy competition is very good for a hockey team trying to take their game to the next level. So may the best Swede win.