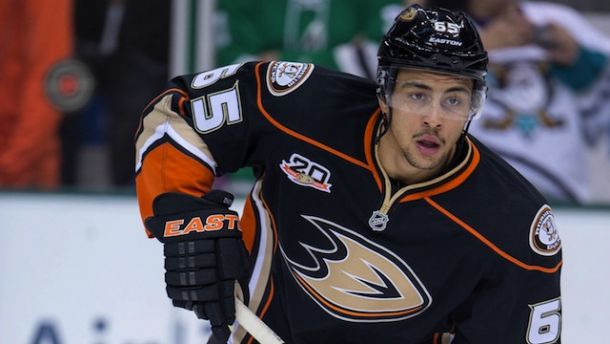 Ever since Bob Murray nearly blew the roof of Staples Center by selecting Long Beach native Emerson Etem at the 2010 entry draft, Ducks fans have been looking forward to this SoCal kid making good. They have been teased by a couple of stellar seasons in the Western Hockey League where Etem was a goal-scoring machine. In the 2011-2012 season he was almost on a goal-per-game pace leading the entire league with 61. He put up modest numbers as an AHL rookie with Norfolk but his play was strong enough to allow him to play with Anaheim for the majority of the lockout-shortened 2012-2013 season where he didn't look out of place. His (seemingly at the time) coming-out party was Anaheim first-round tilt with their familiar playoff foe Detroit. His speed and aggressive forechecking gave Detroit's defense fits and he was rewarded with three goals and five points in the seven game series.
All signs pointed to Etem continuing his progression and solidifying his spot as a full-time player for the club the following season. A total gym rat, Etem came into the 2013 training camp poised to win a job and he did just that, albeit aided by a couple of injuries. Things started well for the young winger as he was a regular in the lineup and started to chip in more offensively than he had the previous season (six goals and ten points in 24 games). But a couple of inconsistent games in November got him a ticket to Norfolk. His time in the NHL seemed to have done him good as he lit up the American Hockey League displaying the scoring touch he showed in juniors (24 goals, 54 points in 50 games). But with the Ducks sporting a mostly healthy roster down the stretch he only saw another five games notching one goal. He managed a further four games in the playoffs coming up scoreless.
Coming into this campaign Etem was presented with an excellent opportunity and with it mounting pressure. He had proved himself at all lower levels, now it was time to cement his spot in the NHL. Bob Murray believes his team can contend for the Cup and he made a point to strengthen his roster in order to do that. There wasn't to be a spot handed to Etem and with roster constraints he became the one winger who could be sent to the minors without needing to be exposed to waivers. As luck with have it the Ducks ran into injury troubles again with Dany Heatley and Kyle Palmieri going down in camp. Pat Maroon would be lost for a month due to a knee injury in the third game of the season.
So the door was wide open for Etem to skate through. Here was his opportunity to show the coaching staff that his days as a developing prospect were over and those of being an NHL regular were set to begin. But nine games in all Etem has done is show he's a decent placeholder on the fourth line. Barely playing nine minutes a game Etem hasn't been trusted with much power play or penalty kill time (the latter having been a strength of his in the past). Though playing mostly against the opponent's fourth line he hasn't scored so much as an assist as he finds himself the regular left wing for Nate Thompson. Youngsters like Devante Smith-Pelly and rookie William Karlsson have impressed the coaching staff and worked their way into higher roles whereas Etem continues to experience most of the game from the bench. Dany Heatley is nearing his return and Pat Maroon should only be a week or two away from rejoining the team.
So what's going to happen with Etem? All signs point to him heading back to Norfolk which should be seen as a major personal setback. As Bob Murray is in the market for a legitimate top-four defenseman Etem's name has been cropping up in trade chatter. Is that what he is now, trade bait? The pride of Long Beach and SoCal hockey, the first born-and-raised local kid drafted by the Ducks may be playing his last games as a Duck. That may seem like a rash conclusion for a player that is still only 22 years old. But one need only look through past drafts to notice the gestation pattern of forwards taken in the first round. If a player of his ilk hasn't established himself as an NHL regular by this point changes usually are made. Look no further than last year's trade of Peter Holland to the Toronto Maple Leafs.
Bob Murray may not be so eager to write off Etem just yet and he could very well need him if more injuries occur. But at the same time he sees the like of Maroon, Smith-Pelly, and Karlsson playing well and knows he could have a very attractive tradable asset in Etem. If the goal is to win the Stanley Cup, Murray may need to ignore the marketability of having a local kid and pull the trigger on bringing a player in that could actually make that dream a reality.