Just like every year in the NHL, there have been big surprises and big headlines. It's part of what makes this league one of the most exciting sports leagues in the world. With over two months concluded in the NHL season, there are plenty of things to talk about by now. So here are some of the biggest storylines in the NHL to date:
Calder Race not as clear cut as was expected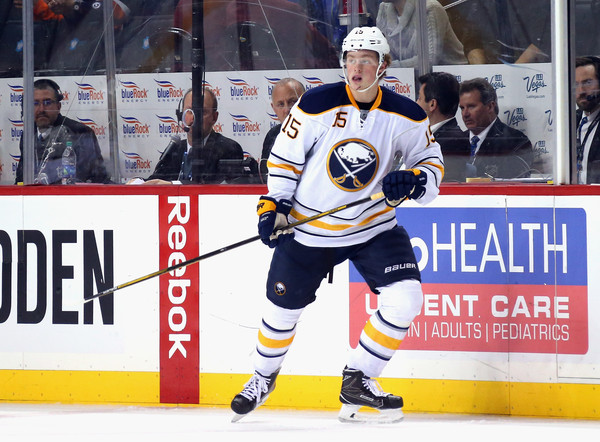 Bruce Bennett/Getty Images
When Connor McDavid and Jack Eichel were drafted this past summer, it was expected that one or the other would win the Calder Trophy this season. McDavid had a slow start, but then went soaring. He had 12 points in 13 games and then he got hurt. As the Philadelphia Flyers visited the Edmonton Oilers, McDavid was being defended and went awkwardly into the boards. He skated off and later left the game. He suffered a broken clavicle and has been out since early November. As for Eichel, well he's had just 14 points in almost 30 games.
So without these two in the clear to win it, who gets the Calder this year? There is a very impressive rookie class this year but the three biggest names thus far are Artemi Panarin of the Chicago Blackhawks, Dylan Larkin of the Detroit Red Wings and Max Domi of the Arizona Coyotes.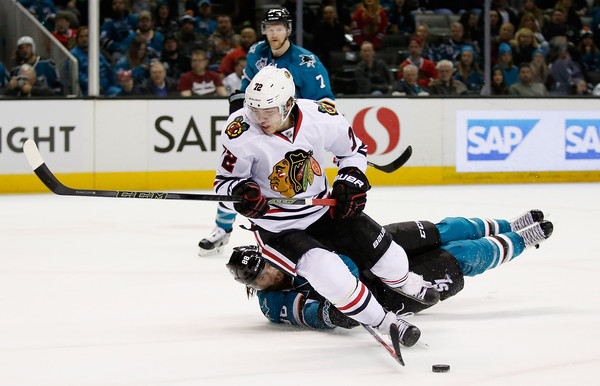 Ezra Shaw/Getty Images
Panarin leads all rookies with 28 points, the perks of playing on the same line as NHL scoring leader Patrick Kane. Behind Panarin is Domi, the product of the London Knights and Canada's most recent gold-medal World Junior squad. Unlike his father Tie, who is third all time in penalty minutes, Max Domi has a unique scoring touch and he, along with fellow rookie Anthony Duclair, have breathed new life into the Coyotes. Finally, is a rookie who is leaving the dream: Dylan Larkin. Larkin grew up in Michigan and now gets to play for the Red Wings, the team that he got to watch win Stanley Cups as he grew up. Larkin is just a point behind Domi for second place in rookie scoring and leads the NHL in plus/minus at plus-20.
Streaking Stars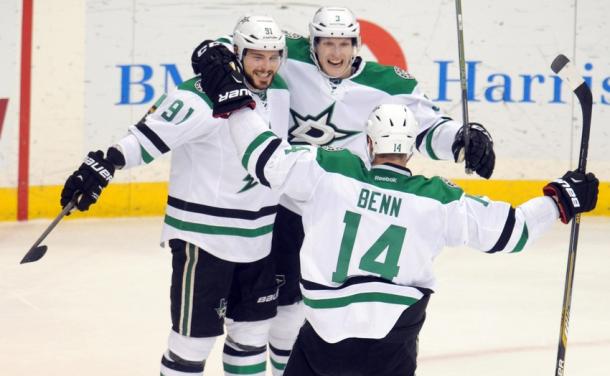 Marilyn Indahl/USA TODAY Sports
The Dallas Stars added some much needed depth in the offseason by acquiring Patrick Sharp and Johnny Oduya from the Chicago Blackhawks, as well as Antti Niemi from the San Jose Sharks. Combined, that's six Stanley Cup rings between those three. Now, Dallas leads the NHL in points and is looking like a serious Stanley Cup contender. Jamie Benn and Tyler Seguin have been unstoppable; the two now have 40 points each and are being helped out by a potential defenseman of the year candidate behind them in John Klingberg. After having a great rookie year, Klingberg is having a break out year with five goals and 30 points. The team is the only one in the league with more than 20 wins and they're sound in every department. The biggest improvement from last year may be in net, as Kari Lehtonen and Antti Niemi have ten or more wins each.
The rebuild is a rebuild
Not since the 2006 Stanley Cup Finals have Edmonton Oilers fans been able to watch their team in the postseason. But now, Edmonton sits just two points out of a playoff position. Thanks to new management under Peter Chiarelli and head coach Todd McLellan, the team has set core values that they are living up to. They have a game plan and continue to stick to it. They're no longer backing down. Just look at their recent game against the New York Rangers.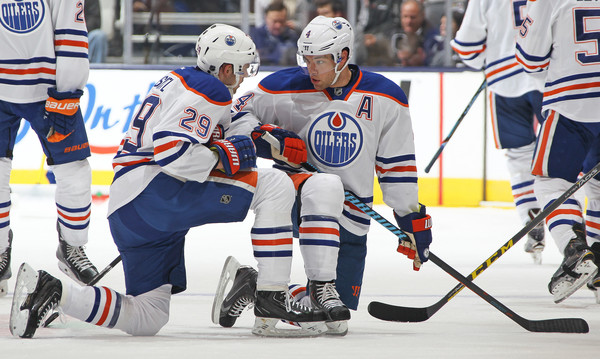 Claus Anderson/Getty Images
The Oilers had a 3-1 lead and when the Rangers tied it, Edmonton scored two more. When the Rangers tied it 5-5, Taylor Hall led the way by getting a late goal which was later helped by an empty netter by Lauri Korpikoski, which completed his hat trick. Hall had four points in that game, including his fifth game winner of the season (which ties him with Pittsburgh's Evgeni Malkin for the league lead in that category). His linemate Leon Draisaitl also had four points and the two have been on fire.
Even if Edmonton doesn't make the playoffs, they really are turning things around. Leadership is there too. For example, when McDavid was hurt in that game back in November, the leadership core stepped up. Ryan Nugent-Hopkins, Taylor Hall and Matt Hendricks all netted one. All three have an "A" on their sweater. That speaks to their character.
Kane, Kane, Kane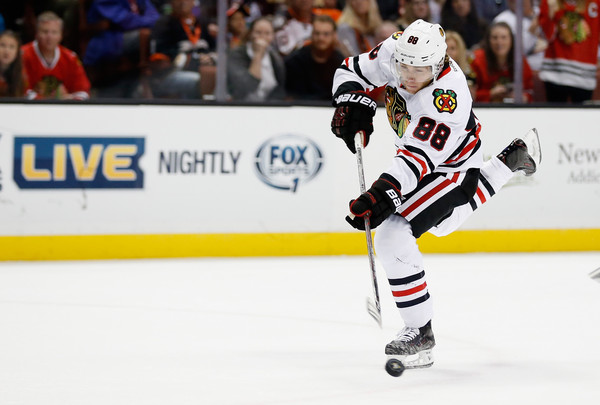 Sean M. Haffey/Getty Images
It now stands at 26. For 26 straight games, Patrick Kane has scored at least one point. It's the longest streak by any player since the 1992-93 season when Mats Sundin had a 30 game points streak for the Quebec Nordiques. He's had 16 goals and 24 assists on a run that started on October 17th. Kane is playing with new linemates Panarin and Artem Anisimov. If he keeps his current pace up, he will produce more than 120 points this season, a new career-high. Kane has had rapid point production before during the first part of prior seasons and has then dropped off. So whether he can carry this over to the second half remains to be seen. But for now, Kane appears to be on track to be the first American born player to win the Art Ross Trophy for the most points and be the first player to reach the 120 point mark since Sidney Crosby did it in the 2006-07 season.
Karlsson - Klingberg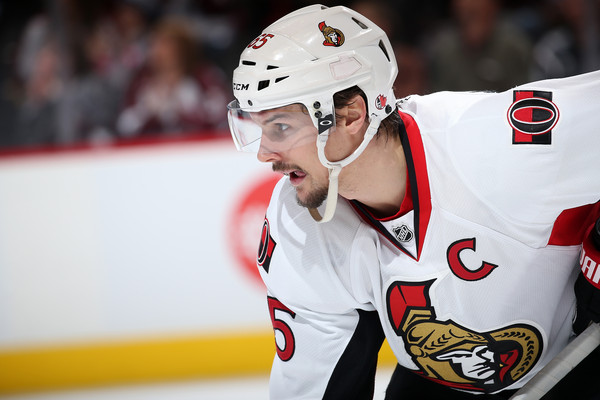 Doug Pensinger/Getty Images
Erik Karlsson may be on his way to a second straight Norris Trophy this year if he keeps up what he's doing. He's got six goals and 32 points in 30 games so far this season. He sits sixth in the league in points, and has helped his Ottawa Senators maintain a playoff spot in a year when it was thought the Sens would regress from where they were last season. But he has a challenger in fellow countryman and previously mentioned Stars defenseman John Klingberg. He's just two points back of Karlsson and the two are sure to have a tight race for the Norris Trophy. The Stars believe that Klingberg is the next Karlsson, which would be great for them seeing as how he is both signed long term and Karlsson has been a game changer for the Senators.
Open Race for the Rocket Richard
Think of the best goal scorers in the league. The players that may cross your mind are big name scorers like Alex Ovechkin, Steven Stamkos, or Corey Perry. But here are the leading goal scorers right now in the NHL:
1. Jamie Benn - 20
2. Patrick Kane - 19
3. Vladimir Tarasenko - 17
4. Mike Hoffman - 17
5. Tyler Seguin - 15
None of these players have won the Rocket Richard Trophy for the most goals in the league. True, it is still early in the season and enough time remains for other players close behind like Matt Duchene or Max Paciorettty to close the gap, but even that would be something remarkable. The fact remains that only one of the players in the top ten in goal scoring has won the trophy before and that is Ovechkin.
No thunderous storms in Tampa Bay
The Tampa Bay Lightning had a record setting season last year, reaching the Stanley Cup Finals and scoring more than any other team in the league thanks largely to the Tampa Triplets. The line of Ondrej Palat, Tyler Johnson and Nikita Kucherov were on fire for almost the whole year. Now they, along with several other members of the team, can't stay healthy nor find the back of the net.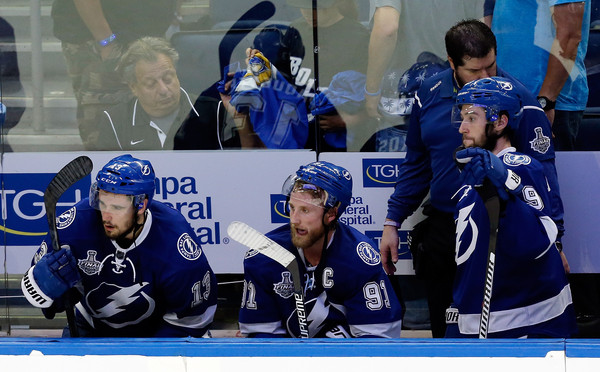 Mike Carlson/Getty Images
Johnson has been battling a nagging injury for several weeks and Palat has been in and out of the lineup. Kucherov has been playing well of late with five goals in his last four games, but not much else has been going good for Tampa Bay who sit sixth in their division and three points out of the second wild card spot.
With a measly 15-13-3 record, the Bolts are in serious trouble of not making the playoffs. Captain Steven Stamkos is also a question mark for Tampa Bay. He will be an unrestricted free agent after this season unless the Lightning sign him long term. He's expected to want a $10 million per yer deal, similar to the deal of Chicago Blackhawks forwards Jonathan Toews and Patrick Kane. If they sign him, they will no doubt have trouble re-signing other players who will need new contracts in the next few years, such as Alex Killorn, Victor Hedman and Ben Bishop.
Things are looking up for the city of angels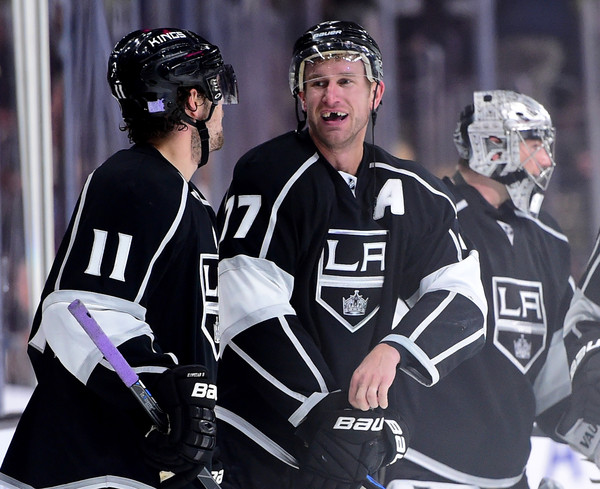 Harry How/Getty Images
After getting off to an 0-3-0 start this season, many thought it would be another difficult stretch for the Los Angeles Kings for the third consecutive year. But that wasn't the case. LA rattled off eight straight wins and now they sit six points back of Dallas for the top spot in the NHL, while maintaining a comfortable ten point lead in the Pacific Division over the second place Arizona Coyotes. The Kings may credit their great season to a summer off last year. They missed the playoffs after winning the Stanley Cup in 2014. LA had three long summers leading up to last year which may have cost them a playoff spot last year. But that's in the past now and the Kings are looking for a chance to win their third Stanley Cup in five years should they win one this coming spring.
New look playoff race
With former teams floundering and new teams rising, the current playoff picture is an interesting one. In the East, the Boston Bruins, Detroit Red Wings (who have collected points in every game they played since November 14th until tonight) and the Montreal Canadiens represent the Atlantic Division. The Washington Capitals and both New York teams are in it from the Metropolitan Division. The Wild Card teams are Ottawa and the New Jersey Devils. Boston and New Jersey didn't make it last year.
In the West, Dallas, the St. Louis Blues and Minnesota Wild would be the representatives from the Central Division, while LA, Arizona and the Vancouver Canucks would make the Pacific Division cut. The two wild card spots would go to Chicago and the Nashville Predators. Three of those teams did not make the cut last season.
It's an intriguing race and it's tighter than it may seem. There are four teams in the East within a four-point striking distance of a playoff spot. The West is a bit more complicated. It's very likely that five teams from the Central Division will make it into the postseason. The Central is widely considered to be the hardest division in hockey. The Pacific Division may be the weakest in the NHL, making it easy for teams to get into the playoff picture. Just take a look at the Pacific Division's standings. Arizona and Edmonton are in playoff spots with 30 points each. Vancouver also has 30 points but sits on the outside. San Jose is right behind them with 29, then Calgary with 28 and Anaheim with 27.
It's tight in the far West, and thanks to winning streaks by the Calgary Flames and Edmonton Oilers (both are undefeated in December and Calgary is riding a nine-game winning streak at home) there could be an interesting new group of playoff teams. Maybe even a battle of Alberta in the playoffs? It would be something following a Vancouver-Calgary matchup this past spring.
3v3 a raging success
Since the first three-on-three overtime between the Philadelphia Flyers and Tampa Bay Lightning on the second day of the NHL regular season, there have been countless exciting and amazing games that have ended with a goal in 3v3 overtime. Dynamic trios have been enjoying their chances such as the Stars' group of Benn, Seguin and Klingberg, or the Blackhawks who have had a few groups but maybe the most popular being Kane, Panarin and Duncan Keith. It's garnered support from former players like Wayne Gretzky and hockey commentators like Don Cherry, who thinks that you can't be a true hockey fan if you don't enjoy this new system. The NHL has recognized its excitement as well, since they changed the format for the 2016 All-Star game so that it is a division versus division game where each team will have three members on the ice at a time.
These new headlines have certainly brought great excitement to the world's top hockey league and the best art is that there is still more than half a season to be played. A season that will have a new format for the All-Star game, three outdoor games that have yet to be played, and a trade deadline that will no doubt shake things up in the league as it always does. And after that, the playoffs. Rest assured NHL fans, there is plenty more excitement coming your way.