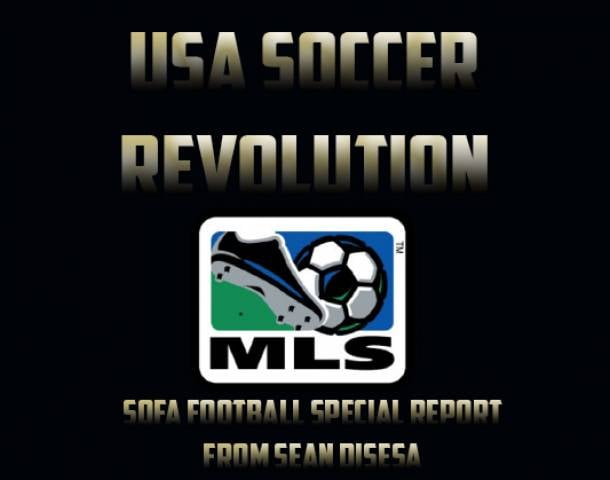 The past month has been very exciting for US Soccer. It's been quite a successful month for MLS, with announcements of future expansion and the acquisition of USMNT standout Clint Dempsey by the Seattle Sounders, one of the league's most successful franchises. The American game has also seen the return of an historic team, as the New York Cosmos of the NASL took the field for the first time in almost 30 years. The sport has taken big steps forward, but there has also been a backlash against the structure and rules of MLS and calls for an overhaul of the US Soccer pyramid from fans, journalists, activists, and the NASL commissioner alike. Soccer fans in this country are energized by the progress the game has made but divided over how it should move forward.
Let's start on July 23rd, when I came across a post by Chris Jones of Has Been Sports. Jones listed all the teams in the top three divisions of the US Soccer pyramid as if there were promotion and relegation between each division (MLS, NASL, USL Pro). His post inspired me to take a closer look at how pro/rel could work in this country. But as I started to lay out how I thought it could be implemented, the story kept changing.
On the night of the MLS All-Star Game, a week after Jones took a hypothetical look at pro/rel in the US, MLS commissioner Don Garber announced that the league will expand to 24 teams by 2020. The announcement sparked an unprecedented call for promotion and relegation from soccer fans in America, many of whom have been calling for pro/rel for some time, especially with the resurgence of the NASL as a potentially viable second division.
Other reasons for fan backlash include FIFA guidelines, stating that a first division should not exceed 20 teams to protect players from playing too many games. Even assuming that somehow does not apply to MLS, further expansion beyond 24 teams does run the risk of diluting the product. This happened in the United States with the NBA and NHL, leagues which were and are the pinnacle of their respective sports, which MLS is not, and sports that draw from a global talent pool as soccer does.
So far MLS has not responded to the calls for pro/rel, instead touting the incredible growth that both the league and the sport of soccer have seen in the US in the past decade. We've already known for a few months about NYCFC, the joint partnership between Manchester City and the New York Yankees which in 2015 will become the 20th MLS team. Now MLS wants 4 more by 2020. These new MLS franchises could be existing clubs that currently reside in the lower tiers, but that is by no means a guarantee. There is a lot of buzz in Miami surrounding a potential expansion franchise part-owned by David Beckham, which would be a completely new team. If Miami is one of the four as many suspect, it would make sense to bring in Orlando as well, creating a Florida rivalry. For the final two teams, MLS could look to other cities like Atlanta, St. Louis, San Antonio, Phoenix, and Detroit, markets which are already home to lower division clubs. But will MLS bring those existing clubs up to the top flight or create completely new ones?
Meanwhile, the NASL reached a major milestone with the New York Cosmos returning to the field on August 3rd. But another huge move by MLS overshadowed the return of the Cosmos. Clint Dempsey signed with the Seattle Sounders, returning to MLS after seven seasons in the English Premier League. The details surrounding his move, such as his large contract compared to the league average, and the fact that MLS paid his transfer fee rather than the Sounders, caused fans to voice more concerns about the MLS single entity structure and the lack of clarity over the rules.
Throughout all this, the NASL has done its best to make news. As noted, the Cosmos have started playing at Hofstra University, but the current second tier also moved forward with expansion plans of its own, recently announcing the addition of franchises in Oklahoma City and Jacksonville for the 2015 season. By then, there will already be a USL Pro club in Oklahoma City, as a yet-to-be-named team will begin play in 2014. Sacramento Republic FC will join the USL Pro division for the upcoming season as well.
NASL commissioner Bill Peterson has also lent his voice to the growing discussion. Last Tuesday, he revealed his vision for US Soccer in an interview with Empire of Soccer's Dave Martinez. That vision includes promotion and relegation as a byproduct of a successful MLS. Peterson believes that the fans want something different than what MLS has given them, which echoes the sentiments voiced by those in favor of pro/rel or unhappy with the lack of transparency within MLS.
Now, it's certainly no surprise that the commissioner of the current second division would want pro/rel. But let's go back to Chris Jones for a second. According to his Twitter profile (@CJonesHBS), Jones is one of the founding members of Nashville FC, a club which is "100% supporter owned and non-profit." Nashville FC's stated goal is "to compete in the National Premier Soccer League (NPSL) within the first three years of [their] existence." The NPSL it is currently the fourth tier of the pyramid, roughly equal to the USL Premier Development League (PDL) in the eyes of US Soccer and a long way from MLS at the moment.
Implementing pro/rel in some form in the United States would give clubs like Nashville FC – clubs that are created organically from the bottom up instead of being awarded by MLS – the ability to advance through the soccer pyramid with the goal of one day making it to the first division. It would allow the current NASL clubs to have that same chance, the chance to compete against the best. It would give every fan in America the opportunity to one day see their local team play against the top teams in the country. This is about more than just an ambitious commissioner of an new pro league, or the idealistic vision of a founding member of a club with no players. It's about an opportunity that association football clubs and their fans have everywhere in the world – everywhere, that is, except the United States.
It is evident that US Soccer will soon reach a tipping point. MLS wants 24 teams by 2020. NASL is more hesitant to make declarations but could be targeting 18 by 2018. USL Pro is on 13 and counting. There will likely be 60 different teams in the top 3 tiers of the pyramid within the next 6 years. The US national team draws from the deepest talent pool in its history. Interest in soccer is greater than it's ever been, as new TV deals give Americans unprecedented access to games from leagues all over the world. The popularity of the sport is exploding.
As all three of these separate leagues continue expanding, some sort of merger including promotion and relegation must at least be on the table for serious discussion. But many fans are not convinced, and arguments against pro/rel abound. Teams couldn't survive the loss of fans or money if they were relegated from the first division. Travel costs are prohibitive for teams in the lower tiers. Americans don't understand and/or won't accept promotion and relegation in this country. These are all reasons given as to why the system wouldn't work. But probably the biggest hurdling block to adopting pro/rel in this country is this: MLS owners would never agree to it due to the financial risk associated with possible relegation. This is a legitimate concern as these owners hold a lot of the decision making power.
One way this could be solved is by offering a buyout to every owner as the league switches from a single entity to individual organizations that own the rights to their players. If MLS owners truly fear losing value on their investment by being relegated, they can be bought out at the market price for their franchise, which will almost definitely be higher than their initial outlay. If the sport continues to become more popular and successful in America, other owners will be lining up to purchase teams that are already in the top flight. After all, a number of Americans have purchased teams in the English Premier League, where there is always the possibility of relegation. That hasn't deterred them from making what is generally acknowledged as a savvy investment. MLS owners have invested a lot of money in their teams, but any owner wanting to start in the lower levels will have to invest a lot to make their team good enough to earn promotion to the top flight. Furthermore, even with pro/rel, the powers that be could still set standards for promotion, which would include financial backing, strategic vision, fan support, and stadium situation.
But the opposition goes beyond the owners who may not be 100% committed to the sport and the fans, or are worried about being overtaken after they were the first to invest. Many argue that pro/rel is suicide for the business model of MLS altogether. This is true in the sense that MLS as a single entity closed system is fundamentally incompatible with pro/rel. But as long as the second division is stable and successful, relegation would not be the death of any MLS franchise. This is where the growth of the NASL comes in. Implementing pro/rel before US Soccer is ready for it would be far more disastrous than not implementing it at all. But the NASL is on the right path, and more competition can only be a good thing. If the NASL can prove that a second tier league is sustainable, then relegation will not be the end of MLS teams, nor the end of the professional soccer business in America.
High costs for cross country travel can be subsidized with a portion of the league's shared revenues. With an improved product on the field, the lower divisions could command decent television money that would help support the cost of traveling long distances for games. This might seem like a long shot at the moment, but remember that we are not talking about pro/rel just now, but closer to 2020. Sports television rights continue to increase in value, and 5 to 10 years from now, there could be legitimate interest in the second division in many large US markets.
So if those are the business oppositions to pro/rel, then what about fan concerns? We've heard that MLS teams will lose fan support if they go down. But far fewer point out that MLS teams should be well placed to go right back up, so true fans should be able to stick with their team even if it drops to the lower level for a year or two. Clubs in MLS have the advantage of being established at the top flight for some time and should have greater financial capability to attract quality players and market their product effectively to the local fanbase. On the flip side, many soccer fans who are not MLS fans complain that there is no team in a reasonable vicinity for them to support. With pro/rel these fans become MLS fans even if they don't have a current top flight team in their area, just because their team has the chance to reach the top. This unifies US Soccer fans, as they'll all be cheering for teams with the same chances in the pyramid. For every group of casual fans that a relegated team loses, many more passionate fans will be added when their local team is promoted, and MLS as a whole will gain fans.
Finally, there are those whole feel pro/rel is an alien concept that is incompatible with sports culture in the United States. Some can be heard saying things like this: "This isn't Europe, so why should we adopt European rules? The Eurosnobs can go look La Liga for all we care." Besides being close-minded, this is based on a fundamentally incorrect premise. Promotion and relegation isn't just some European rule that a small minority of "Eurosnobs" want to impose on America. This is the way it's done in nearly every other professional league in the world. It's what the large immigrant population in this country, which has yet to fully embrace MLS, views as the norm. It also raises the stakes higher, punishing teams who aren't good enough to compete at the top level. There is no tanking for top draft picks when the worst teams get relegated. Promotion and relegation is based on values that Americans prize highly: survival on merit and equal opportunity for all. Far from being a European rule, the concept of pro/rel is as American as it gets.
So if those are the arguments against promotion and relegation, what about those in favor of it? Well for one, it would create a more authentic soccer culture in the country. Clubs can be built from the ground up, like Nashville FC is attempting to do. Academies will be important to the development of the club in many ways. With no draft, teams will have to develop homegrown players to succeed. They could also sign costless agents or purchase players' rights from another club, but the academy is the best way to produce cheaper players who have a strong association with the club. Local communities will have a stake in the academies and thus be more likely to support the club as it progresses up the pyramid.
These changes would greatly benefit US Soccer as a whole. Integrating all the leagues with a functioning ladder up and down the pyramid unifies everyone under the same goal. It means stronger lower leagues with a better system to loan out players. Without the single entity structure, independent clubs can invest more money in their squads, making them better able to compete in CONCACAF Champions League and hopefully soon the Copa Libertadores as well.
US Soccer will also gain more respect from the rest of the world by implementing the system that is the norm everywhere else. More top players will be willing to come to MLS if they have the costlessdom to choose their team, and their movement is not restricted by the league owning their contract. If a team gets big enough, the American league could eventually become an attractive destination for world class players in their prime. An owner could decide to pay a large transfer fee and high wages that would otherwise burden MLS if the league as a whole had to pay it.
Most leagues around the world have a cup competition which gives clubs in the lower divisions the chance to win a trophy competing against the best. It is the same in the United States, where the US Open Cup has 100 years of tradition. Fans of clubs in the second or third tier will still have a chance to see their team play the best every year in the US Open Cup. But with the change in system, lower division clubs could aspire to another thing, much more beneficial in the long term: promotion to the top flight.
This is part of the most basic and maybe most significant argument, which has been stated a few times already: with pro/rel all teams would have equal opportunities. This is important because there are enough markets in this country to support many more first division teams than any league could handle. Chris Jones listed 44 teams in his hypothetical three divisions, not accounting for any of the new expansion teams. At least 10 clubs will join the various levels of the pyramid in the next few years, bringing the total count of teams in the top three tiers above 50. Mike Firpo of Soccer Newsday recently wrote a very interesting article about MLS expansion and how the league should focus on what he calls "rivalry bubbles" by expanding to different cities close to current franchises. Of course his ideas are purely hypothetical, but his complete map of rivalry bubbles includes a total of 60 teams. It's not unreasonable to assume that most, if not all, of these teams would ideally like to compete in the top division if possible.
I think even the most ardent MLS expansionists would agree that 50-60 teams is far too many for the top division, so what happens to all the teams on the outside looking in? Is it fair for them to be permanently stuck in the lower divisions with no possibility of promotion? Should we as US Soccer fans accept only the teams MLS gives us as the top flight teams, and write off other clubs and cities as ones that simply didn't make the cut?
I personally don't think that's fair, and I think there are many that would agree. The only way to give equal opportunities to all clubs in this country is to adopt pro/rel in some form. The question then becomes how, and when?
The plan
With MLS announcing 4 more teams by 2020, we now have a time frame we can work with for the implementation of pro/rel. When MLS reaches 24 teams it will be the largest first division in the world. It does not make sense to go beyond that number for many reasons. After 2020 or 24 teams, whichever comes first, if the league wants to expand further it should do so by implementing promotion and relegation. Three nationwide divisions are already established, and they all continue to look towards expansion. There is no reason why, after a bit more development at the lower levels, these divisions cannot be unified with promotion and relegation between the three of them. NASL commissioner Peterson has indicated that his league will look to expand to 16 teams over the next few years and then reevaluate. With MLS now working towards 24 teams, it could soon be the perfect time for a merger.
Depending on the state of the NASL and USL Pro by 2020, MLS should look to have between 18-24 teams in each division, with 2-3 teams going up and down from each division every season. The NASL could keep its name and remain the second tier with pro/rel, but for the purposes of this article we will call it MLS-2. Assuming pro/rel does not cause the financial implosion of franchises as some claim it might, the new MLS could wait a few years and then integrate USL Pro as MLS-3. These divisions could even go up to 20-24 teams with future expansion when clubs are ready for it.
Ideally, MLS-1 would be organized as a 20 team single table, with all teams playing each other twice. Due to the size of this country, it may make sense to have a top division that's a bit larger, but 24 should definitely be the limit. One divisive issue with MLS at the moment is the playoffs. Currently, 10 of 19 teams make the playoffs, which is definitely too many, and seriously devalues the regular season. With a 20-24 team top flight, no more than 8 teams should make the playoffs. I would prefer to see the top 6 teams qualifying for the playoffs, with the top 2 seeds receive a first round bye. This makes the regular season much more important than it is under the current format. Many American fans want to keep playoffs as they find it a more exciting way to determine the champion. I'm fine with keeping playoffs, but wouldn't mind if a single table round robin determined the champion. MLS needs to find a balance between a meaningful regular season and exciting playoffs.
Playoffs should be 2 legged for the quarterfinals and semifinals, with one final game held at a neutral site. At first, the bottom two teams would be relegated from MLS-1 every year. The winner of the second division automatically earns promotion, while the teams finishing 2-5 have a playoff with two legs each round for the second spot. These playoffs could be some of the most exciting games of the year at any level. The league could eventually decide to promote and relegate three at a time, if everything progresses as planned. There would be also be no relegation from the second division at first, to ensure stability while undergoing a drastic change.
Eventually, USL Pro would be integrated as MLS-3 and all the teams contained within this division would be given the opportunity for promotion. Each year they would replace teams being relegated from MLS-2. This would complete the professional setup at the national level. Below MLS-3, we have the regional leagues, where new clubs begin play and less ambitious clubs remain. It would be prudent to delay relegation from MLS-3 for a time period, again to maintain stability. Since relegation from tier 3 really could be disastrous for teams that started at the top, there may need to be some kind of safeguard established. A system like the one in place in Argentina, where teams with the worst three year averages are relegated, could work for MLS-3. One terrible season in the third division wouldn't guarantee relegation, but if a club is that bad for long enough, it deserves to drop.
Below the third division we currently have the NPSL and USL PDL, which are already regional leagues. There must be some sort of agreement on how to combine and organize the regions amongst the levels below D3. These lower tiers will be where new clubs join the pyramid and begin play. Leagues below regional could be organized by states, with teams first registering in the state leagues and then winning promotion up to regional. The system should allow for the possibility of any club being formed and eventually working its way up the pyramid to the top flight on its own merit.
All clubs must reach certain benchmarks relating to finances, strategic vision, fan support, and stadium situation in order to progress from the regional leagues to the national divisions and on to the first division. This allows MLS owners to retain some control over the future of the league, while at the same time giving access to any club that earns it, not just the ones willing to pay the expansion fee. It's a necessary measure to ensure that teams do not get promoted if they cannot handle what promotion brings. It means that any club that does reach Major League Soccer will have a solid ownership group, an executable business plan, an established market of fans, and an appropriate stadium in which to play. Clubs can also decline promotion if they do not feel they have the ambition or resources to one day become a top flight club.
There is also the question of salary cap. MLS currently is pretty restrictive in this area, with the designated player feature the only real way for teams to work around the cap and sign top talent. A solution that could give teams more costlessdom but also maintain parity is a soft cap with a luxury tax, like the NBA utilizes. This would hopefully guard against having the same teams dominating every year like in Europe, while still allowing teams in bigger markets or with the financial capability to attract the best players in the world.
This is a basic outline for how promotion and relegation could be implemented in the United States. Obviously there are still many more issues to be addressed on the path to making pro/rel a reality, but that is why it is important to start a serious discussion now. A system like the one outlined above may hurt a few current MLS teams in the long run, but it would be greatly beneficial to US Soccer as a whole. Eventually, the league must align with the long-term goals of the sport in this country in order for America to become a true power in the world of soccer.
---
Notes:
1. I use the terms club, team, and franchise interchangeably to refer to professional soccer organizations in this country.
2. Although I use just pro/rel far more often, the changes I'm proposing include both promotion and relegation and an elimination of the single entity structure. I believe these two things go hand in hand.
3. Although I only mention the United States, everything stated here can be applied to Canada as well, as Canadian teams currently compete in the same pyramid as American teams.
Websites Linked:
1. http://www.hasbeensports.com/9/post/2013/07/relegationpromotion-in-the-us.html
2. http://www.nasl.com/index.php?id=3&newsid=5055
3. http://www.empireofsoccer.com/give-them-what-they-want-bill-petersons-vision-for-nasl-us-soccer-centers-on-promotion-relegation/
4. http://www.nashvillefc.net/
5. http://www.soccernewsday.com/usa/a/968/expanding-mls-with-rivalry-bubbles