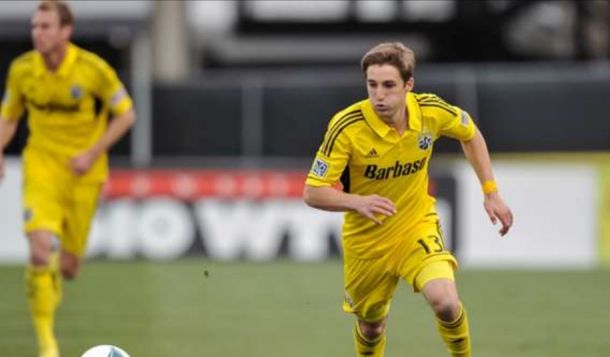 The Colorado Rapids hosted the Columbus Crew in their annual 4th Fest game! For the 19th year in a row the Colorado Rapids hosted an MLS team and looked to provide some on field fireworks as well! Overall on the 4th the Rapids are 12-3-3, but have had a pretty lackluster showing since moving to Dicks Sporting Goods Park (2-2-3). The sold out crowd would not be disappointed.
Colorado came flying out of the gate putting lots of pressure on Columbus right out of the gate. In the first couple minutes of the game, the man Rapids fans have come to call "The Wizard", Vicente Sanchez put up a beautiful cross that Deshorn Brown was almost able to put in.
The play would settle down somewhat after that. Both teams had their chances, but with Clint Irwin and the Rapids stifiling defense Columbus could not get anything in. Similarly the Crew's defense was intent on shutting down Deshorn Brown. Anytime the ball would come near him two or three Crew players would surround him.
The first half ended up being a very exciting defensive struggle! Both sides had their chances but neither defense would break. The Crew had more opportunities, but the Rapids were pushing forward and controlled possesion all half. Marvell Wynne was one of the best parts of the first half. the Rapids right back did a good job of driving up the right side, but the Rapids were not able to connect on any chances. They would need to find some way to get past the Crew's defense in the second half.
In the 59th minute the Rapids would take the lead on a fantastic header from their leading scorer (6) Vicente Sanchez (the goal would later be changed to an own goal on the Crew). Marvell Wynne had been putting great crosses in all game, and Sanchez was finally able to capitalize. Sanchez came streaking across the box and redirected the ball, freezing the Crew's keeper Steve Clark, and ending in the back of the net.
A bad touch by Rapids rookie Jared Watts lead to a tying goal for the Crew in the 76th minute. Columbus was pressuring the Rapids and the back four could not clear the ball out of their box.
The Rapids were not able to pull one back and get the win on this night, but there were plenty of fireworks on the field. Clint Irwin had perhaps his best game of the year, Vicente Sanchez proved once again why Rapids fans call him the wizard, and the team as a whole continued to show that they will be a team that cannot be taken lightly!