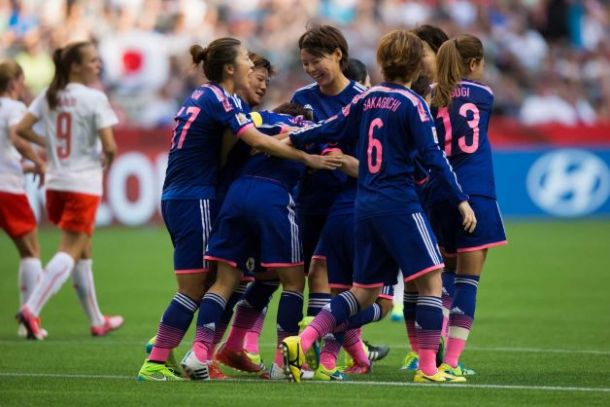 Group C of the 2015 FIFA Women's World Cup had itself a fun start on Monday. After Cameroon dismantled Ecuador by a score of 6-0, Japan took on Switzerland in the second match of the day in BC Place in Vancouver.
The Japanese shocked the United States to win the 2011 World Cup in Germany, and four years later, they begin the defense of their title atop a group with three World Cup debutants: Switzerland, Ecuador, and Cameroon.
In their opening Group C match, Japan played a tough Switzerland team, but they were able to leave BC Place with a 1-0 victory. The Japanese scored their goal in the 25th minute. After Swiss goalkeeper Gaëlle Thalmann was called for a penalty after recklessly running into a Japan forward, Aya Miyama stepped up to slot home a penalty kick to give her team the lead.
After their goal, Japan tried to take control of the game with possession, with which they did a pretty nice job of. However, the Swiss continued to fight. The Japanese are very small in size, and even though they have a lot of heart, Switzerland attempted to use their physicality to tie the game.
In the second half, Switzerland's Ramona Bachmann took charge. Time after time, Bachmann managed to weave her way through traffic, dodging defenders and staying up to create plenty of chances for her team. The last 15 minutes of the match were particularly intense, as Bachmann helped create opportunities galore for the Swiss.
In the second half, Japan tried to grind down Switzerland and close the game out by keeping possession, but they only wound up with 55% possession in the game. In the last 15 minutes, Japan had trouble closing the game out, so the Swiss had plenty of chances to tie the game, specifically four big ones from Ramona Bachmann.
In the 78th minute, Bachmann received the ball on the right side of the box with a decent shot on goal, but she whiffed in her first attempt to kick it, and then missed the net completely on her second attempt. Four minutes later, Bachmann trickled her way near the box and fired a cross from the right side, but it sailed into the side of the net.
In stoppage time, Bachmann hit a 1-2 pass to a teammate, and ended up with a chance for a successful cross, but it was headed away by the stingy Japan defense, which somehow held their own in the closing moments. In the 92nd minute, a Switzerland cross was deflected right to the feet of Bachmann, who somehow missed an open goal from 12 yards out. That was Switzerland's last chance, and the final whistle would sound soon afterwards.
Japan came away with a grinding victory, but Switzerland's performance can't be ignored. It will be uphill battle for the Swiss to reach the Knockout Stage, but they certainly proved that they, as World Cup debutants, might just have what it takes to be a surprise team in this tournament. Though she missed some chances, Bachmann was phenomenal, and she could definitely lead the Swiss to the Knockout Stage and possibly beyond.
Meanwhile, the Japanese showed that they are still a force to be reckoned with. Though their only goal came on a penalty kick, the defending World Cup champs showed that they know how to finish games, and they did just that in Vancouver.
In ther next matches, both of which fall on June 12th in Vancouver, Japan will play Cameroon and Switzerland will face off against Ecuador. It will be very interesting to see how Group C plays out over the next week.
Group B Standings
1.) Cameroon 3 Points, 6 Goals For, 0 Goals Against, +6 Goal Differential
2.) Japan 3 Points, 1 Goal For, 0 Goals Against, +1 Goal Differential
3.) Switzerland 0 Points, 0 Goals For, 1 Goal Against, -1 Goal Differential
4.) Ecuador 0 Points, 0 Goals For, 6 Goals Against, -6 Goal Differential