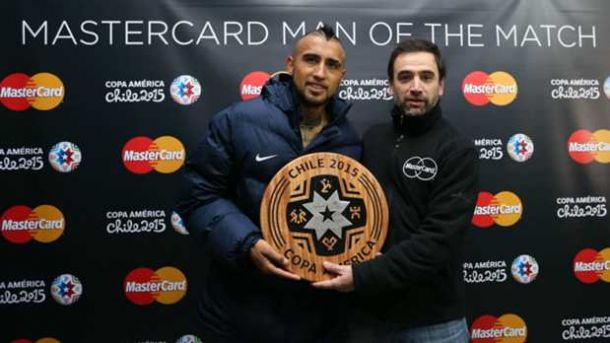 Chile have just defeated Ecuador in the first match of many in the 2015 Copa America in Chile. La Roja scored a duo of second-half goals, starting with a penalty kick strike that came after Arturo Vidal drew a foul inside the box. King Arturo also put away the PK to put Chile up 1-0 and set up the Chilenos for victory.
Vidal has now been named MasterCard Man of the Match for his efforts in Thursday night's contest against La Tri. In addition to his spectacular job in drawing and converting the 67th minute penalty, the King also made numerous great through balls and little quick feeds to set up multiple of Chile's numerous chances.
Arturo finished with two shots, that one goal and shot on goal from the penalty, and also drew a total of four fouls over the course of the 90 minutes. His constant strong presence in the midfield, whether attacking or getting back to mark the speedy forwards of Ecuador, helped Chile contain the production of their opponent and led his attack to finally emerge with a successful chances and score at the goal.
Alexis Sanchez made a brilliant assist to an Eduardo Vargas goal to seal the win in the 84th minute. Matias Fernandez did pick up a second yellow in stoppage time, and therefore was sent off and banned one game.
Chile now are atop Group A with 3 points, as they and Ecuador are the only countries to have participated in a match yet. Next, La Roja will face Mexico on June 15, and then Bolivia on June 19th in their final match of the group stages. After this big win, it should be a breeze to place first in the group to avoid tough competition in the first round of the knockout stages.