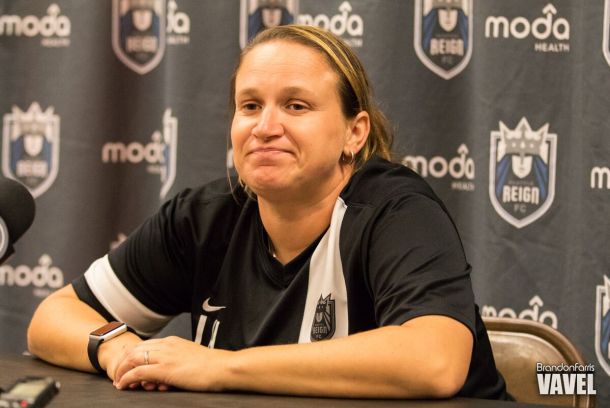 Seattle Reign FC Head Coach Laura Harvey has been named the NWSL Coach of the Year for the second straight season. Harvey becomes the first coach to win the award multiple times.
Harvey, 35, has been Seattle's only coach in their three year history. Her first year, 2013, was an absolute nightmare for her and the team. They missed a majority of their "star players" and stumbled out the gates. In their first 11 games that season, they went 0-9-2 (win-loss-tie) and finished the season 5-3-14. In 2014, the Reign was clearly a different team. They began the season winning their first seven matches and were unbeaten in their first 16 matches. They would finish the season 16-2-6, win the NWSL Shield, but lose the NWSL Final to FC Kansas City 2-1.
The 2015 NWSL season ended up being just as good as 2014, but they began the season 1-2-0 with consecutive losses to the Chicago Red Stars and Kansas City after they dismantled Western New York Flash in the season opener. They would only lose once more in the final 17 matches and finished the season at the top of the standings for the second straight season and won the NWSL Shield in back-to-back seasons.
She was able to guide her team without two of their biggest "star players" being on the team. Megan Rapinoe and Hope Solo missed a good portion of the season due to the 2015 FIFA Women's World Cup. During that time, the team went 8-1-3 during that stretch to vault to the top of the standings.
The team has also been unbeatable at home. The Reign went 8-0-2 during the regular season at Moda Pitch at Memorial Stadium after posting an 8-0-4 mark last year. Reign finished 2015 with the number one ranked offense in the league. They scored 41 goals in 20 games. They finished the season as the number two defense, conceding just 21 goals.
It is truly incredible what Harvey has been able to do in her three years in Seattle. She has made several key trades in her time in Seattle. Probably the biggest trade she made was trading away a Christine Nairn to the Washington Spirit for the rights to midfielder Kim Little. Little went on to win the 2014 NWSL MVP and she is in consideration again this year.
Harvey is never scared to make a trade that will make the team better. Now she must focus on Kansas City as the club looks to win their first NWSL Championship.
The NWSL awards are voted on by a selection of journalists that cover the league on a consistent basis, club officials, players and fans.