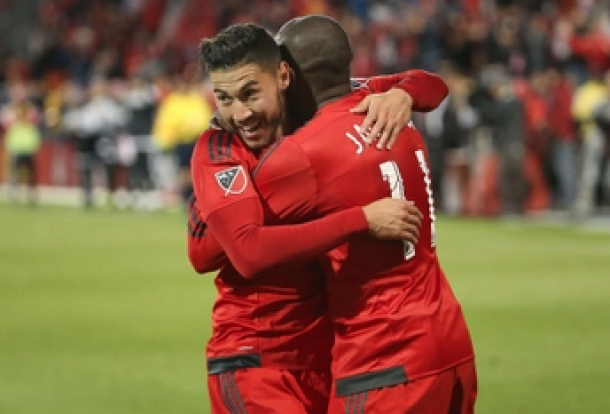 The Philadelphia Union traveled to Toronto on Saturday afternoon and lost 3-1 to Toronto FC. With this loss, Philadelphia has been officially eliminated from MLS Eastern Conference Playoff contention. On the other side, Toronto could clinch its first playoff berth in franchise history on Saturday night with an Orlando City loss or draw against the Montreal Impact.
Coming off a devastating loss in the U.S. Open Cup, Philadelphia manager Jim Curtin opted to rest some of his usual starters in order to rotate his starting eleven. Andrew Wenger made his second start of the season at fullback and CJ Sapong started out on the wing to allow Fernando Aristeguieta to start at forward.
In the first half, Toronto controlled the pace of the game but were unable to take advantage of their serious advantage. Toronto forward Sebastian Giovinco was given a few free kicks from right outside the box, but, until the 28th minute, hit the Philadelphia wall on his multiple shots.
In the 28th minute, Giovinco was given another opportunity to take a free kick on net from the top of the right side of the box and made the Union pay. The Italian International's free kick hit Union fullback Ray Gaddis in the back, which deflected the ball to the back post and into the Philadelphia net to give Toronto a 1-0 lead. On the free kick, Gaddis appeared to break off the wall and turn his back, which caused the goal-scoring deflection.
At halftime, Toronto was surely disappointed by their inability to take advantage of opportunities. After the first 45, Toronto created 11 shots (two shots on goal) to Philadelphia's zero shots. In addition to shots, Toronto had a massive possession advantage with over 61% of the ball in the first half.
In the second half, Toronto would double their lead within 20 minutes of the restart. In the 63rd minute, Toronto midfielder Marco Delgado sent in a cross which Gaddis tried to jump in front of but missed. With Gaddis missing, the ball fell to the feet of Toronto forward Jozy Altidore, who easily slotted it home from 10 yards out for the 2-0 Toronto lead.
The Union did answer back, not even five minutes later, when a Cristian Maidana free kick found the head of Union centerback Steven Vitoria. Vitoria calmly headed it to the opposite side of the net past Toronto goalkeeper Chris Konopka.
With only a one goal lead, Toronto would add another goal for good measure in stoppage time when Union centerback Richie Marquez mishit the ball into his own net off a low Toronto cross into the box.
With a two-week break, Philadelphia will play their penultimate game on October 18th against rival New York Red Bulls at Red Bull Arena. Toronto will return to action on October 14th against the New York Red Bulls as well at BMO Field.