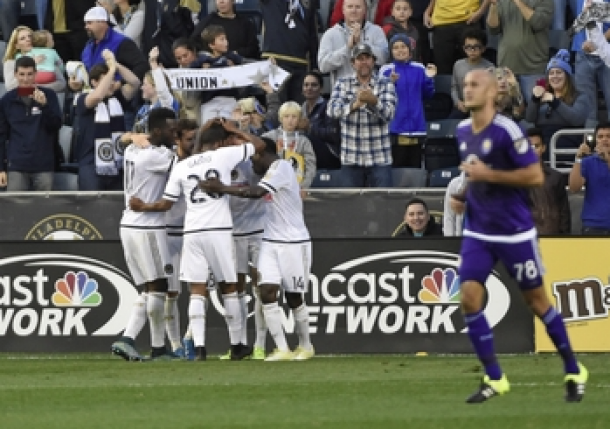 The Philadelphia Union ended their season on a high-note with a 1-0 win against Orlando City SC on Sunday as part of Major League Soccer's Decision Day.
"We put a lot into the game, we were able to kind of maintain the pressure up until the 90th minute," Philadelphia Union head coach Jim Curtin said in his postgame press conference. "It's a good Orlando team, that was in a really good run of form, five wins in a row. We knew they would come at us, a unique situation where they needed a lot of goals. I thought we were pretty organized, a good shut out."
Coming into Decision Day, Orlando was technically not eliminated from playoff contention. If Orlando won and New England Revolution lost in addition to Orlando making up an eight-goal gap in goal differential, then Orlando would be in the playoffs as the sixth seed in the MLS Eastern Conference.
However, Orlando did not come out with any sort of urgency like a team who needed a large result to make the playoffs. From the start, Philadelphia controlled the tempo and had the better of the opportunities on the night.
Philadelphia nearly opened the scoring just under 20 minutes in off a Fabinho throw-in. In the 19th minute, Fabinho threw the ball in towards CJ Sapong. Sapong chased down the long throw over his head and went in nearly unimpeded towards left side of the Orlando box. He launched a hard volley from 10 yards out, which Orlando goalkeeper Josh Ford made a great save to tip off the bar.
Orlando would almost get one themselves in the 36th minute when Orlando winger Adrian Winter found himself clear on net and was stoned by Andre Blake with a kick save.
After trading opportunities on net throughout the first half, Philadelphia would be awarded a penalty. In the 40th minute, Philadelphia winger Eric Ayuk sent in an errant cross into the Orlando penalty box. The cross flew way over the target, Philadelphia winger Sebastien Le Toux, but on the cross, Orlando's Cristian Higuita took down Le Toux in the box. Referee Chris Penso pointed to the spot, where Le Toux converted once again to give Philadelphia the 1-0 lead.
At half time, Philadelphia led Orlando in shots on target by a margin of six to three, while Orlando edged the Union in possession, 53.6% to 46.4%.
In the second half, the game got very physical and chippy, but neither team found the net as Philadelphia cruised relatively easily to the 1-0 shutout. The second half featured alone six yellow cards, including two yellow cards and a sending off for Orlando's Cristian Higuita.
With the win, Philadelphia finishes their season on 37 points and with a 10-17-7 record, good for a tie in eighth place in the MLS Eastern Conference. Orlando finishes their inaugural season with 44 points and a 12-14-8 record, good for seventh place in the Eastern Conference.
Stay tuned to VAVEL for a complete breakdown of the Philadelphia Union offseason and possible roster changes.