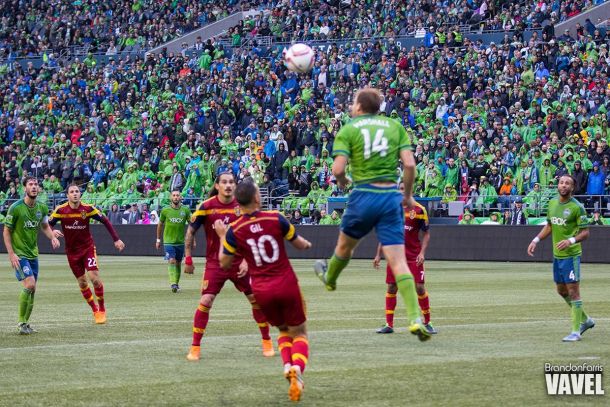 The game of soccer is sweeping the nation and gaining popularity as 2015 was a record year for attendance in Major League Soccer.
With new clubs joining the league and the league continuing to grow, MLS saw 7,335,053 fans go through the turnstiles while averaging 21,574 fans per game which ranks seventh in the world in front of the top flight leagues in France, Holland, Argentina, and Brazil.
The average fans per game number also saw an increase of 12.7 percent which is up from 19,147 in the 2014 season.
It wasn't just the league in general that saw the attendance boom as it was also seen with a good amount of the clubs.
10 clubs, an all-time high, averaged more than 20,000 fans per game including Seattle Sounders FC which led the league in average attendance with an outstanding number of 44,247. That number breaks their previous league record of 44,038. In addition, the Sounders average attendance now ranks second in the Western Hemisphere and just surpassed Liverpool of the English Premier League in the global rankings.
There were a record number of sellouts in MLS this season with 161 across the league which is 28 more than the mark of 133 sellouts in 2014.
These numbers are a great reflection about where the game of soccer is going in the United States. It is gaining a lot of popularity and will continue to grow with new expansion franchises joining the league very soon. Through things like the NWSL, NASL, and USL, MLS isn't the only outlet for quality soccer in the U.S. which will help its growth.
MLS is growing not just in the U.S. and Canada, but also in the UK as there is a featured match shown on TV.
With big name players in the league like Kaka, Andrea Pirlo, Frank Lampard, Sebastian Giovinco, Clint Dempsey, and many more, fans will continue to be drawn to watch these games and it will continue its growth.