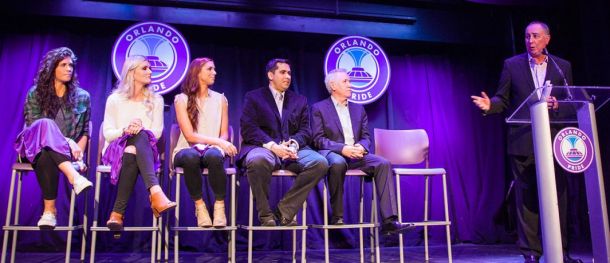 The newly created Orlando Pride keeps adding big time names to their club. After working trade with Portland Thorns FC two weeks ago to acquire U.S. International Alex Morgan, the Pride selected two players to help solidify their defense in Meghan Klingenberg (Seattle) and Ashlyn Harris (Washington).
The Pride was allowed to select ten players in the expansion draft, but no club could lose more than two players. NWSL clubs that were in the playoffs last year (Seattle, Kansas City, Washington and Chicago) were allowed to protect nine players from their 2015 roster. Non-playoff teams (Houston, Portland, Boston, Western New York and Sky Blue FC) were allowed to protect ten players.
Each team was allowed to protect two U.S. allocated players. Any additional U.S. allocated players had to be left unprotected per NWSL rules. Orlando was not allowed to select more than two U.S. allocated players during the expansion draft.
Here are the ten players that were selected in the draft on Monday. No surprises to be honest.
| | | |
| --- | --- | --- |
| PICK | NAME | FORMER TEAM |
| 1. | Meghan Klingenbeg | Seattle Reign FC |
| 2. | Ashlyn Harris | Washington Spirt |
| 3. | Taryn Hemmings | Chicago Red Stars |
| 4. | Jasmyne Spencer | Western New York Flash |
| 5. | Jamia Fields | Western New York Flash |
| 6. | Camille Levin | Sky Blue FC |
| 7. | Lianne Sanderson | Portland Thorns FC |
| 8. | Toni Pressley | Houston Dash |
| 9. | Maddy Evans | Boston Breakers |
| 10. | Aubrey Bledsoe | Sky Blue F |
Technically, Klingenberg was a member of the Reign, but she never played a minute for them. She was acquired in the trade that sent Morgan to Orlando from Portland. Seattle acquired Klingenberg and in exchange traded the rights to midfielder Amber Brooks and the No. 5 overall selection in the 2016 NWSL College Draft. Seattle also received a conditional selection in the 2017 College Draft.
Per nwslsoccer.com, this is was the process of the expansion draft.
Expansion Draft Process:
For each Round, Orlando will have 3 minutes to make its selection.
After the selection is made, the League will verify the eligibility of the selection, confirm that the selection is approved, and publicly announce the selection.
After Orlando makes a selection, the Team from which the selection was made will have three (3) minutes in which to designate one of their Unprotected Players as a Protected Player, except when the Player selected is a U.S. Allocated Player.
Orlando may call up to three 5-minute time-outs during the Expansion Draft.
Each Team may call up to one (1) 5-minute time-out during the Expansion Draft.
The League may call a time-out of any length at any time
The Pride may only be two weeks old, but they are making bold moves and selecting quality players that are available. Orlando should be a strong team in 2016 and the rest of the NWSL should be on the lookout.