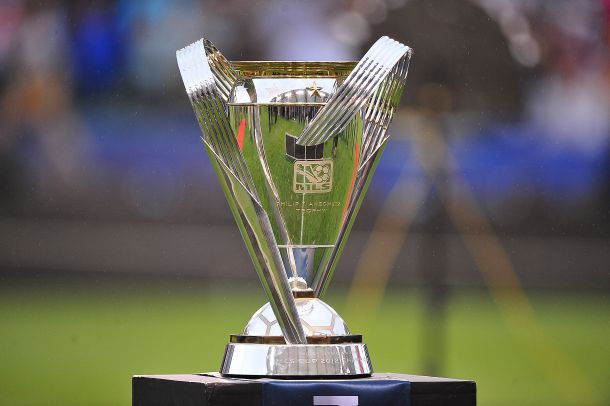 Coming into the 2015 season, the league's major narrative was, to quote Heath Ledger's Joker, "aggressive expansion". Two Eastern conference teams were fresh off the shelf, sparkly and new, flaunting their big time European stars and U.S. National Teamers. New teams in Los Angeles, Atlanta, and Minnesota were on the assembly line and raring to go. Stars like Kaka and David Villa, bona fide big-time veterans and former World Cup winners were suiting up and ready to take the league by storm.
This was the story at the beginning of the season. Since then, things have changed quite a bit. It's now a matter of weeks until MLS Cup Final and nobody is talking about expansion teams or multimillion dollar contracts: No, the league's new narrative is now about a young, electrifying generation of stars taking their teams (and the league) to the next level through a newfound concentration on team football.
In the beginning of the season, nobody was talking about the four remaining playoff teams. In fact, the only team that was talked about were the New York Red Bulls and not in a good way. They were left for dead, their European stars retired or simply out of dodge, their coach fired, and a new neighbor moving in across the river… in ACTUAL New York City. Villa was there, with reinforcements in Frank Lampard and Pirlo set to drop in during the summer transfer window. As for the other three teams: Columbus Crew and FC Dallas both fell pretty flat in their playoff runs last year, and the Portland Timbers didn't even make it that far. None of the three made particularly strong moves in the transfer window, true to their small-market nature.
It was a blueprint that wasn't new to the league. Real Salt Lake and Sporting Kansas City both advanced to MLS Cup 2013 using this strategy. However, 2015 saw the tactic perfected. Players were bought for their function rather than their fashion, for lack of a better turn. Portland fixed a gaping hole at center back by signing Nat Borchers to play aside Premier League journeyman Liam Ridgewell, Columbus brought Kei Kamara back from overseas to give them a much needed goal scorer to play opposite Federico Higuain. Dallas made Colombian Fabian Castillo the center of its attack, drafting Canadian wonder kid Tesho Akindele out of the D2 program Colorado School of Mines (yes, that's the school's actual name) to give him some support and bolstering its defense by picking up former Chivas USA keeper Dan Kennedy.
The most impressive under the radar offseason, however, was New York. Their hiring of head coach Jesse Marsch, perhaps the league's brightest soccer mind, was the team's most important hire in recent history. He signed Anderlecht and former USMNT fulcrum Sacha Kljestan, which gave Dax McCarty much needed support in the center of the pitch. He trusted Bradley Wright-Phillips and Lloyd Sam, along with newcomers Mike Grella and Anatole Abang, to man the offense that had so heavily relied on Thierry Henry, Tim Cahill, and super sub Peguy Luyindula the year before. He had faith in BWP when most thought he could not repeat his 2014 success due to the departure of Henry, who was directly responsible for half of the British striker's goals the year before. Marsch knew that no one person would be able to replace Henry, but a committee of four or five could, if chosen wisely. They made up for Henry's loss, and then some. Marsch took a team that was pegged for a last place finish and molded the Red Bulls into one of the flagship superstar-less franchise along with Portland, Dallas, and Columbus.
There's nothing wrong with watching 35 year-old big name stars donning MLS kits and scoring golazo after golazo: however, they're not the league's only claim to fame anymore, and they're no longer the only thing necessary to make an MLS franchise tick. Ask LA Galaxy and their three (three!) big time ex-European vets. Not enough? Ask Toronto FC and their hilariously unremarkable first-ever playoff run that lasted all of one game. Still not convinced? How about the Montreal Impact, who came to the grim realization that if Didier Drogba doesn't score, their attack stalls out like a stick shift on an empty tank of gas.
The names people are talking about this MLS postseason aren't Drogba, Lampard, Steven Gerrard or Pirlo (whose combined salaries amount to roughly $16 million). Instead, it's the younger role players like Kamara, Fanendo Adi, McCarty, and Castillo (total salary of $1.6 million). These players aren't just big names that sell kits and fill seats. Instead, they fit into a system and better the players around them, and they may not be big names, but in a league where big name=big salary, this isn't necessarily a bad thing. It means front offices in Portland and Columbus have some cash in their pockets and can surround Fanendo and Kei with a supporting cast that not only fits into the same system, but are overall better players. It has paid dividends. Adi has tallied 16 goals in 23 starts, while Kamara can make a solid case for 2015 MLS MVP.
Coming into this season, talking heads over the soccer landscape declared that 2015 would be the start of MLS 3.0. They were right, but it's not for the reason that they all thought. After all, big name superstars carrying teams isn't anything new to this league (one look into LA Galaxy's trophy case confirms this), but balanced and deep rosters who champion team football just might be the embodiment of "MLS 3.0".