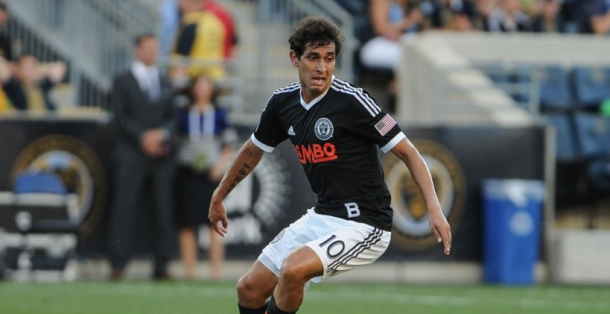 The Philadelphia Union have announced that midfielders Cristian Maidana and Andrew Wenger have been shipped to the Houston Dynamo. For the two players, Philadelphia will receive the Houston's MLS 2016 SuperDraft number six overall pick as well as general and targeted allocation money. The two midfielders will now join former Philadelphia fullback Sheanon Williams, who was traded earlier this season, in the Houston squad. Per MLS policy, the amounts of allocation money that were exchanged were not disclosed.
"We set out this offseason with a clear direction and this helps us start that process," Union technical director Chris Albright said in a released statement. "We greatly value the increased cap flexibility, as well as the opportunity to have two high picks in the upcoming draft, increasing our ability to re-shape the roster."
Now, with Houston's first round draft pick, Philadelphia will possess the third and sixth picks overall in next month's draft. In addition to the two first round picks, Philadelphia also have Orlando City's second round pick, which gives the Union three picks in the top 30 overall selections.
Technical Director Albright went further to praise Maidana and Wenger by saying the two "should be commended for their time here and we wish them the best of luck."
In his two seasons with the club, Maidana tallied three goals and 26 assists in 54 games (48 starts). In his 2015 campaign, the Argentinean International put together a top class season as he finished with 15 assists, one behind Toronto FC's Sebastian Giovinco for the league lead in assists.
Maidana contributed much with his passing and creativity, but there were some pieces of his game that lagged behind. The 28-year-old was certainly not a two-way player; Maidana rarely tracked back on defense, which put more stress upon the defensive midfielders behind him. To compound this, Maidana was not known for shooting prowess, which gave defenses a blueprint on how to shut him down.
Wenger, in 54 games (41 starts) over two seasons, scored seven goals and added six assists. The Duke University graduate was acquired by Philadelphia in a 2014 trade with the Montreal Impact, where the Union sent forward Jack McInerney to Montreal in exchange for Wenger.
After a great 2014 campaign, many expected Wenger to have a breakout season in 2015. However, he was unable to get anything going in 2015 and looked to have regressed from his form the previous year.
Over two years, Wenger played three different positions for the Union: left back, left wing as well as forward. Despite his versatility, Wenger must not have been in manager Jim Curtin's future plans. To compound this, it is uncertain of how much the switching of positions influenced the 24-year-old's growth with Philadelphia.
It has been a fairly busy offseason so far for Curtin's squad as last week the team announced the acquisition of former D.C. United winger Chris Pontius.
Philadelphia will be able to start signing MLS Free Agents on Tuesday, December 8th at 1 PM ET. Then, three days later, on December 11, Stage One of the MLS Re-Entry Draft will commence. The Re-Entry Draft will continue Thursday, December 17th with Stage Two.
Stick with VAVEL for more Phialdelphia Union news by following us on twitter: @VAVEL_UNION