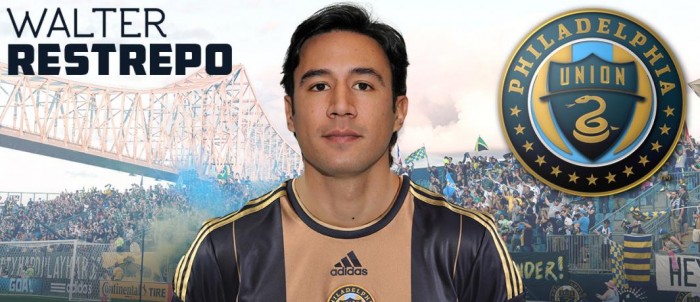 On Tuesday, the Philadelphia Union announced the acquisition of New York Cosmos winger Walter Restrepo for an unreported transfer fee. In return, the Cosmos will receive Philadelphia Union midfielder Michael Lahoud on loan for the 2016 season. As per Major League Soccer rules and policy, additional details of the deal were not disclosed to the public.
"Part of our ongoing assessment has been to build quality depth in certain areas and we strongly believe Walter can give us the kind of speed and attacking ability on the wing that we're looking for," Philadelphia Union Sporting Director Earnie Stewart said in a press release. "We know Michael will represent our club in a professional manner and we wish him the best of luck on a successful season."
Restrepo, 27, will add to Philadelphia flank attack that has gone through much turnover this offseason. Due to the overhaul by Sporting Director Stewart this offseason, the San Diego native will have a shot to earn a starting position on the wing on a team that is rebuilding. Restrepo joins recently acquired Chris Pontius in the core of new wingers at the disposal of Philadelphia Union Head Coach Jim Curtin.
The Columbian and United States Dual-International has been with three different NASL teams in the past four years. In 2012, Restrepo tallied a league-leading eight assists with six goals for the Fort Lauderdale Strikers on his way to a spot in the NASL Best XI. Two years later, with the San Antonio Scorpions, he scored three goals to go along with four assists and claimed NASL Best XI honors for the second time. On the international stage, he represented Columbia on the Under-17 level.
Meanwhile, 29-year-old midfielder Lahoud has been with the Union for the last four seasons, where he started 40 out of 58 games played. He was acquired back in 2012 by the Union for former centerback Danny Califf.
Philadelphia will surely look to continue to add assets with the MLS SuperDraft only a couple days away as they possess the third and sixth overall picks.
Want more Union news? Follow us on Twitter: @VAVEL_UNION