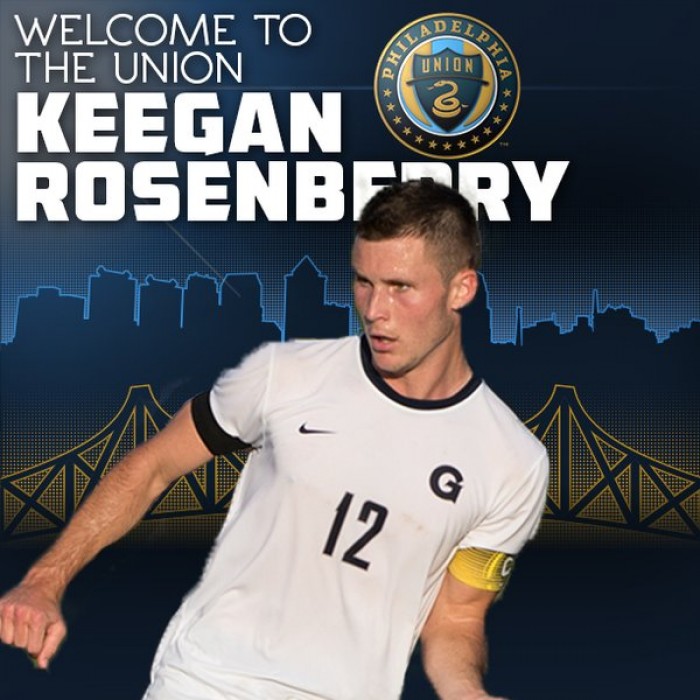 With the third overall pick in the Major League Soccer SuperDraft, Philadelphia Union selected Georgetown Defender Keegan Rosenberry. It was the second consecutive Hoya pick for the Union, who previously selected Josh Yaro with the second overall pick. Rosenberry is a Ronks, Pennsylvania, which is only an hour away from Talen Energy Stadium, the Union's stadium in Chester, Pennsylvania. Further, Rosenberry is also a member of Generation Adidas.
In his four years at Georgetown, Rosenberry started 90 games in 90 games played, where he tallied four goals and 13 assists. In an impressive 2015 campaign, Rosenberry scored two goals and added six assists. Rosenberry is a 5-8 fullback that has United States Citizenship as well as played for Club Team, Penn Fusion Celtic '93.
Rosenberry was born in Harrisburg, Pennsylvania and played his soccer locally in Lancaster, where he was a 2011 Regional All-American and All-State. Further, he was a 2011 Pennsylvania Class AA State Champion as well as a two-time League All-Star.
Position-wise, Rosenberry is a right back and will possibly have the opportunity to compete to win a starting XI role for Philadelphia in preseason. However, the Harrisburg-born player will likely spend time coming off the bench or gaining first-team minutes with USL side Bethlehem Steel FC.
Not only does Rosenberry become the second back-to-back Georgetown University player selected by Philadelphia, but also the second consecutive defender drafted. With two defenders drafted, the Union has seriously bolstered a defense that was near the bottom in goals allowed in MLS.
Yaro and Rosenberry certainly have a rapport playing together at Goergetown, which will certainly be a major building block for the future for the Union.