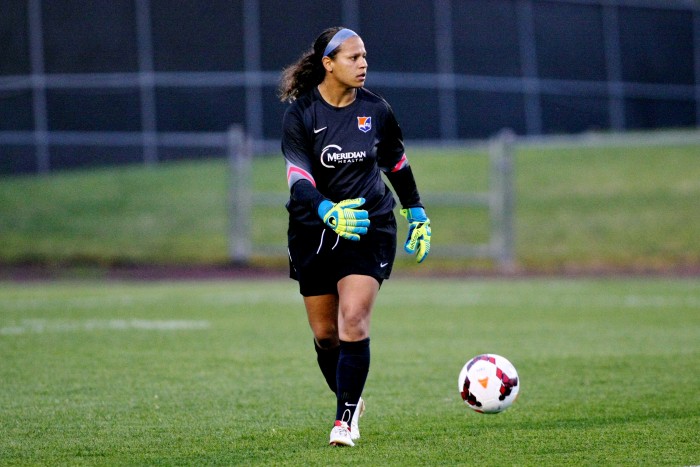 Christy Holly's first season as Sky Blue FC head coach just got tougher.
As per Vegalta Sendai, goalkeeper Brittany Cameron has transferred from her NWSL squad to her Japanese team fulltime for 2016, leaving Holly's squad without a veteran netminder.
Terms of the transfer were not announced, although it is believed the deal is for a year. The major Japanese teams rarely distribute any of their press releases in English, but this reporter was able to learn that indeed Cameron has moved on to Sendai, her offseason club team the last few seasons.
Sky Blue FC Now Face A Void
Her departure creates an enormous void in goal for the Sky Blue. Along with the trade of forward Nadia Nadim earlier this month, it leaves Holly's squad without two of its more passionate, fiery personalities. It also means that the only goalie on the current roster is rookie Caroline Casey, the 29th overall selection in this year's draft.
The William and Mary product is coming off an All-America First Team senior season recording a 0.88 goals-against-average, 86 saves and 11 shutouts while claiming 2015 CAA Defensive Player of the Year accolades. The Virginia native started every game of her college career and finished with 301 saves (second all-time), 29 saves (third all-time) and 48 wins.
Although her fearless, and at times reckless style cost her team down the stretch, Cameron had developed into the vocal leader of the Sky Blue. The same fearless style that cost her team also bailed her team out at times as well. With the loss of Aubrey Bledsoe in the expansion draft, Christy Holly enters the 2016 season with zero minutes of professional soccer in goal.
Whether he decides to go with Casey or if he seeks to acquire a more seasoned netminder, things have just become very complicated for the Sky Blue.