A potentially long season just got a little longer today for the Sky Blue FC.
After trading leading goal scorer Nadia Nadim earlier this year and losing starting goalkeeper Brittany Cameron last week to a transfer, the team was dealt another blow when star midfielder Katy Freels announced she was sitting out the 2016 season.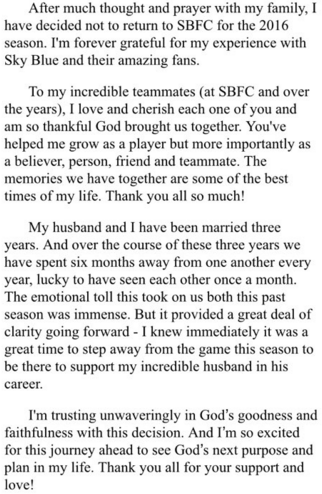 It's a huge blow for the Sky Blue as it now means that the team will be missing its top two scorers from an already offensively challenged squad. How new Head Coach Christy Holly deals with this moving forward remains to be seen.
Freels and Nadim were at times spectacular together, and this reporter for one felt that Freels was the team's best player and one of the best young talents in the NWSL. She brought an energy and tenacity that is going to be impossible to replace.
"We want to thank Katy for all of her contributions over the past three years," said Holly. "We have been very fortunate to have such a talented player here with us at Sky Blue FC and giving us her full dedication. We understand and respect how difficult it can be for a player to spend so much time away from her family, and we know this was not an easy decision for Katy. On behalf of myself and the entire Sky Blue FC organization, we want to wish Katy and her family nothing but the best."
A native of Homewood, AL, Freels came to Sky Blue FC after being selected by the New Jersey club in the 2013 NWSL Supplemental Draft, and she has remained with the team for her entire NWSL career. Over three seasons, the Auburn University graduate started 54 total matches and registered 11 goals and 12 assists. Prior to signing with Sky Blue FC, Freels played for the Western New York Flash of WPSL Elite, helping them win a league championship that year.
While this isn't a retirement annoucement, it sounds like Freels is thinking past the 2016 season. Perhaps her departure will mean an even more expanded role for Maya Hayes who, with Nadim and Freels gone, is the team's fastest player. Whatever the team does, not having their two top scorers as well as not having a single goalkeeper with any professional minutes could mean the Sky Blue are in for a very long season.