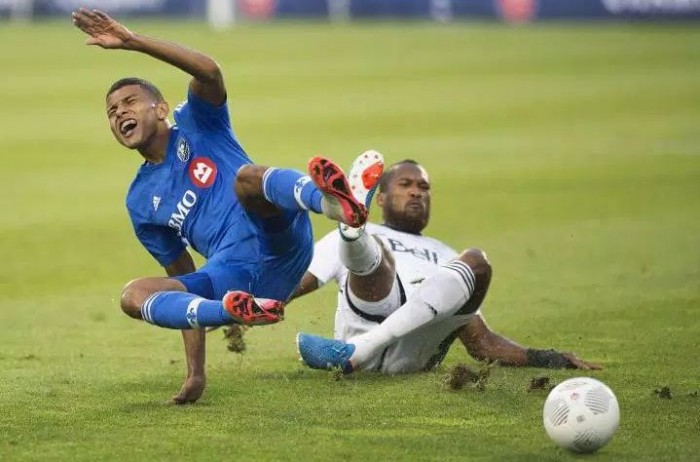 The Vancouver Whitecaps will open their 2016 MLS season against the Montreal Impact on Sunday, March 6 at B.C. Place in Vancouver, British Columbia. The game will kickoff at 5:30 P.M. EST and can be seen on either TSN (The Sports Network) or RDS. This will be the sixth all-time meeting between the two clubs, with Vancouver leading the all-time matchup with a 3-1-2 [win-loss-draw] record.
Both teams are considered trendy picks to contend for the 2016 Supporters' Shield, the trophy given to the team with the most points accumulated by the end of the regular season. They were also eliminated in the second round of the 2015 MLS Cup Playoffs. The Whitecaps lost 2-0 on aggregate to the Portland Timbers, the eventual MLS Cup champion, while the Impact lost 4-3 on aggregate to the Columbus Crew, the eventual MLS Cup runner-up.
Preseason Recap for Both Teams
Vancouver enjoyed a strong 2016 preseason, going 5-1-0, with four victories coming against MLS sides. The 'Caps ended their preseason with wins against North American Soccer League (NASL) side Minnesota United and MLS side Portland Timbers in the Simple Invitational, and will look to resume their winning ways on Sunday.
On the other hand, the Impact endured a less successful preseason. The team went 1-2-3 in preseason action, and they concluded their preseason with a 0-0 draw against NASL side Tampa Bay Rowdies in the final match of the Suncoast Invitational. The Impact's lone preseason victory was a 4-1 romp over DC United.
"Drog" Days are Over (For Now)
The main story of the Impact's 2016 offseason and preseason was whether or not star forward Didier Drogba would be back for a second year with the club. The Ivorian arrived in the summer of 2015 as a Designated Player and became the hottest striker in MLS, scoring eleven goals in eleven regular season games and leading the Impact to a 3rd-place finish in the Eastern Conference. Although the goals dried up in the playoffs -- one goal in three games -- it was nonetheless an extraordinary debut season in MLS for the 37-year-old.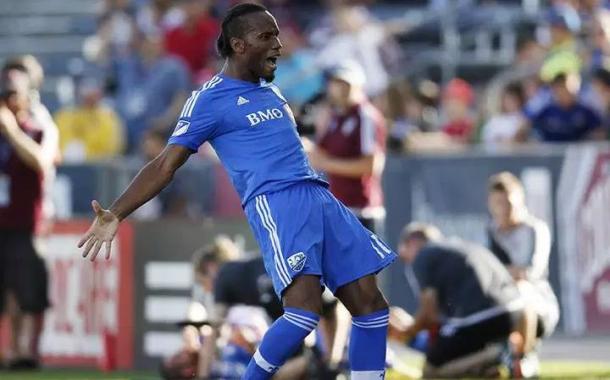 Yet from December of 2015 to January of this year, Drogba was embroiled in a transfer saga that began with rumors claiming that English Premier League side Chelsea FC were looking to re-sign the club legend as a player, and then hire him as a coach once he retired. In January, numerous reports declared that Drogba had decided to mutually terminate his 18-month contract with the Impact and rejoin Chelsea for a third stint with the club.
Drogba himself stayed mostly quiet throughout the affair, and on January 24th, 2016, he finally broke his silence, tweeting out that he was traveling to Qatar to do his own preseason training before he would rejoin the Impact for training camp in mid-February.
The news that their talisman would be returning was a huge sigh of relief for many Impact fans, as the Impact are frankly a different (and better) team with Drogba on the field. Drogba will be out for the Impact's season opener against the Whitecaps with an inflamed knee, and he plans to miss four of the team's first five games on account of not wanting to re-injure his knee playing on artificial turf.
While many Impact fans are overjoyed that the 37-year-old has decided to stay with the team for one more year, they will have to accept the fact that Drogba will miss games over the course of the season in order to maintain his fragile body.
Projected Formations
Vancouver Whitecaps Projected Starting Lineup/Formation (4-2-3-1)
David Ousted; Fraser Aird, Kendall Waston, Tim Parker, Jordan Harvey; Matias Laba, Pedro Morales (Captain); Cristian Techera, Christian Bolanos, Kekuta Manneh; Octavio Rivero
Notable Subs: CF Blas Perez, CAM Nicolas Mezquida, CB Pa Modou Kah, LB Sam Adekugbe, CM Kianz Froese, CDM Russell Teibert
Montreal Impact Projected Starting Lineup/Formation (4-2-3-1)
Evan Bush; Ambroise Oyongo, Victor Cabrera, Laurent Ciman, Donny Toia; Harry Shipp, Marco Donadel; Johan Venegas, Ignacio Piatti (Captain), Lucas Ontivero; Dominic Oduro
Notable Subs: CM Kyle Bekker, CM Callum Mallace, CM Eric Alexander, LB/LM Maxim Tissot, Striker (ST) Anthony Jackson-Hamel.
Match-Ups to Watch
MTL Center Attacking Midfielder Ignacio Piatti vs. VWFC Defensive Midfielder Matias Laba
The 31-year old Piatti was instrumental for the Impact in 2015, finishing the regular season with nine goals and eight assists. Impact head coach Mauro Biello utilized Piatti as an inverted left attacking midfielder in the Impact's 4-3-3 formation last year, giving Piatti the freedom to cut inside and terrorize defenders with his array of dribbling moves. Now that Biello has shifted to a 4-2-3-1 formation and has placed Piatti in the heart of the attack, it will be up to the Argentine to create chances and carry the scoring burden with Drogba out.
On Sunday, he will have to escape the attentions of one of the best defensive midfielders in MLS, 24-year old Matias Laba. Laba led the league in tackles in each of the last two years, and will no doubt be assigned to limit Piatti's influence in the center of the pitch. This is definitely the battle to watch on Sunday, as whoever wins the midfield battle will most likely win the contest.
MTL Center Forward Dominic Oduro vs. VWFC Center Back Kendall Waston
Ghanaian striker Oduro will have to lead the line for Drogba-less Montreal on Sunday, and the big question for Montreal is whether or not Oduro can capitalize on his opportunities. The ten-year MLS veteran has been one of the fastest players in MLS ever since he was drafted by FC Dallas in 2006. But his record of 56 goals in 280 MLS appearances is proof of his inconsistent finishing in front of goal.
Oduro's task to score goals will not be made any easier on Sunday when he comes up against 6-foot-5, 215-pound center back Kendall Waston. Waston was the Whitecaps' Player of the Year in 2015, and his physicality and aerial prowess make him a dominant force in the 'Caps elite backline. Oduro does have the speed to outrun Waston in the open field, but if the Impact plan to lob long balls to Oduro and hope that he creates his own chances, Waston will win those one-on-one battles the majority of the time.
MTL Center Back Laurent Ciman vs. VWFC Center Forward Octavio Rivero
Everyone knows the story of Octavio Rivero's 2015 season by now: he got off to a dream start in his debut month in MLS, scoring five goals in his first six matches. Then, his confidence in front of goal evaporated as he scored five goals over the next seven months. This is a make-or-break year for Rivero as he has to show that he is Whitecaps manager Carl Robinson's forward for the future. And if he gets off to another hot start, he would no doubt silence some of his critics.
On Sunday, however, he will go up against reigning MLS Defender of the Year Ciman, who is one of the best in MLS in terms of disrupting counterattacks and intercepting passes in the final third of the field. Ciman is also one of the quickest center backs in MLS, which means Rivero will have to use all of his guile if he hopes to evade Ciman in the open field. Rivero's best bet to score is through set-pieces, and the 'Caps do have two dead-ball maestros in Pedro Morales and Christian Bolanos. Don't be surprised if Ciman marks Rivero on corner kicks or free kicks. If Rivero can't find the back of the net via set-piece opportunities, scoring chances will be few and far between against this stingy Impact defense.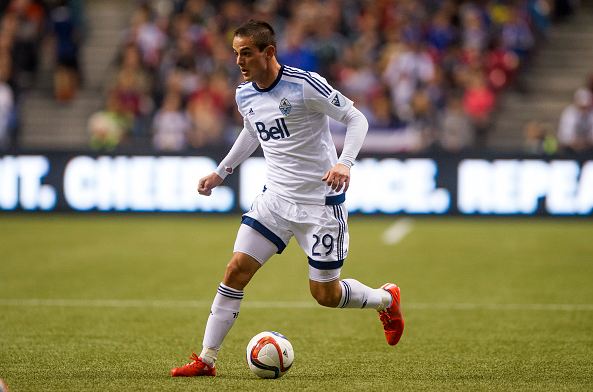 Projected Scoreline
Expect this game to be a hard-fought and at-times testy between two of the league's best defenses. The keys for the 'Caps will be to create dangerous set-piece chances and to get Chilean Pedro Morales involved in the attack, early and often. The Impact will look to spring Oduro on the counterattack as well as find star midfielder Piatti in dangerous spots on the field. In the end, the 'Caps home crowd will help will them to score one early and one late to seal the victory.
Rivero and either Manneh/Techera/Morales will get the two goals for the 'Caps as they begin their 2016 campaign with a win. The Impact will create good opportunities through their dangerous attacking triumvirate of Ontivero, Venegas and Piatti, but a lack of incisive finishing from Oduro will force them to leave B.C. Place empty-handed. It should nonetheless be a very exciting game and hopefully one of many thrilling games on MLS Opening Day.
Projected Final Score: Vancouver Whitecaps 2, Montreal Impact 0