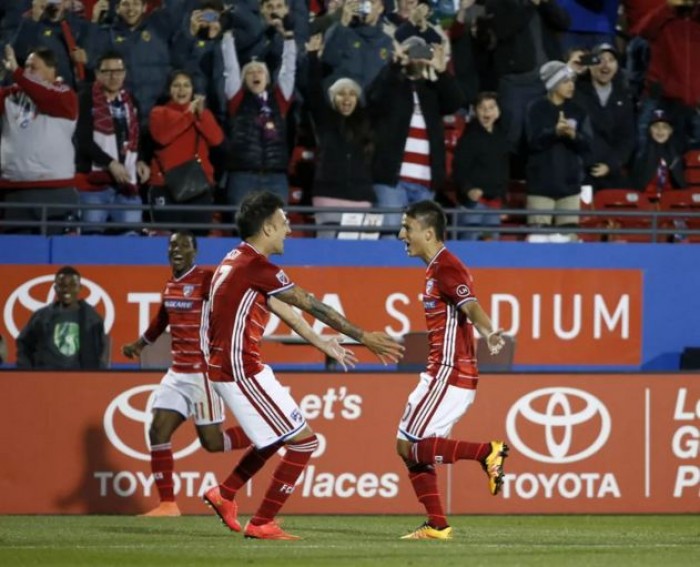 A sublime Mauro Diaz free kick and a late Maximiliano Urruti blast earned FC Dallas a 2-0 win over the previously-undefeated Montreal Impact at Toyota Stadium in Frisco, Texas.
After a tepid first seventy minutes, the game livened up when Montreal Impact forward Didier Drogba made his 2016 Major League Soccer (MLS) regular season debut when he was subbed on in the 70th minute. But it was FC Dallas who seemed the more likely team to score after Drogba's introduction, and after Diaz's free kick, FC Dallas took advantage of a tired, frustrated Impact side to score that game-clinching second goal.
FC Dallas head coach Oscar Pareja will be impressed with his side's resilience after FC Dallas were played off the pitch in last weekend's 5-0 debacle against the Houston Dynamo. Montreal Impact manager Mauro Biello will be disappointed that his players generated only a couple clear-cut scoring chances, but he'll be pleased to see Drogba back in the fold after missing the first two games of the regular season.
"The Little Unicorn" Conjures Up Another Moment of Brilliance
2016 could be a big year for FC Dallas attacking midfielder Mauro Diaz. Given Diaz's concerning injury record, it remains to be seen as to whether or not he can stay healthy, but if the 5'7" midfielder is able to play around 30 games for FC Dallas this season, FC Dallas should be at the top of the Western Conference come late October. His ability to construct a seemingly-impossible pass or create a chance out of nothing has earned him the hilarious nickname "The Little Unicorn."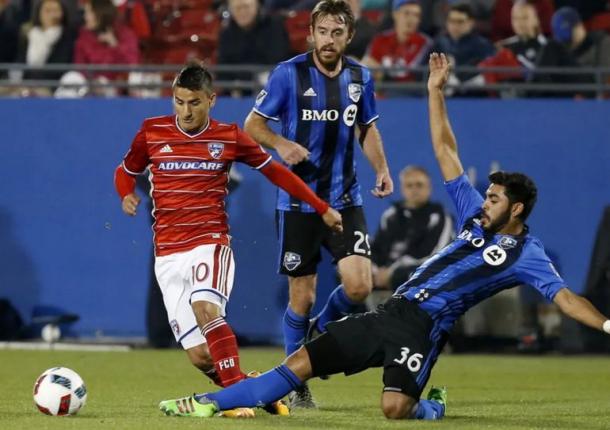 The Montreal Impact defense, led by their imperious Belgium international Laurent Ciman, "sicced" their two defensive midfielders (Calum Mallace, Eric Alexander) onto Diaz in the first half. Ciman and fellow center back Victor Cabrera tracked FC Dallas forward Maximiliano Urruti well, and even when Urruti got by Impact goalkeeper Evan Bush, Ciman was there to clear his shot off the line in the 6th minute.
On the other end, Ignacio Piatti, who had terrorized the last two defenses he faced, was neutralized by FC Dallas's own duo of defensive midfielders, Victor Ulloa and Carlos Gruezo. Both teams went into halftime deadlocked at zero-zero.
In the second half, the game began to open up. A thirty-yard diagonal ball by Diaz picked out Urruti in the 53rd minute, but his second touch let him down and the ball went out for an Impact goal kick. A Lucas Ontivero shot in the 60th minute took a deflection and whizzed by Dallas goalkeeper Jesse Gonzalez's left post for a corner kick. Three minutes later, FC Dallas left midfielder Fabian Castillo skinned Impact right back Hassoun Camara and ran by the Impact defense, but fired his shot straight at Bush.
In the 70th minute, Montreal Impact fans finally got what they were hoping for: a Didier Drogba appearance. The Ivorian entered the field for Ontivero in the 70th minute and was greeted with a smattering of boos by some of the FC Dallas fans in attendance.
Those same FC Dallas fans would be cheering ten minutes later when FC Dallas finally broke the scoreless tie. Diaz was fouled just outside the Impact's 18-yard-box by Cabrera, and he dusted himself off to take the kick. Staring into an eight-man-wall, the playmaker calmly curled the ball over the wall and into the top-right corner of the net. Although replays suggested the ball took a deflection on the way in, there was very little that goalkeeper Bush could do to stop it, as the ball kissed off the underside of the crossbar before nestling into the back of the net.
Impact manager Biello threw on forward Anthony Jackson-Hamel and midfielder Johan Venegas, who starred as a substitute in last weekend's win over the New York Red Bulls, to try and get a goal back, but it was FC Dallas who would score the game's final goal.
In the 87th minute, FC Dallas goalkeeper Gonzalez punted the ball downfield and FC Dallas substitute Tesho Akindele flicked the ball into space. The ball bounced towards the top of the Impact's 18-yard-box, and forward Urruti got to the loose ball first and one-timed it past Bush and into the right corner of the net.
The blast was Urruti's second goal for the club since joining the team during the winter offseason, and he continues to show why he is an upgrade over former FC Dallas Designated Player (DP) forward David Texeira. Jackson-Hamel had a shot saved by Gonzalez in stoppage time, but there would be no fairy-tale, game-winning goal, or any goal for Drogba in his season debut.
Men of the Match
FC Dallas: Mauro Diaz
The aforementioned "Little Unicorn" scored a peach of a free kick, but his shooting was erratic and his distribution was wasteful at times. Nonetheless, the best players in MLS all have one trait in common: they score the goals when their teams need it most.
Diaz came through in week one with both assists in FC Dallas's 2-0 opening day victory over the Union, and he delivered again against a dangerous Impact side. Diaz suffered six fouls, including the one that resulted in his free kick golazo, bringing him up to twelve fouls suffered in his team's first three games. FC Dallas fans and the coaching staff can only hope that their star midfielder doesn't get seriously hurt after suffering foul after foul over the course of the season.
Montreal Impact: Laurent Ciman
There was a moment in today's FC Dallas-Montreal Impact soccer game that took this writer's breath away. It was in the 52nd minute, when center back Ciman received the ball twenty yards inside his own half and scanned the field to find a teammate. Instead of settling for a simple pass back to his goalkeeper or to his center back partner Cabrera, Ciman nonchalantly sprayed a 60-yard pass to Impact right back Camara, who was running down the right flank. The ball met the Frenchman in stride, and Camara would win the Impact a corner kick. It was a moment of world-class technique from Ciman, and another reminder as to why he won MLS Defender of the Year in 2015.
The Belgian racked up six clearances, nine interceptions, seven recovery tackles, and one defensive block against FC Dallas. He was not at fault for either goal, and his goal-saving header kept the game scoreless until the 79th minute. Ciman's only weakness is his temper (he had three red cards in 27 appearances last year), but when he is focused and not diving into tackles, he is the best center back in the league and the undisputed leader of one of the best defenses in Major League Soccer.
What's Next for Both Teams
FC Dallas will look to build off of Saturday's win when they take on D.C. United in Washington D.C. next Saturday at 6:30 PM EST.
FC Dallas will be without starting midfielder Kellyn Acosta, goalkeeper Jesse Gonzalez, and left backs Maynor Figueroa and Moises Hernandez because of international call-ups. Dallas does have the depth to replace those missing starters, but they will be facing a DC United squad hungry to get their first win of this 2016 regular season.
The Impact have a bye next weekend. Their next game is against the Seattle Sounders at CenturyLink Field on Saturday, April 2nd at 10:00 PM EST.