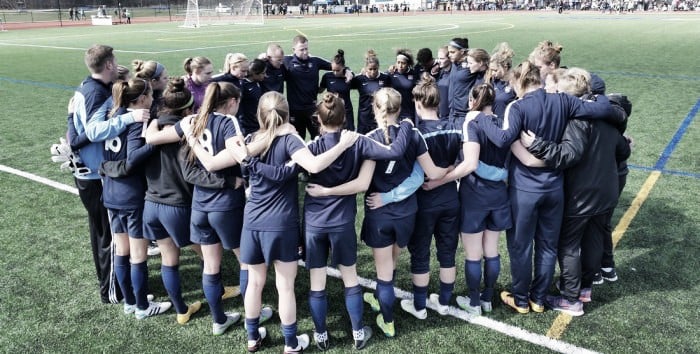 Sky Blue FC 2015 Review:
Record: 5-8-7 (3-4-3 at home) (2-4-4 away)
Goals Scored: 22
Goals allowed: 28
Leading Scorers: Nadia Nadim (six goals, seven points), Katy Freels (five goals, seven points) Sam Kerr (six goals, seven points)
Home Attendance: 21,889 (2,188 per game average)
To say things did not go as planned for the Sky Blue FC in 2015 was an understatement. Jim Gabbara's squad struggled offensively, ranking near the bottom of the league in goals scored. The blueprint that seemed to follow the New Jersey side for most of the season was to play a sluggish first half only to find a second half spark that usually came up short. Two of their losses and one of their ties came with seconds remaining or in extra time. Despite boasting the playmaking talents of Forward Nadia Nadim and tenacious Midfielder Katy Freels, the team failed to make the playoffs for the second straight season. Despite a small but diehard fan base, attendance was an issue. After the season Gabbara announced he was stepping down as coach and taking the same position with the Washington Spirit.
2016 Preview
Key Losses: Goalie Brittany Cameron (elected to play in Japan), Forward Nadia Nadim (traded), Midfielder Katy Freels (took year off to be with family), Defender Lindsi Cutshall (sitting out season to rehab injury), Defender Hayley Haagsma (retired), Goalie Aubrey Bledsoe (lost in expansion draft).
Key Additions: Goalie Caroline Stanley (acquired via trade), Forward Tasha Kai, Midfielder Raquel Rodriguez (acquired via draft).
For a team that found scoring goals difficult, losing both Nadim and Freels is a devastating blow. Together, they accounted for half of the teams twenty-two goals. Nadim was dealt to allow the team to move up and select Rodriguez in the January draft, but it is asking a lot to expect the rookie to immediately pick up the scoring burden.
Freels took this season off to focus on her family, and although she will be missed, one cannot fault her for having her priorities in order. It will take a collection of talents to replace her in midfield, for she was one of the more tenacious middies in the league, and with Nadim formed a deadly duo that tested the best defenses in the league. It will now be up to new Head Coach Christy Holly to figure out how to best replace them.
Second year midfielder Sarah Killion will be looked upon to take on a larger role in the middle and young veterans Shawna Gordon, Taylor Lytle and Nikki Stanton will need to insert themselves quickly to give Holly even more choices in the attack. All three can defend, but can they add some scoring punch? Another possibility for Holly is to move the ultra-fast forward Maya Hayes into the midfielder role or even slide defender Kelley O'Hara into the spot at times. O'Hara has a knack for setting forwards up with a clear shot towards goal and Hayes has the pure speed to burst through a defense and draw them to allow the forwards to attack the wings.
Whatever Holly decides, the return of forward Tasha Kai has been one of the brightest spots of the offseason. Kai scored a goal in the team's 2-0 defeat of the University of North Carolina last week and in the opening preseason game against St. John's her tenacious style led the way to the only goal in the game. Even at the age of thirty-two, Kai has displayed the speed and natural playmaking ability to ease the loss of Nadim, whose skills she most closely resembles. This writer sees Kai as a potential 8-10 goal scorer. Another plus will be the return to camp of Australian Forward Sam Kerr, who tied Nadim for the lead with six goals. If Kerr can manage to stay healthy, an improvement in goals scored from 2015 is not out of the question.​​
Christie Rampone Backbone of Defense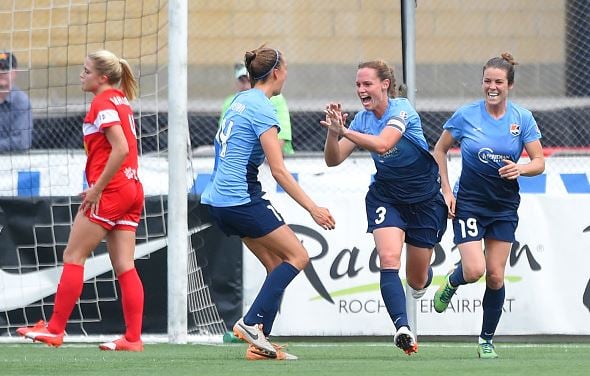 Defensively, the loss of Cutshall and Haagsma hurts, but the team still has the ageless Christie Rampone as its backbone. Along with O'Hara, as well as CoCo Goodson and Kristin Grubka, these four should form a solid wall in front of new net minder Caroline Stanley. Rookie Erica Skroski has also looked good in both preseason matches. Holly has experimented with Hayes in the backline, but she is better suited to a forward position.
With the loss of both goalies from last season, the pressure is on Stanley to immediately assert herself as the vocal leader of the team. The departed Cameron led the league in minutes played (1792) and saves (87), but was second in the league in losses with eight. Cameron played a reckless, gambling style that cost her team at times, however that same style also came up big as well. Stanley plays a little more of a controlled game, not allowing herself to be played out of position, but she is still largely untested.
Outlook
This writer expects the team to improve upon its five win 2015 campaign, but only if it can find more offense. Kai and Kerr can surely supply the firepower and O'Hara and Hayes can add to it as well. Whatever type of contribution that Rodriguez can make will only help, but the team must strengthen its midfield and the defense will have to be formidable while Stanley is eased into the role of starting goalkeeper. The playoffs are not out of the realm of possibility; however they may be a year away.
Final Prediction
2016 Record : 7-8-5