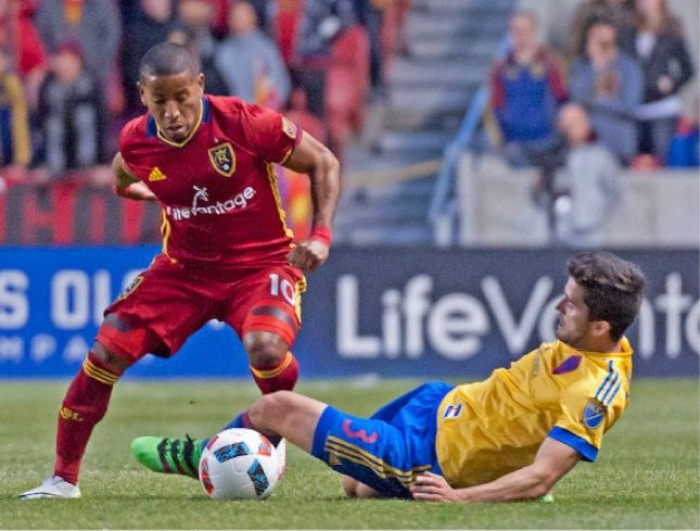 A late Joao Plata goal after a goalkeeping error by Colorado Rapids goalkeeper Zac MacMath was all Real Salt Lake needed as they defeated the Colorado Rapids 1-0 at Rio Tinto Stadium in Sandy, Utah. Saturday's game was the first of three matches between the Rapids and Real Salt Lake, and the winner of the season series will take home the 2016 Rocky Mountain Cup, a soccer trophy awarded to the fans of the winner of the season series between the two sides. Rapids manager Pablo Mastroeni will be disappointed that his side conceded such a cheap goal, and he will also regret that his side were dominated by RSL for long stretches of the game. RSL manager Jeff Cassar will be delighted that his side earned their first shutout victory of the season, and he will applaud his side for going toe-to-toe with one of the league's best defenses and ultimately coming out on top in front of their raucous RSL fanbase.
Do You Like Offense? If So, Change the Channel
The Rapids came into Rio Tinto Stadium with the best defensive record in Major League Soccer, having conceded only two goals in their first four games. Last weekend, they shut down last season's MLS MVP, Sebastian Giovinco, on their way to a 1-0 victory over big money club Toronto FC. On Saturday, the Rapids' back line was tasked with silencing one of the most intimidating offensive trios in the league: Argentine maestro Juan "Burrito" Martinez, Azerbaijani forward and FC Spartak Moscow loanee Yura Movsisyan and early 2016 MVP candidate Joao Plata, who had three goals and three assists in his team's first three games.
It quickly became apparent that the Rapids would sacrifice possession in order to bunker down and put six or seven defenders in front of goalkeeper Zac MacMath's goal. Led by defensive midfielders Michael Azira and Sam Cronin, the Rapids did a superb job forcing turnovers and disrupting RSL's offensive rhythm, and the game quickly became a stop-and-go affair. As a reward for their resolute defending, the best chance of the first half fell to the Rapids, and what a chance it was to break the zero-zero deadlock.
Rapids Designated Player midfielder Shkelzen Gashi noticed that RSL center back Justen Glad was out of position, and he slipped a nicely-weighted through ball to teammate Dillon Powers. RSL goalkeeper Nick Rimando was quick off his goal line to block Power's point-blank shot, but the rebound fell to Powers, and he unselfishly laid the ball off to a sprinting Gashi. The Albanian's right-footed shot at the top of RSL's eighteen-yard-box looked destined for the top right corner of the goal, but RSL center back Aaron Maund had positioned himself on the goal line when Rimando came out to stop Power's shot, and his due diligence was rewarded. He acrobatically headed Gashi's effort over his own goal, preserving the tie just before the halftime whistle sounded.
In the second half, RSL continued to dominate the possession stats, but couldn't convert their time on the ball into good scoring opportunities. However, the game's tempo changed in the 64th minute, when Cassar substituted 36-year-old ageless wonder Javier Morales on for midfielder Luke Mulholland. Morales's introduction kicked RSL's offense into another gear, and their offensive persistence finally led to a goal in the 72nd minute, albeit in very bizarre fashion.
Morales received the ball just inside his own half, and lofted a through ball to Plata. Plata was sandwiched between Rapids' center backs Axel Sjoberg and Bobby Burling as the ball floated towards him, but goalkeeper MacMath inexplicably ran out of his goal box to try and clear the ball to safety. Sjoberg fluffed his lines when he tried to control Morales' pass, and his attempted clearance lobbed the ball over MacMath's head and towards the Rapids' goal. Plata ran behind both Burling and MacMath and tapped the ball into the vacated net, with MacMath woefully out of position. It was a comical goal to concede from the Rapids' standpoint, and MacMath's second costly goalkeeping error of the season.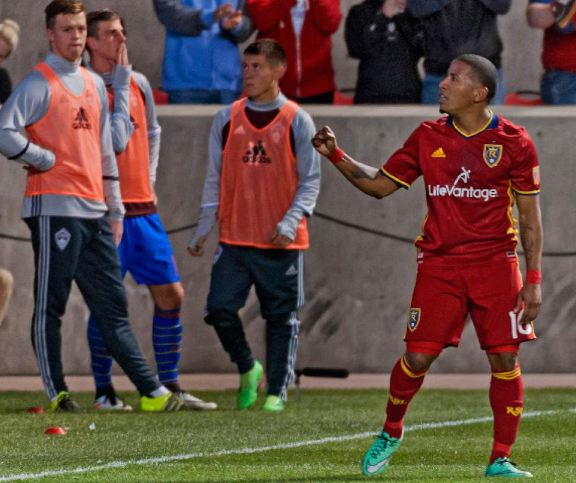 It was RSL who would finish the game in the ascendancy. Center forward Movsisyan thought he had sealed all three points for RSL in the 83rd minute, when he deftly flicked in a pinpoint Joao Plata cross. But one of the assistant referees' flags went up, negating the goal and keeping the scoreline at 1-0. Replays showed that Movsisyan was in line with the Rapids' back line when the ball left Plata's foot, and he was wrongfully denied his second goal of the year. Movsisyan had the game's last scoring chance in the 96th minute, after RSL thwarted the Rapids' last salvo forward. Plata was again the provider, delivering a beautiful cross to Movsisyan's forehead, but MacMath positioned himself well and caught the forward's goal-bound header right on the goal line. The final whistle sounded seconds after MacMath's save, and RSL left Rio Tinto Stadium with a deserved three points.
Men of the Match
Real Salt Lake: Sunday "Sunny" Obayan
Forward Plata is tearing MLS up this season, but RSL winter offseason signing Sunday "Sunny" Obayan has quietly become one of the best offseason acquisitions in MLS this season. The 27-year-old Nigerian, who has spent most of his career in Spain's first and second divisions, came to RSL after being transferred from Turkish club Alanyaspor, but not much else was known about the midfielder. He quickly endeared himself to the RSL faithful with his tenacious style of play and his high work rate, and he was the key to RSL's victory over the Seattle Sounders earlier this season, scoring the team's first goal with a bullet header before winning the free kick that led to their game-winning second goal. He was all over the field in this contest, racking up eleven recovery tackles, a defensive block, an interception, four successful tackles, and a successful dribble. Sunny was a nuisance whenever the Rapids tried to assert their authority on the game, and his four fouls committed helped disrupt the Rapids' momentum. He left the field to an ovation in the 84th minute, and sunny days are in RSL's future if Sunny keeps performing like he did on Saturday.
Colorado Rapids: Michael Azira
Another underrated offseason acquisition that has paid dividends is Rapids midfielder Michael Azira, who was selected by the Rapids in the MLS Waiver Draft on December 9, 2015. Azira was one of many offseason acquisitions made by team president Tim Hinchey, which is why he has flown under the radar. Yet he was one of the Rapids' men of the match in last week's win over Toronto FC, and his work rate was again impressive in Saturday's match. The Ugandan intercepted four passes, made five recovery tackles, made a defensive block, had two successful tackles, and worked well with defensive midfield partner Sam Cronin to block shots and clog RSL passing lanes. Although Azira's work may not look impressive on the stat sheet, he did an effective job snuffing out potential scoring opportunities on Saturday, and manager Mastroeni should receive credit for giving Azira the freedom to roam about the field, breaking up passes and distributing balls to the Rapids' wide midfielders. Azira could do nothing about the goal that RSL scored, and it's a shame that the Rapids couldn't reward his solid play with at least a point from Saturday's road game.
What's Next For Both Teams
RSL move up to second place in the Western Conference with today's win, and they welcome the Vancouver Whitecaps to Rio Tinto Stadium next Saturday, April 16, at 10:00 EST. The Whitecaps were dismantled by DC United on Saturday, and given their opponent's scoring woes, RSL will be confident that they can continue their fine start to the season with a win next week. History may not be on RSL's side, however: they lost 1-0 to the 'Caps at Rio Tinto on a late Darren Mattocks goal last year, and were stunned by a Whitecaps goal late in second half stoppage time in an eventual 2-2 draw at Rio Tinto two years ago. The 'Caps can certainly win at Rio Tinto, and RSL will try to find ways to break down a 'Caps back line that was victimized this weekend.
The Rapids will have to shake off the ill effects of Saturday's loss when they travel to Children's Mercy Park to take on Sporting Kansas City on Wednesday, April 13, at 8:30 PM EST. Sporting Kansas City currently sit atop the Western Conference with twelve points from five games, and they boast one of the best defenses in the league. The Rapids will need to retain the ball more and get Designated Player Shkelzen Gashi going; the Albanian has yet to record a goal or an assist in his team's first five games of the season, and he will need to start producing if he hopes to live up to his $3 million transfer fee. Sporting Kansas City looked impressive against a shorthanded New York Red Bulls side on Saturday, winning 2-0 on the road, and if the Rapids can't apply offensive pressure on Kansas City early and often, don't be surprised if Sporting Kansas City hands the Rapids their second consecutive loss.