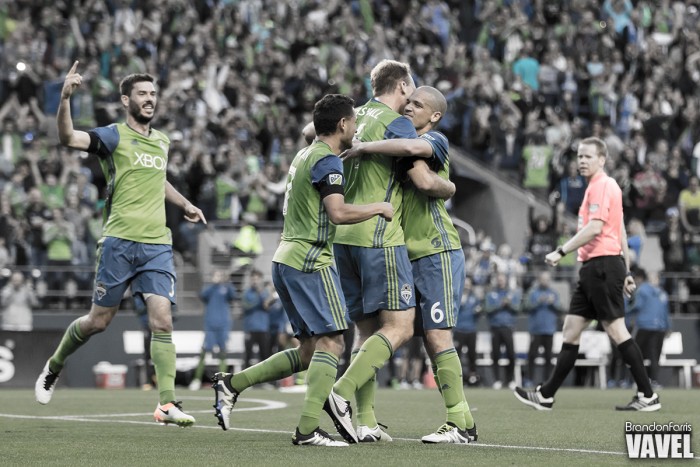 The Philadelphia Union fell to Western Conference bottom dwellers, Seattle Sounders in Seattle on Saturday night, despite edging the Sounders in possession and some goalkeeping heroics from Andre Blake. The defining moment was largely the sending off of the Union's Dutch midfielder Roland Alberg which swung momentum in Seattle's favor. However, a game should not be defined by a single moment, so let's take a look at some of the tactical decisions and strategies that characterized the match.
Crossing and wing play the key for Philadelphia
The Union attempted a whopping 28 crosses on the night, finding particular success on the right side where they tormented the inexperienced play of Dylan Remick, Sebastian Le Toux did well to fill in for Ilsinho while Keegan Rosenberry pushed up and overlapped whenever possible. The duo had a combined 14 crosses, 4 key passes, and provided some solid service for an ever strengthening CJ Sapong who managed four shots and won four aerial duels. However, it's both a testament to Chad Marshall's aerial ability and a ringing alarm bell to return to the training ground that the team as a whole only managed to complete a mere 14% of their crosses.
Ivanschitz the maestro for Seattle
The Austrian international pulled the strings for Seattle from the middle of the park on the night, completing six key passes and assisting on both Seattle goals. Should he continue that sort of form he'll continue to grow in importance for the Sounders as their Austrian Javier Morales. His passing range and versatility was key in the match.
He was able to release Jordan Morris among other on a number of counter attacks that consistently caused havoc among the Philadelphia defense, more often than not being bailed out by the super human Andre Blake. Ivanschitz also delivered the corner for Marshall's goal- albeit scored because of poor marking, or excellent strategic movement from Clint Dempsey depending on how it's looked at.
Excellent back tracking from Philadelphia's wingers
It's no doubt Clint Dempsey and Oalex Anderson were threats throughout the night, particularly Anderson with his impressive pace. But when looking at it closer, the two combined for just three shots and were disposed a total of 4 times; this was in large part thanks to the Union's wingers. The statistic that stands out the most in this regard is the defensive work of Philadelphia's wingers.
Sebastian Le Toux had a whopping three tackles and one interception while Chris Pontius had three tackles, an interception, and a clearance, both of whom got "stuck in" more frequently than the outside backs behind them. That kind of defensive work is incredibly valuable and often lacking from many wingers, and is particularly important against a team like Seattle that oozes quality in those areas (not to mention the fact that both Union outside backs love to get forward.). It's a testament to their hard work that Seattle's goals came from a set piece and a world-beater of a pace straight down the throat of the central defense.
Alberg's temper and misjudgment from Jim Curtin
While Alberg's sending off shouldn't be dwelled on by Union fans it's safe to say that both the failure of Jim Curtin to remove the Dutchman at half time (and in general misjudged substitutions or lack there of) and Alberg's temper- for which this is not the first example Union fans have bore witness to are long standing issues that will likely need to be addressed over the course of this season.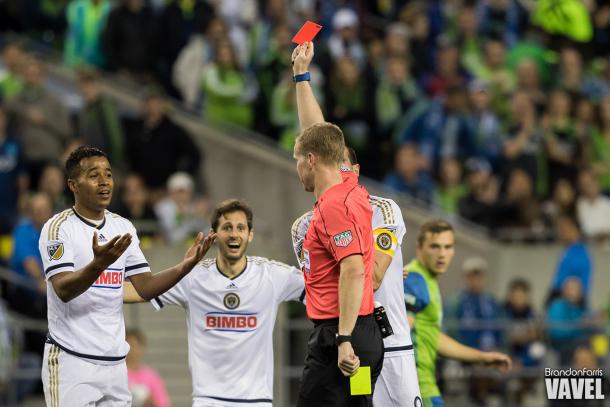 Overall, positives can be taken from both sets of fans. Seattle, a team in desperate need of points, managed to eke out a win despite not playing their best at home. Meanwhile the performances for Philadelphia continue to be positive and with it, the points should eventually come. Both teams now shift their focus to next weekend where they each face inter-conference opposition in matches that are in many ways even more valuable than Saturday night's contest.