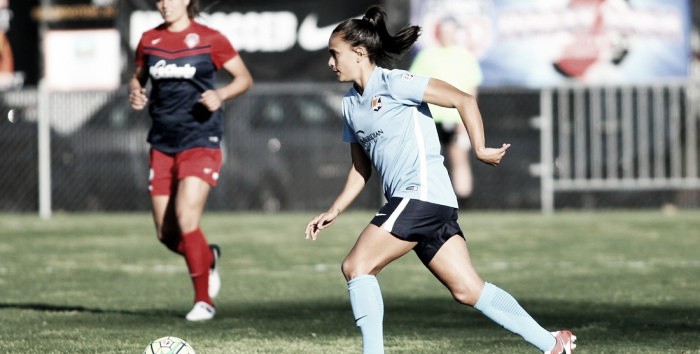 Sky Blue FC and Western New York Flash battle at Yurcak Field on Saturday night as both sides look to get their season back on track.
Keys to the Game: Western New York
First and foremost, the Flash are going to have to find a way to start manufacturing some goals, only tallying one through their first three games. Someone from the group of Elizabeth Eddy, Jessica McDonald, Lady Andrade and Makenzy Doniak is going to have to try and take some of the pressure off of star midfielder Samantha Mewis who has the lone Flash goal this year.
It is year two of the rebuilding process as the team has transitioned away from the leadership of the retired Abby Wambach to Mewis and captain Abby Erceg. The rebuild has not been smooth, but Head Coach Paul Riley sees a brighter future for his squad, "Groups are starting to really develop chemistry including center backs Erceg and Abby Dahlkemper, but the team is still missing some key components.Both Abbys (Erceg and Dahlkemper) have proved to be our backbone so far," said Riley, "and the partnership of Sam Mewis and Alanna Kennedy in the midfield will bear fruits in the long term. Finding the right blend of power, speed, creativity and finishing in the final third has been our biggest challenge."
The Flash have had little problems in creating opportunities and putting pressure on team's in their own half. In fact, Western New York currently leads the league in both shots (47) and corner kicks (21) so far this season. The next step for Riley and his team in order to produce winning results? Capitalizing on their opportunities and finishing."Overall we are pleased with the effort and ability of the team to create chances," Riley mentioned. "Obviously the final step of scoring goals is important, and we have been working diligently to get it right."
Right now, there just isn't enough proven scoring beyond what Mewis has provided. One goal through three games simply won't get it done. The Sky Blue have been playing well, but have been prone to mistakes in maintaining possession in the midfield and on their own side, so the Flash will have chances to take advantage of potential turnovers. How and if they can take advantage will go a long way in deciding the outcome. If the Flash can get on the board early and take the crowd out of the game, they may have a chance.
Keys to the Game: Sky Blue FC
Navagating their way through a rough early schedule, the Sky Blue, under first year Head Coach Christy Holly, have shown more energy and flair than they did under Jim Gabarra. However, they have been prone to turnovers. If they can eliminate early mistakes, they have the firepower to score early and often.
Led by the flamboyant forward Tasha Kai, the Sky Blue attack which also features defender Kelley O'Hara and midfielder Taylor Lytle (tied for 3rd in the league with 3 assists), has shown dramatic improvement over last year when it struggled to score. Kai has to get opportunities early on in tomorrow's match, for she has shown she still has the speed to get behind defenders and get herself open. Lytle has proven to be one of the better set up players in this young season and fellow midfielder Kelley Conheeney has been a pleasant surprise. Rookie Raquel Rodriguez has shown glimpses of stardom but has yet to put a complete game together.
At some point, all these pieces must come together, and for Holly, it looks to come sooner than later, "After a short turnover, we have been showing fantastic development this week, and we are really excited to build upon the foundation we have already established this season. The fans showed a tremendous amount of excitement and enthusiasm in our home opener, and we now look to reciprocate that message this Saturday on the field by giving them something to truly cheer about."
The rock solid Sky Blue defense, keyed by O'Hara and stalwart Christie Rampone will be up to their usual high standard. The squad will have to take some early chances and not allow the Flash to hang in the game. Both Kai and Maya Hayes will have to use their speed to get open and Lytle and O'Hara will have to look their way early and often.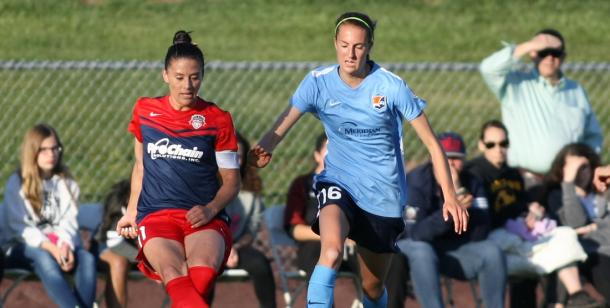 Final Thoughts
When these two teams get together, anything can happen. Last year, the Flash snatched victory in the 89th minute. That was the last time these two met. At this stage in the season, the Sky Blue look to be further ahead in their development, blending new additions in with the old with more success.
Mewis will be the focal point of the attack for the Flash and will probably be marked by O'Hara. Both Holly and Riley are the perfect men for their respective squads, and tomorrow night's contest should be a bitterly fought contest.
Final Score: Sky Blue FC 2 Western New York 1