Updates on the situation can be found below the Original Story
Original Story:
After almost two days of trade speculation, it looks like there may be a deal to send Kei Kamara out of Columbus. The Columbus Crew and Vancouver Whitecaps are in discussions over a trade that would send Kamara to British Colombia, per Shawn Mitchell of the Columbus Dispatch.

Rumors of a possible Kei Kamara trade have ignited ever since the Kamara/Federico Higuain penalty kick embarrassment in the Crew's 4-4 draw with the Montreal Impact last Saturday. The striker said post-match that he did not depend on Higuain for his goals, calling his teammate selfish and calling out the team for not using teamwork.
Kamara tried to explain his side of the story post-match on Saturday.
Higuain said, "Let Ethan score." And Ethan said, "No, you can have it," Kamara recalled. "Then [Higuain] says, 'No, I get to take it.'
"That's selfishness. That's not a teammate."
Kamara was suspended by Crew coach Gregg Berhalter on Tuesday, a decision that Kamara did not agree with.
Update #6 (10:30 AM EST):
The Crew have officially announced the trade.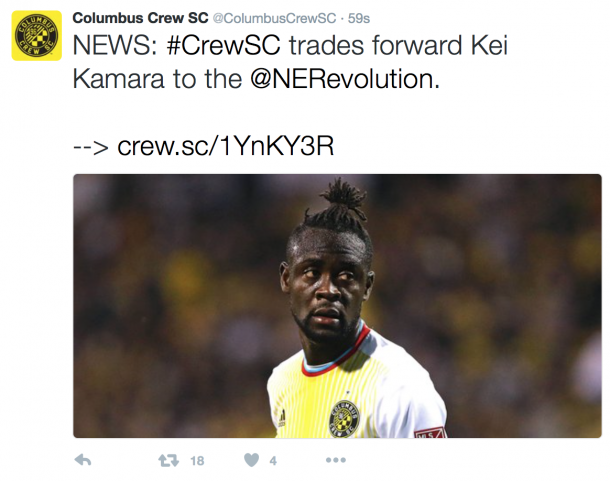 Update #5 (10:24 AM EST):
Details of the trade are starting to trickle in. It appears no players will be sent to Columbus as part of the deal.

Update #4 (10:19 AM EST):
After it seemed there would be no Kei Kamara trade, Taylor Twellman of ESPN has dropped this bombshell:

Details on the trade will be posted as more info is known.
Update #3 (1:33 AM EST)
According to Galarcep, it appears as if the deal is OFF. He tweeted, "Latest I'm told on Kamara-Rivero is it is NOT happening. Unclear what went down just before deadline but players HAD been informed of deal"
Update #2 (12:52 AM EST)
According to Ives Galarcep of Goal.com, the trade is close to being completed. Per Galarcep, the deal (if completed) will be as follows: Kei Kamara to Vancouver in exchange for Octavio Rivero and Allocation money.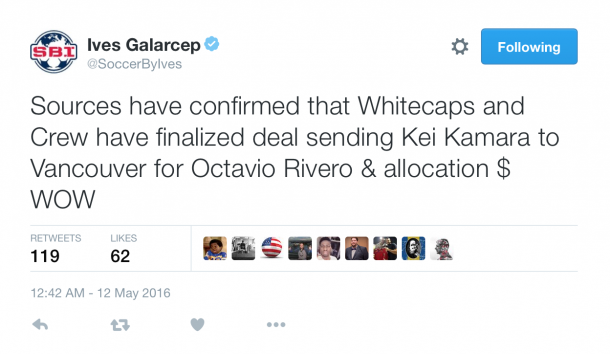 Update (12:43 AM EST):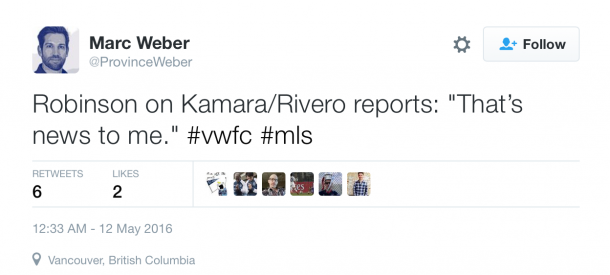 The MLS movement deadline is 1 AM EST on Thursday.
This is a developing story.