Sky Blue FC 1-2-1 (4 points)
Boston Breakers 0-4-0 (0 points)
Game time: Friday, May 13th 7:00 pm at Yurcak Field, Piscataway NJ
Overview
Two teams struggling to find their way clash Friday night in New Jersey. Boston is seeking its first win of the season while the Sky Blue look to regain the momentum from their first victory of the year. The last time these two met, Kelley O'Hara scored a pair of goals to power the Sky Blue to a 3-0 win. For both squads, this is a must-win match as both may not survive past this season.
Keys to Victory: Boston
Quite simply, Boston needs to find the goal. The Breakers have yet to score a goal and thus far they have only managed eleven shots on goal through four games and have the lowest shot on goal percentage at 26%. They have two legitimate offensive threats in Kristie Mewis and Stephanie McCaffrey, and just signed former Bayern Munich forward Eunice Beckman. Head Coach Matt Beard's club has played a tough, competitive style through the early part of the season, but have no points to show for it.
Beard expects another tough match Friday night and said, "It's going to be a tough game. They beat Seattle Reign in Seattle and got a good positive result at Houston as well, and in the Western New York game, I thought they were very unfortunate to lose the game.One thing that Christy (Holly) has done is get them fit, he's got them very organized defensively, and going forward, they are a threat. They've got Natasha Kai they can work off, and they've got a lot of players that can cause problems. From that perspective, it's going to be a tough game, but it's a game we're looking forward to, and they haven't won at home either, so we're hoping that remains the same on Friday night. Hopefully, we can open our scoring account and pick up three points."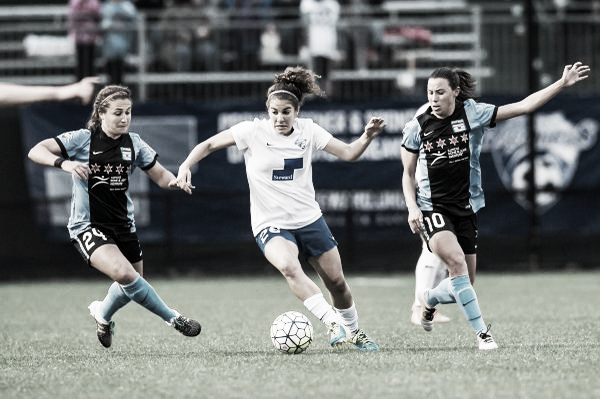 The Breakers do boast a solid defense, anchored by Whitney Engen, but were dealt a huge blow when goalkeeper Abby Smith was lost for the season last week. The team re-signed Jami Kranich but will start Libby Stout in goal. Stout has 12 saves, but has allowed five goals this season.
For the Breakers to win, Engen and company will have to stave off a pesky Sky Blue attack and Mewis and/or McCaffrey will have to find the net. It's do or die time for Boston who have only one victory in their last 17 matches.
Keys to Victory: Sky Blue FC
For Head Coach Christy Holly, Friday is the most important game of his career. His squad has struggled to close out games and fans quite simply have not shown up for either of their first two home matches. The team ranks last in attendance, and unless the victories start coming, fans will continue to stay away. If that continues, it's hard to imagine this team being around in 2017.
The team ranks eigth in shots taken with 38, but 50% of those have been on goal. Kelley O'Hara leads the team in shots taken, but she has been the sole source in generating any type of attack. Many times, she will take a run from her defensive position all the way up field, but will have nobody to pass to. The same goes for Taylor Lytle, who leads the team in assists. Quite simply O'Hara and Lytle need someone to feed the ball to. Maya Hayes has stepped up her game in recent weeks, but Tasha Kai has all but disappeared. The midfield has been a letdown, turning the ball over and not maintaining possession.
"We are very motivated to play this game on Friday night after what was a very disappointing result last week," said Holly. "Boston presents a really tough challenge, and the table is not a fair reflection of how they have played this season. We know we have a fight on our hands, and we will make sure to be ready for the strong test that they present."
One solution may be to move O'Hara into a more attacking position and drop Kai back into the midfield, where her tenacious style might be better suited in the short term.
Final Thoughts
The weather looks iffy for Saturday night, which will keep the crowds away, which is bad news for the home side. Both teams need this badly, so expect a tough, hard fought game. Not much offense in this one.
Final Score: Sky Blue FC 1 Boston Breakers 1