Sky Blue FC 2-2-1 7pts.
Western New York Flash 2-3-0 6 points
Game time: 7pm Saturday Sahlen's Stadium Rochester NY
---
The last time these two teams met was May 7th, with the visiting Flash scoring a pair of second-half goals thanks to a Jaelene Hinkle penalty kick and a Sam Mewis finish late in the half to lift them past the Sky Blue. When these two teams meet, records go out the window. It is usually an anything-can-happen match and tomorrow night's contest shouldn't be any different.
The Sky Blue enter the contest looking to extend their road unbeaten streak to eight games while the Flash begin a seven-game homestand. "This stretch of home games will be really important for us," said forward Lynn Williams. "We need to make it a place that other teams find difficult to play at. We enjoy playing in front of our home crowd and feeding off of that atmosphere." The Flash have lost their only home game thus far this season, falling to the Washington Spirit 3-0.
Head coach Paul Riley re-enforced how critical this stretch of home games will be for the Flash, especially with the advantage of not having "the wear and tear of traveling." Riley noted that the team's "performances are steadily improving" and that he felt all the players "are committed to the process." The 'process' refers to the near-complete turnover of the team over the last two years.
For the Sky Blue, they are looking to build upon last week's win at home against the Boston Breakers 1-0. The lone tally coming as a result of an own goal charged to Boston. "We look forward to getting back on the field after a good result last week," said Christy Holly, Sky Blue FC head coach. "We know we did not do ourselves any justice in the second half the last time we played Western New York, and we are anxious to correct some of those mistakes we made. We fully realize the importance of getting a result in this match, and that is exactly what we are looking to do on Saturday night."
Keys to victory Western New York:
The Flash must erase the pain of last week's heartbreaking loss and start their long stretch of home games with a victory. To do this, they will need another big game from Sam Mewis, who scored the game-winner against the Sky Blue two weeks ago. Aside from Mewis, Riley's squad will need strong contributions from the group of midfielders Abby Dahlkemper and Elizabeth Eddy and forward Makenzy Doniak. Dahlkemper played a tough, feisty match the last time these two squared off and look for her to mark either Maya Hayes or Kelley O'Hara as her assignment. The Flash must come out and play an aggressive, attacking style and limit mistakes and not allow the Sky Blue to immediately mount a counterattack, which was what Holly's squad employed against Boston. Hinkle and Abby Erceg form a solid pair on the backline and they did a nice job of limiting breakaway attempts by Hayes and striker Tasha Kai. If the Flash can match that performance tomorrow night, the offensively challenged Sky Blue will have a difficult time finding any scoring opportunities.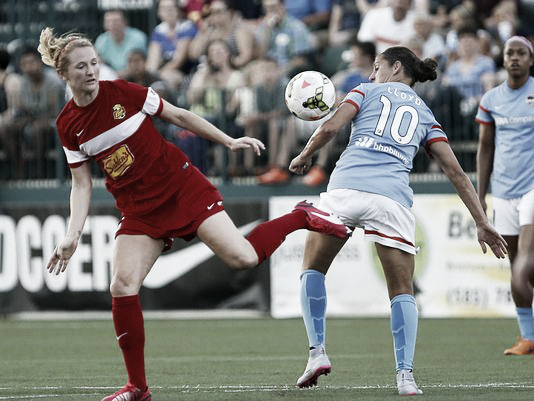 Keys to Victory Sky Blue FC:
The Sky Blue welcome newly arrived forward Leah Galton to their squad. It's unclear how much, if any playing time the talented rookie will get tomorrow night. The midfield has been a work in progress for Holly as they continue to struggle with ball movement. After scoring in the opening match, Kai has virtually disappeared from the attack. To open up things up, Kelley O'Hara should be moved from her fullback position into a fulltime striker spot. Pairing her with Hayes (and eventually Galton) seems to be the best option of generating any offense. This would allow Holly to shift Kai into the midfield where her tenacity would serve best.
Aside from the play of O'Hara, Erin Simon and Kelley Conheeney have been pleasant surprises for Holly. Simon, in particular, has been a solid, two-way player all season, as both she and Conheeney made the sqaud through open tryouts.
The defense will not be an issue for the Sky Blue , as they have been solid all season. The mystery will be who starts in goal for them tomorrow night. Will Holly continue to use Caroline Stanley, or will he insert recently signed goalkeeper Erin Nayler? Nayler has more natural ability than Stanley, so it would be wise for Holly to get her involved sooner than later.
Final thoughts:
As stated, when these two square off, records and streaks go out the window. The Flash need to go right on the attack and take momentum early, getting the crowd behind them. To counter that, O'Hara must be involved early and often as she continues to show she is one of the most dynamic players in the league. This one will go right down to the final minutes, and one goal will be the difference.
Final Score: Western New York Flash 1, Sky Blue FC 0