Two of Major League Soccer's most surprising teams in 2016 do battle when Columbus Crew SC host Real Salt Lake on Saturday, May 28, 2016 at MAPFRE Stadium in Columbus, Ohio. The game will kickoff at 4:30 P.M. PT and can be seen on CW Columbus, TWCSC-OH, and MLS Live. This will be the 19th all-time meeting between the two clubs, with the Crew holding a (win-loss-draw) 10-5-3 all-time series lead.
How did both teams fare last weekend?
Real Salt Lake continued their impressive start to the 2016 season with a 3-1 win over host Sporting Kansas City, their second road victory over SKC this season. Real Salt Lake took the lead in the 32nd minute, after Juan Manuel "Burrito" Martinez redirected a Joao Plata cross into the back of SKC's net. RSL added to their lead in first-half stoppage team, when Azerbaijani striker Yura Movsisyan's cross was inadvertently directed into his own net by Kansas City right winger Brad Davis. Sporting Kansas City reduced the arrears in the 50th minute, when forward Dom Dwyer slotted the ball underneath goalkeeper Nick Rimando and into the back of the net for his seventh goal of the season. RSL restored their two-goal advantage just three minutes later, when forward Movsisyan was sent through on goal before coolly chipping the ball over SKC 'keeper Tim Melia and into the back of the net. RSL's back line, led by center back pair Justen Glad and Aaron Maund, was solid, and RSL moved to 5-0-0 on the season when Glad/Maund start in central defense. With the win, RSL moved up to third in the Western Conference, and continue to show that they are one of the top teams in the Western Conference and in MLS this season.
The Columbus Crew have been one of the most surprising teams in MLS this season, but for all the wrong reasons. They have scored only 12 goals in 11 MLS games, the second-lowest total in the Eastern Conference, and extended their winless streak to four games with a 0-0 draw against host Toronto FC last Saturday. The Crew could have taken the lead in the 41st minute, when Designated Player Federico Higuain floated a terrific ball to lone forward Ola Kamara. Kamara's snap header was brilliantly palmed away by goalkeeper Clint Irwin, who has been one of TFC's early-season MVPs this season, and center back Josh Williams booted the ball to safety.
The Crew's best scoring opportunity came in the 51st minute. Right winger Justin Meram blocked Toronto FC center back Drew Moor's upfield pass, and broke on a two-on-one fast break. The Iraq international ran at a retreating TFC back line and chipped the ball over goalkeeper Clint Irwin. His chipped shot hit the left post and bounced out to Higuain, whose goal-bound shot flew past goalkeeper Irwin but was blocked by TFC center back Williams a couple feet in front of the goal-line. Irwin pounced on the loose ball, and the Crew spent the rest of the game defending numerous TFC offensive attacks. Although the Crew rearguard held firm, the Crew left Toronto with only a point, and currently remain in ninth place in the East, well below where many soccer pundits expected them to be at this point in the season.
Keys to the match
Can RSL handle the Crew's attack-minded midfield?
Although the Crew have been goal-shy this season, they still have a dangerous attacking triumvirate comprised of experienced Argentine attacking midfielder Higuain, right winger Meram, and left winger Cedrick Mabwati. The Crew also have American international Ethan Finlay on the bench, and he will likely take Mabwati's spot in the starting lineup on Saturday with Mabwati away on international duty for the Democratic Republic of Congo.
RSL have only conceded 15 goals this season, tied for 4th-lowest in the Western Conference. While their back line has been stellar with both Glad and Maund in the starting eleven, their balanced midfield has also provided some defensive steel. The three starting midfielders in RSL's 4-3-3 formation, attacking midfielder Javier Morales, central midfielder Stephen "Sunny" Obayan, and defensive midfielder Kyle Beckerman, cover a lot of ground each game and provide support for forwards Martinez, Plata, and Movsisyan. With Beckerman away on United States national team duty, manager Jeff Cassar will likely slot industrious midfielder Luke Mulholland into Beckerman's place against the Crew.
Sunny has been one of the newcomers of the season thus far, as he has one of the highest work rates in MLS and can play both the box-to-box midfield role and the midfield destroyer, Nigel de Jong-esque role. The Nigerian will have to be at his tenacious best against a quick Crew attack, and if he and Mulholland are able to disrupt the Crew's passing lanes and then quickly feed the ball to Morales, Morales will be able to pass the ball to either Martinez, Plata, or Movsisyan, which can lead to a lethal RSL counterattack. Given the Crew's porous defense and the fact that they will be without starting center back Gaston Sauro for 4-5 months, RSL will want to win the midfield battle in order to put the Crew SC defense under siege, early and often.
How will Crew SC line up on defense?
Columbus Crew SC have only conceded 15 goals this season, the fifth-best defensive record in MLS, but injuries and international duty will put that decent defensive record to the test. Argentine center back Sauro tore his posterior cruciate ligament last weekend and will miss at least four months. He formed a solid partnership with fellow Crew center back Michael Parkhurst, and his aerial ability and calmness on the ball will be sorely missed. The Crew will also be without starting right back and Ghana international Harrison Afful for the next two games because of international duty. Afful is a marauding attacker and a willing crosser of the ball, and his attacking verve and speed on the right flank will be missed as well.
Long-time Crew player Tyson Wahl will likely take Sauro's place in the starting lineup and will partner with incumbent Parkhurst, but the rest of the back line is a question mark. Former Orlando City and Houston Dynamo left back Corey Ashe has played well for Columbus over the last couple of games, and seems to have won the starting left back spot over Costa Rica international Waylon Francis for the time being. As for the right back spot, it will likely go to either 25-year-old Chad Barson or 27-year-old Hector Jimenez, who can play either right back or right wing. Given RSL's attacking impetus and their swift counterattacking ability, manager Gregg Berhalter will likely start the more defense-minded Barson at right back, but if he wants his fullbacks to join in on the attack and push high upfield, he may start Jimenez at right back on Saturday.
Projected formations
Columbus Crew projected starting lineup/formation (4-2-3-1)
Steve Clark; Chad Barson, Tyson Wahl, Michael Parkhurst, Corey Ashe; Mohammed Saeid, Wil Trapp; Justin Meram, Federico Higuain, Ethan Finlay; Ola Kamara.
Notable Subs: DF Waylon Francis, DF Rodrigo Saravia, DF/MF Hector Jimenez, FWD Conor Casey.
Real Salt Lake projected starting lineup/formation (4-3-3)
Nick Rimando; Tony Beltran, Justen Glad, Aaron Maund, Chris Wingert; Luke Mulholland, Javier Morales, Stephen "Sunny" Obayan; Joao Plata, Yura Movsisyan, Juan Manuel "Burrito" Martinez.
Notable Subs: DF Demar Phillips, MF John Stertzer, MF Jordan Allen, FWD Devon Sandoval.
Matchup to watch
Columbus Crew right back Chad Barson - Real Salt Lake left forward Joao Plata.
Real Salt Lake forward Joao Plata, one of the three forwards deployed in RSL's 4-3-3 formation, has cooled off after a blazing start to the season. After scoring or assisting in five straight games earlier this year, Plata suffered a quad strain and sat out two of RSL's games at the end of April, and didn't look 100% fit in RSL's first two games in May, both losses. Yet the Ecuadorian looked fit and dangerous as ever last weekend in Kansas City, and it was his pinpoint cross that was calmly dispatched by Juan "Burrito" Martinez to give RSL the 1-0 lead. When he's fit, Plata is one of the most fearsome forwards in MLS, since he possesses an array of dribbling skills, has a powerful shot, and has already scored two free kick goals in 2016. Plata has a good relationship with South American teammates Javier Morales and Juan "Burrito" Martinez, and he and forward Movsisyan work well off of each other. Plata, Martinez, and Movsisyan will head to Columbus full of confidence after last weekend's impressive display against Sporting Kansas City, and that doesn't bode well for a Crew defence that will be without two starters this weekend.
The man (or at least one of the men) who will be tasked with stopping Plata is right back Chad Barson, who hasn't played a minute for the Crew this season. The 25-year-old right back had spent most of 2016 on loan with United Soccer League (USL) club Pittsburgh Riverhounds, but only made one appearance for the Riverhounds before returning to the Crew. Barson is recovering from a left knee sprain and may be questionable for Saturday's contest, but if he is healthy, he will likely be in manager Berhalter's starting eleven against RSL. He is more sound on defense compared to Crew SC winger/defender Hector Jimenez, and is a more natural right back compared to teammate/defender Rodrigo Saravia. Barson will certainly have his hands full dealing with the skillful Plata, and will have to track the little Ecuadorian wherever he goes. It will certainly be a stern test for Barson, but if he defends well and puts in a good two-way performance, Berhalter may select Barson as his starting right back when the Crew take on the Philadelphia Union next Wednesday.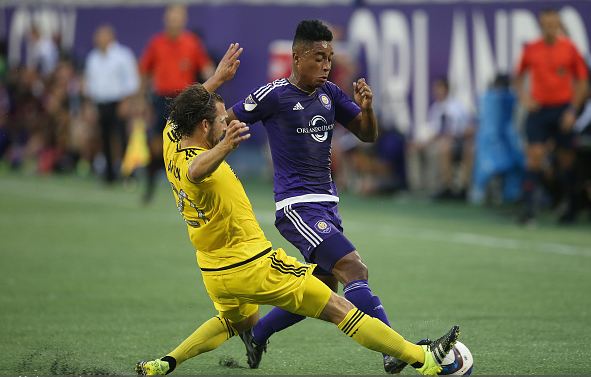 Projected scoreline
Before this season, many MLS soccer analysts predicted that the Crew would end the season at or near the top of the Eastern Conference standings, while Real Salt Lake would finish outside of the sixth and final Western Conference playoff spot. Thirteen weeks into the MLS season, and it is RSL who look like a MLS Cup contender while the Crew continue to flounder. RSL have found an ideal center back pair in Aaron Maund and Justen Glad, have one of the best goalkeepers in the league in Nick Rimando, and have three of the most creative attackers in the league in Juan "Burrito" Martinez, Joao Plata, and Javier Morales. Manager Jeff Cassar has found the right personnel to run his 4-3-3 formation, and it also should be noted that RSL are a perfect 4-0-0 at home this season.
Crew SC, on the other hand, are in disarray at the moment. They just traded their leading scorer over the last two seasons, Kei Kamara, to the New England Revolution after Kamara publicly criticized manager Berhalter and midfielder Higuain, and they also lost Gaston Sauro to a torn PCL. Current starting center forward Ola Kamara hasn't made the immediate impact that Crew SC fans would have hoped for, and with lightning-quick left winger Cedrick and experienced right back Harrison Afful both on international duty this weekend, Crew SC will need the rest of their supporting cast to step up against RSL. This author believes that midfielders Justin Meram and Ethan Finlay, who has been out of form this season, will step up and create numerous scoring opportunities on Saturday. However, this author also believes that the Crew back line composed of mostly second-stringers will not be able to stop RSL's thriving attack, and RSL playmakers Plata and Morales will both finish with a goal and an assist apiece on Saturday. The Columbus Crew need to start stringing wins together if they hope to save this lost season. That win streak will have to wait another week, though, as RSL will win at MAPFRE Stadium on Saturday and will continue to climb up the Western Conference standings.
Projected final score: Columbus Crew 1 Real Salt Lake 3