 Chile's road to repeating as Copa America champions got off to a rough start after losing to Argentina 2-1 in front of a sell-out crowd at Levi's Stadium in Santa Clara, California on Monday. Chile and Argentina combined for a whopping 31 fouls and six yellow cards, with Chile midfielder Arturo Vidal earning a yellow card in just the 19th minute. His reckless, 19th minute foul on Argentina right midfielder Nicolas Gaitan set the tone for an intense affair, but while Argentina was able to keep their composure, Chile seemed more interested in complaining to the referee than to completing passes and creating scoring opportunities. Goalkeeper Claudio Bravo and midfielder Alexis Sanchez both had nights to forget, although the Chilean defense played well for the most part. The only silver lining for Chile was substitute Jose Fuenzalida's goal in the 93rd minute, and while it was only a consolation goal, it may help Chile advance out of the group if they are tied for second place at the end of the group stage and need to rely on goal differential to advance.
Player ratings (1-10, with 10 the best)
Chile
GK Claudio Bravo, 4 -- Not a very inspiring performance from Bravo. He got beat twice at his near post by both Ever Banega and Angel Di Maria, with the former's shot aided by a deflection, and had a couple of kicks go straight to Argentine players. He did make a smart save to deny Argentina midfielder Erik Lamela in the 92nd minute, but he will need to play better when Chile takes on Bolivia on Friday.
RB Mauricio Isla, 5 -- Didn't do very much offensively and earned a yellow card for a hard tackle on Nicolas Gaitan in the 44th minute. He tried unsuccessfully to defend the dazzling Di Maria, but he should have a better game when he faces a less intimidating Bolivia squad later this week.
CB Gary Medel, 6 -- Received a yellow card in the 65th minute after tussling with Di Maria. His experience and solid one-on-one defending skills helped neutralize forward Gonzalo Higuain, and he cleared a lot of balls out of danger. Not a bad performance from the Inter Milan man.
CB Gonzalo Jara, 6 -- Jara was widely criticized for his actions in getting Uruguayan striker Edinson Cavani sent off in last year's Copa America, but he didn't engage in any play acting this time around. He worked with Medel to neutralize Higuain and helped his fullbacks defend Gaitan and Di Maria. His passing could have been more accurate, but he wasn't the only player on Chile who had trouble finding a teammate.
LB Eugenio Mena, 5 -- Mena was not fast enough to deal with the quick Gaitan, but he defended valiantly and linked up well with Beausejour down his left flank. He pulled up with a hamstring injury in the 54th minute and was replaced soon after. His status for Chile's game against Bolivia is questionable.
RM Charles Aranguiz, 5 -- His speed and dribbling skills were eye-catching, but Aranguiz had a hard time completing passes to his teammates. He was fouled four times and committed four fouls as well, and didn't even attempt a shot on goal. He was shackled by Argentina's two defensive midfielders and was subbed off in the 82nd minute.
CM Marcelo Diaz, 4 -- Had a nice volley deflected wide for a Chile corner kick, but was anonymous for most of the game. Had a series of poor giveaways in his own half, and will need to be more careful with the ball next time out. He, Vidal and Aranguiz was overrun by Argentina's three attacking midfielders, which put the defense under pressure for most of Monday's game.
CM Arturo Vidal, 4 -- Arturo Vidal on his best day is an imposing box-to-box midfielder who can pass, shoot, and dribble better than most players on FC Bayern Munich, his club team. Unfortunately for Chile, Vidal was nowhere near his best on Monday. He was uncharacteristically careless with the ball, made a couple of rash challenges, and was constantly jawing at the referee instead of concentrating on his responsibilities. He needs to play much calmer in order for Chile to succeed, and while the refereeing in Monday's game was questionable at times, he needs to worry less about the officiating and more about supporting his teammates and providing leadership.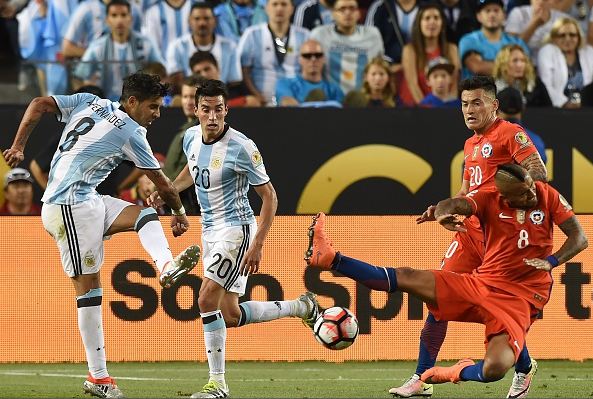 FWD Eduardo Vargas, 5.5 -- Vargas tried to make a number of well-timed through the Argentine defense, but didn't get his timing right. He was offsides three times in the first half, and even though his pace made him a counterattacking threat, his crossing and passing in the final third let him--and his team--down. He was fuming after being subbed off in the 68th minute, but he didn't do much to warrant staying on the field for the entire game.
FWD Alexis Sanchez, 5 -- Sanchez was Chile's most dangerous threat for much of Monday's contest, and he finished with three shots on goal. But his passing was surprisingly poor and he lost possession countless times, which frustrated his teammates and the Chilean fans in attendance. Sanchez was also fouled repeatedly throughout the match, but head referee Daniel Fedorczuk seemed content to let the game get physical, which infuriated Sanchez to no end. The fouls he suffered affected his play in the second half, and he was a non-factor in the latter stages of the game.
FWD Jean Beausejour, 6 -- Beausejour didn't attempt a single shot against Argentina, but did provide some much-needed width to Chile's attack. He had a terrific cross fall to substitute Orellana, who volleyed the ball into the arms of Argentina goalkeeper Sergio Romero, and had a couple of dangerous crosses cleared away. He kept possession of the ball and didn't take many risks, but could have been more adventurous in the final third.
Substitutes
MF/FWD Orellana, 6 -- Orellana came on for the injured Eugenio Mena and almost made an instant impact, volleying the ball into the arms of 'keeper Romero just three minutes after coming on. He wasn't afraid to dribble at defenders and was confident with the ball, but couldn't spark his time to life until second-half stoppage time, when he sent a teasing ball into the box which was headed in by fellow substitute Jose Fuenzalida. He may have done enough to earn a start against Bolivia on Friday.
FWD Mauricio Pinilla, 3 -- Pinilla came on for Eduardo Vargas in the 68th minute, but made very little impact. He didn't attempt a single shot on goal and was anonymous during his 22 minutes on the field. Didn't hurt his team, but certainly didn't help it.
MF Jose Fuenzalida, 6 -- One shot on goal. One goal scored. Fuenzalida didn't do very much after coming on in the 82nd minute for Charles Aranguiz, but he did score off a header in the 93rd minute to salvage some Chilean pride.