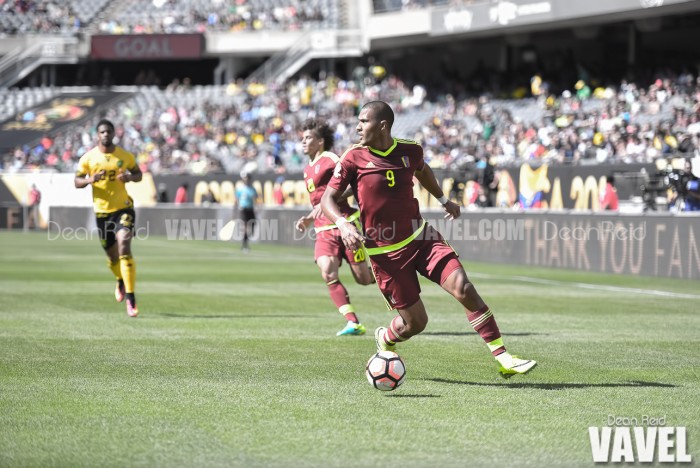 PHILADELPHIA, Pa. – Uruguay was eliminated from Copa America Centenario contention Thursday night in a 1-0 defeat to Venezuela at Lincoln Financial Field. Salomon Rondon scored La Vinotinto's deciding goal on a marvelous chance in the 36th minute and Edinson Cavani failed to stave off his side's expulsion from the competition's historic centennial edition.
First half
The first half saw quite a few rough challenges, one of which resulted in an eighth-minute substitution for Venezuela, the injured Roberto Rosales coming off for Alexander Gonzalez. Two Venezuelans, Josef Martinez and Arquimedes Figuera, both picked up yellow cards in the first half.
Edinson Cavani had the best two chances for Uruguay early on, whiffing on a 15th-minute strike teed up from 10 yards out and nearly making contact on a free-kick cross in the 31st minute.
Venezuela went up 1-0 in the 36th minute when an Alejandro Guerra lob from the right attacking midfield was deflected off the inside of Fernando Muslera's crossbar. The ball caromed downward and to the right post, but Salomon Rondon was there for La Vinotinto to plop the ball in the net.
Uruguay was consistently retreating back to cover persistent Venezuelan goalward darts while goalkeeper Dani Hernandez kept a collected back line for the underdogs. Venezuela had seven first-half shot attempts to La Celeste's three, four coming on target for La Vinotinto and right at Muslera.
Second half
An uneventful first 45 without much space for the Uruguayan attack to maneuver and capitalize on prime chances, it was time for Cavani and his team to step up and stave off early elimination from Copa America Centenario.
La Celeste saw an increasing number of chances on the front lines in the second half, but there was no budge from Venezuela. Adalberto Penaranda had a promising penalty-area chance in the 68th minute, cutting from the right wing to his left and firing a bullet that Hernandez was keen to save the shot at his top-right post.
Diego Godin began to push up as Uruguay's auxiliary striker in the latter moments of the second half and yet Oscar Tabarez's side just could not break through. A Maxi Pereira cross in the 86th minute was intercepted by a leaping Hernandez out of goal.
The chance Uruguay had waited all game for finally came in the 89th minute and Cavani blew it. The PSG man strode to his right across the box and fired from point blank range, missing by not the smallest margin to the right.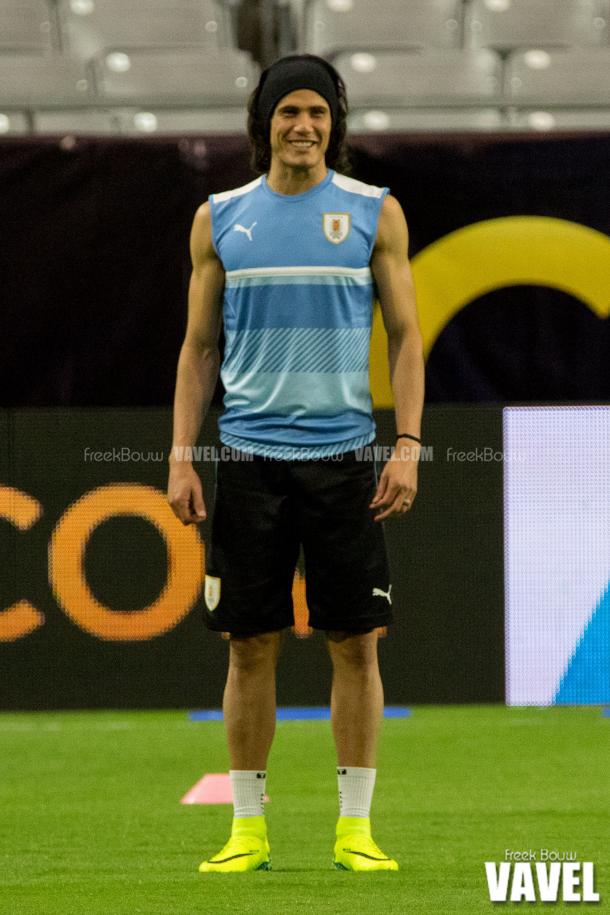 Cavani got a chance for redemption in the 90th minute, with a cross caroming to his feet. Hernandez was there too quickly and the striker couldn't release a shot before the Venezuelan scooped up the loose ball.
Muslera rushed up for Uruguay's final corner kick and the ball was quickly cleared out to Romulo Otero, who fired a long shot that curled just inches wide of the empty net. The final whistle was blown moments later to officially mark La Celeste's elimination from Copa America Centenario.