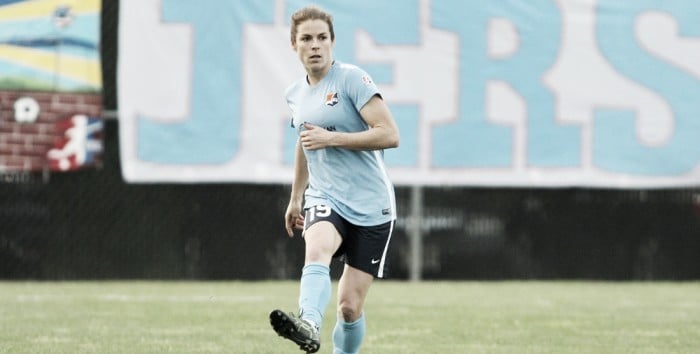 Sky Blue FC 2-3-2 eight points vs FC Kansas City 1-4-2 five points
Saturday, June 11th 7pm Yurcak Field, Piscataway NJ
Overview
In what can be labeled the 'enigma bowl' , two teams that entered the season with high hopes clash this Saturday night in New Jersey as week seven of the NWSL resumes. FC Kansas City has easily been the biggest disappointment thus far as they sit near the bottom of the league standings. The two-time defending champs still boast a roster brimming with talent, yet have still only managed to score four goals through the first six games. They won their first game of the season on May 28th, defeating the Orlando Pride 2-0. Defender Becky Sauerbrunn and midfielder Heather O'Reilly still form the backbone of the team, but the absence of the ultra-skilled forward Amy Rodriguez has been quite noticeable. Also missing are the talents of forward Sydney Leroux, who was acquired in the offseason via trade with the Western New York Flash. Both Rodriguez and Leroux would certainly have made up for the offensive deficits evident throughout the first third of the season.
The Blues sit in 9th place, seven points out of playoff contention. While anything can still happen in the remaining thirteen games, losing a myriad of players to the upcoming Summer Olympics will not ease the challenge. The team has needed some of its younger players to step up and a few have, including defender Katie Bowen and midfielder Yael Averbuch, who leads the team with two goals. Both Averbuch and O'Reilly are New Jersey natives, so they will want to have an impressive showing in their home state. Sauerbrunn and Bowen have formed a nice tandem on the backline, although they have been prone to mental lapses in critical moments. Forward Shea Groom and midfielder Erika Tymrak are two more young players who must step their play up moving forward. Tymrak notched her first goal against the Pride.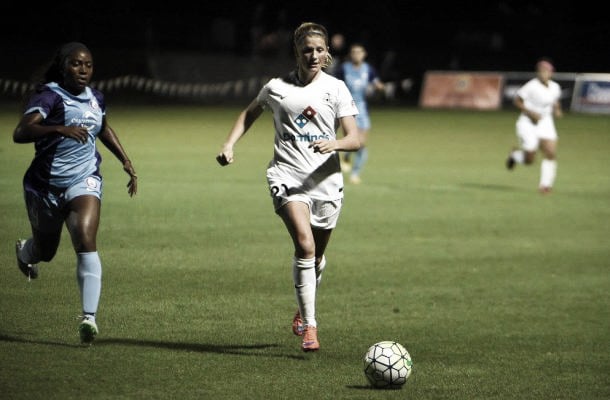 It truly has been difficult to pin down what has gone wrong thus far for Kansas City, although being outscored 5-1 in the second half of games has certainly been one issue.
For Christy Holly and his Sky Blue FC squad, the troubles run a little deeper. They rank at the bottom in the league in attendance and remain a near unknown in the Garden State. Despite boasting an MVP-worthy campaign from defender Kelley O'Hara, they continue to struggle scoring goals and closing out games. Neither Caroline Casey or Caroline Stanley have been effective in goal, and it is hoped that recently signed New Zealand national star Erin Nayler will assume the number one goalkeeper spot. Another new acquisition, forward Leah Galton has been very impressive in her first two outings, notching a goal in their most recent match against the Chicago Red Stars. If Galton can be another piece in the attack and take some of the load from O'Hara, it would be a huge boost to the club. Defender/forward Maya Hayes may miss this contest, which only increases the need for Galton and others, such as Kelley Conheeney, Sarah Killion, and Erin Simon to step up.
The Sky Blue will need to beef up their defense against dead ball situations, one aspect that has been killing Holly's squad and testing his calm demeanor. They've conceded two goals off of corner kicks and have given up three goals in total off dead ball set pieces, which has contributed to their being a minus three in goal differential.
Final Thoughts
This is one of those matches that drive prognosticators crazy. Being the home squad, one would like to give the Sky Blue the edge in this match. However, it's hard not to think Kansas City can get their season turned around and back on track. Yet the Blues have not shown any sense of consistency this season. Therefore, there is only one way to pick this one :
Final Score : Sky Blue FC 1, FC Kansas City 1