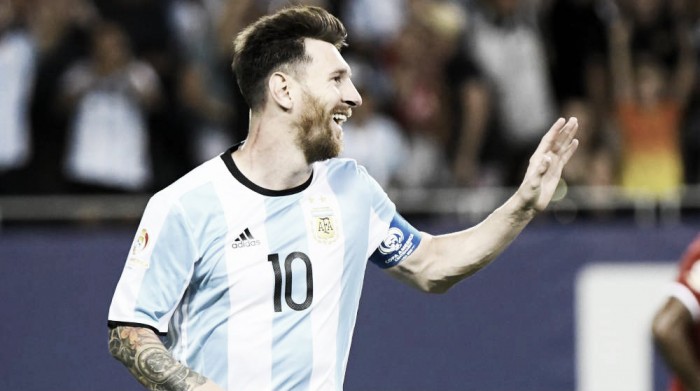 La Albiceleste secured a quarterfinal birth in the Copa America Centenario with their triumph over Panama. Gerardo "El Tata" Martino's side gave a strong performance against a Panama side that was down ten men, 32 minutes into the first half.
Argentina got an early goal thanks to Nicolas Otamendi but, it was Panama that looked like the stronger team for most of the first half before the red card was handed to Anibal Godoy. It was a physical first half with referee Joel Aguilar showing six bookings. Argentina's injury woes continue as man of the match from last game, Angel Di Maria , picked up an injury in the latter stages of the first half as Erik Lamela came on to replace him.
All eyes were set on Lionel Messi as it was confirmed he was ready to play as he started off the bench. Messi had an outstanding performance coming on for Agusto Fernandez. With Messi's three goals of the night, he is now three goals behind Argentina's top goal scorer, Gabriel "Batigol" Batistuta.
Player Ratings (1-10, with 10 being the best)
GK: Sergio Romero, 7 - "Chiquito" Romero was up to the task in the first half preventing some quality Panama scoring chances. Although, Panama didn't have to force him a lot Romero was well-positioned for stopping three of Panama's shots.
DEF: Marcos Rojo, 8.5 - Although not having the brightest club season, Rojo continues to play well for "La Albiceleste". The Argentine Left Back had a great game offensively recording two assists. His high rating is due in part to his ability to provide offensive and defensive solidarity and also a strong aerial player.
DEF: Ramiro Funes Mori, 7 - The Everton player continues to prove himself as a starter as his calm composed defensive attributes contribute to what was known as Argentina's weakness, their defense. Not tested a lot, Funes Mori had five clearances and two interceptions.
DEF: Nicolas Otamendi, 8 - Otamendi opened up the scoring off a magnificent cross of an Angel Di Maria free-kick. He was practically unmarked on the goal and easily put up Argentina on the board. There were at times where Otamendi showed his burst of speed to get out of pressure and of course stopped multiple rushes from Panama.
DEF: Gabriel Mercado, 7 - The River Plate man wasn't involved as much in this game as the last one as he only made 1 successful cross. Mercado was lucky in not getting handed a booking as he made three fouls.
MID: Javier Mascherano, 7 - Along with other teammates, Mascherano was a bit quiet and not tested as much. Mascherano was a protagonist in the first half trying to instigate some of Panama's players and get the referees attention.
MID: Agusto Fernandez, 6.5 - It wasn't the best of games for Agusto Fernandez as he lost many 50/50 battles and lost the ball at times. Fernandez would be subbed off in the 62nd minute for Messi.
MID: Ever Banega, 7 - After coming off an exceptional game against Chile at Levi Stadium, Banega was an important player in generating Argentina's offense. Although not scoring or assisting, Banega made 88 passes, passing at 95% and had three shots during the full 90 minutes.
ATT: Angel Di Maria, 7 - It was going well for Di Maria as he showed his outstanding left foot ability on the assist on Otamendi's goal. Di Maria was able to generate multiple crosses and dribble successfully but his game was cut short due to an injury late in the first half.
ATT: Gonzalo Higuain, 7 - "El Pipita" continues to go without a goal in the tournament but he did have some looks. HIguain had one opportunity on a breakaway but was successfully tackled off the ball. He was able to get an assist on Messi's first goal as a ball was rebounded off his face from a poor Panama clearance.
ATT: Nicolas Gaitan, 6.5 - similar to his teammates, Gaitan wasn't as involved in this game as the one against Chile. Gaitan failed to record a shot and dispossessed the ball three times along with three fouls.
Subs:
MID: Erik Lamela, 6 - Erik Lamela made his second appearance of the Copa America off the bench when he came on for the injured Di Maria in the 43rd minute. Lamela continues to be one of Argentina's prolific talents off the bench.
ATT: Lionel Messi, 9.5 - The Argentine Captain made his fist appearance of the Copa America Centenario as he came on in the 62nd minute for Augusto Fernandez. Messi gave the Chicago crowd an outstanding performance as he scored all three goals and made an amazing pass to Marcos Rojo where he then gave it to Higuain where he would then finish it. "La Pulga" was the man of the match increasing Argentina's lead and helping them reach a birth to the quarterfinals.
ATT: Sergio Aguero, 7 - Another one of Martino's subs prevailed as Aguero scored in the 90th minute giving his side their last goal. Aguero came on in the 76th minute for Gonzalo Higuain.