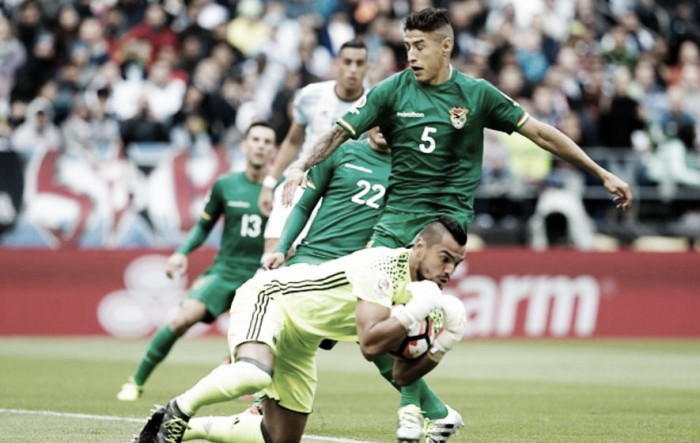 Ezequiel Lavezzi, Erik Lamela, and Victor Cuesta all scored as Argentina beat Bolivia 3-0 at CenturyLink Field in Seattle, Washington on Tuesday. Bolivia finished the match with 14% possession and rarely completed more than two passes at a time. Manager Julio Baldivieso will be disappointed with his side's inability to get out of their own half and attack. The Bolivian defense was put under siege for the full 90 minutes but can take some solace in that they didn't allow a goal in the second half. Bolivia finished the group stage 0-3-0 (win-loss-draw), and although the team played hard on Tuesday, they just didn't have the quality to compete with their vastly superior South American counterparts.
Player ratings (1-10, with 10 the best)
Bolivia
GK Carlos Lampe, 4 -- The Bolivian netminder made three saves, but could have turned Gonzalo Higuain's header away from goal instead of towards Lavezzi, who buried the ball into the roof of the net. Didn't have much to do in the second half as his team's defense became more organized.
RB Erwin Saavedra, 4 -- Rarely got forward but was not at fault for any of Argentina's goals.
CB Alejandro Melean, 4 -- Earned a yellow card for a hard foul on Lamela in the 87th minute. Only completed a couple of passes to his teammates.
CB Edward Zenteno, 3 -- Earned a yellow card after taking down Lavezzi in the 12th minute. Lamela made him and Bolivia pay by scoring via a direct free kick just a minute after Zenteno's foul. Also had trouble completing a pass to anyone in a green shirt. Had Bolivia's only shot on target.
CB Nelson Cabrera, 4 -- Cleared a number of balls to safety but did not help his team keep possession. Marshaled the back line well in the second half.
LB Luis Gutierrez, 3 -- Should have earned a yellow card after elbowing Argentine right back Facundo Roncaglia in the face in the 20th minute. Was out of position on Argentina's second goal and committed numerous fouls throughout Tuesday's game.
RM Juan Carlos Arce, 5.5 -- Bolivia's best player on the night. Made a couple of good runs and worked hard to win the ball back for his team. Was subbed off at half-time for tactical reasons, but deserved to stay on the field for the full 90 minutes.
CM Martin Smedberg-Dalence, 4 -- His set-piece passes into the box were easily caught by Argentine goalkeeper Sergio Romero. Was overrun by Argentina's explosive midfield and lost possession numerous times.
CM Pedro Azogue, 4 -- Completely anonymous. Did not maintain possession and grew tired as the match wore on.
LM Jhasmani Campos, 4.5 -- Sliced a right footed shot from a difficult angle wide, and was the only one who tried to generate any offense for his side. Butted heads with Argentine forward Lionel Messi late on, which earned him a yellow card in the 81st minute.
FWD Yasmani Duk, 4 -- The New York Cosmos player was only on the field for 24 minutes before being subbed off after taking an arm to the face, which left Duk bloodied and dazed. Didn't have enough time to make an impact on Tuesday's match.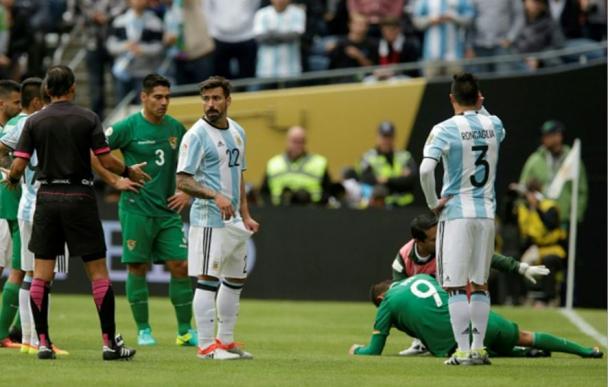 Substitutes
FWD Diego Bejarano, 4 -- Subbed on for the injured Duk in the 24th minute. Could not generate any offense and was left isolated against Argentina's organized defense.
MF Cristhian Machado, 3 -- Subbed on for the energetic Arce at half-time. Made no impact on the game and was anonymous during his 45 minutes of action.
FWD Carmelo Algaranaz, NR -- Subbed on in the 85th minute. Did not do enough to earn a rating.