 The Philadelphia Union announced Thursday evening via Twitter that they had mutually parted ways with French midfielder, Vincent Nogueira.
A history of minor injuries
The Besançon native arrived in Philadelphia from hometown club Sochaux where he played for seven seasons in January of 2014, ahead of the 2014 Major League Soccer season. Pegged as a highly regarded midfielder, the former Ligue 1 man arrived on a non-Designated Player contract. Nogueira suffered from a number of small injuries throughout his career in Philadelphia including quad and ankle injuries that kept him out for nearly two months last season. Despite his injuries, he was regarded as a key member of the Union team racking up 59 appearances, nine goals, and three assists in his two and a half years in Philadelphia.
Influence beyond the statistics
Despite not reaching double digits in terms of contribution throughout his time in Philadelphia, Nogueira is regarded as a player that was thoroughly influential through his passing and ability to play the "shuttler" role next to a variety of pure defensive midfielders including Maurice Edu, Brian Carroll, and Warren Creavalle. The team was consistently weaker through his absence and he played a key role on the path to both Lamar Hunt US Open Cup final appearances for the Union in both 2014 and 2015, having converted his penalty in the 2014 semi-final shoot-out against FC Dallas as well as all three of the shootouts Philadelphia participated in during the 2015 edition.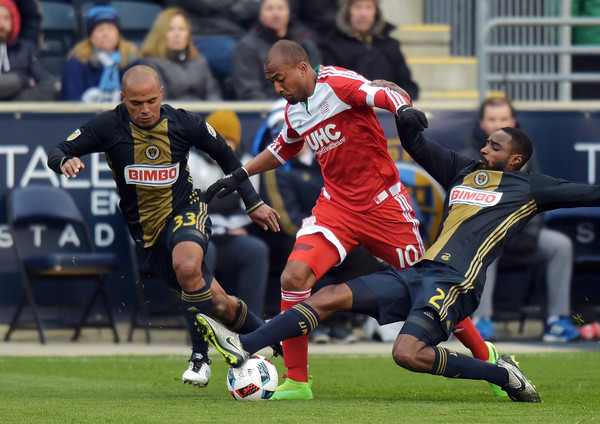 Reasoning for the termination
Nogueira's contract was terminated due to quote, "personal health reasons," and Philadelphia Union Sporting Director Earnie Stewart stated that "the health issue is private but he will definitely play soccer again. It's not life-threatening or anything."
Nogueira had hinted at the move following Philadelphia's Open Cup victory on Wednesday night, having individually turned and clapped toward the River End of Talen Energy Stadium following the win against USL side City Islanders FC. He will reportedly return to his native France to spend time with his family and also took the time to thank the club and his teammates stating, "I want to thank Philadelphia Union for their understanding of my situation and wish my teammates well going forward."
In the short term, the termination leaves Philadelphia in a situation of personnel and tactical deficiency. Captain Maurice Edu remains out through injury, leaving Brian Carroll and Warren Creavalle as the only available natural defensive midfielders on the squad. Also capable of playing centrally but not defensively-inclined are Ilsinho and Ronald Alberg. Should the Union seek to replace him with a player from Europe they will not be able to do so until the European transfer window opens on July 1st. Other options include loans or transfers from fellow Major League Soccer teams, a change in formation or the loan of midfielder Derrick Jones from Philadelphia owned, USL affiliate Bethlehem Steel FC.