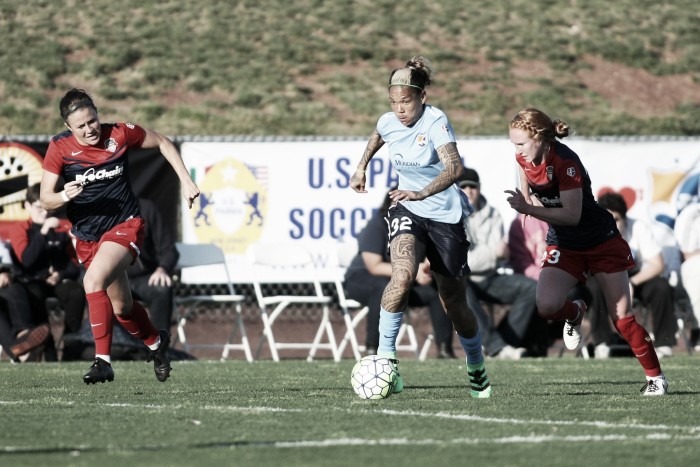 Sky Blue FC 2-3-4 (10 points) vs. Washington Spirit 5-1-2 (17 points)
Game time: 7pm Saturday at Maryland SoccerPlex
Overview
The Sky Blue FC enter this match riding a three-game unbeaten streak. However, two of those matches have been ties, thus they enter Saturday night's contest badly needing not only a win but a critical three points as well. Washington comes into the match with only one loss and riding a 2-0 victory over the Orlando Pride last week.
This will be the last match before the USWNT members depart for the Rio Olympics.
Keys to Victory
Both teams come into this match relatively healthy and want to remain that way. However, this is usually a very physical match, and it remains to be seen how long Ali Kreiger of the Spirit and Kelley O'Hara of the Sky Blue will play, with neither coach willing to risk injury to such key members of the upcoming Olympic squad. Thus, it will be up to a collection of players such as Chyna Williams, Joanna Lohman, Francisca Ordega and Diana Matheson for the Spirit and Leah Galton, Sam Kerr, Tasha Kai and Kelley Conheeney for the Sky Blue to step their game up.
Lohman and Matheson are tied for the team lead in goals with three, while Sarah Killion and Maya Hayes lead the way for the Sky Blue with two tallies each. Both squads are solid defensively, so keeping mistakes to a minimum will be key as will controlling possession in the midfield, something the Sky Blue were not able to do during the first match earlier this season.
The Sky Blue have found more success on the road this year than they have at home, so getting on the board first will go a long way in silencing the crowd. They have to control possession as well as the tempo of the game and avoid costly mistakes, because the Spirit can be lethal in quick transition, spurred on by Lohman, Matheson, Kreiger and Crystal Dunn. "We are looking forward to getting down to Washington and putting in a good performance on Saturday," said Christy Holly, Sky Blue FC head coach. "This game comes to us after our strongest showing of the year against Seattle last weekend. We have seen quite a bit of Washington, and we have a good understanding of what their strengths and weaknesses are. We have formulated a game plan that we know will provide us with a positive outcome if executed properly."
Prediction
Considering that they are a better road team than a home team, and the fact that they have a full arsenal of scoring options that they did not have the first time against the Spirit, this writer sees Holly's squad pulling out a close, tough victory.
Sky Blue 2 Spirit 1