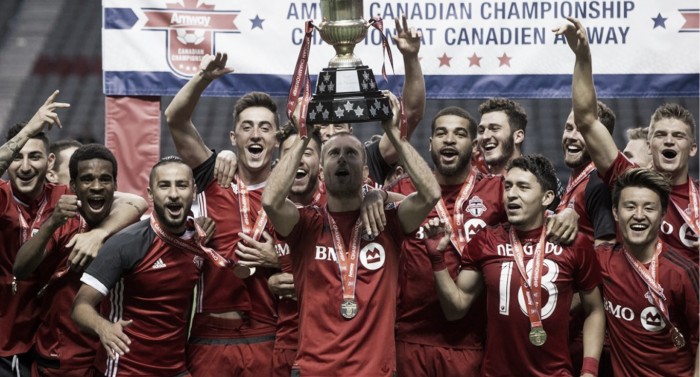 Will Johnson's sensational goal, the second-to-last kick of the match, gave Toronto FC its first Amway Canadian Championship (ACC) trophy since 2012, and a spot in next year's CONCACAF Champions League. The defending champion Vancouver Whitecaps looked to have sealed their second consecutive ACC title win after scoring two goals and taking a 2-1 lead on aggregate, but Johnson and TFC had other ideas, scoring a dramatic goal after miscommunication between goalkeeper David Ousted and center back Kendall Waston presented Johnson with a scoring chance that he would not miss. Johnson's goal broke the hearts of the 19,376 mostly-Whitecaps fans in attendance and sparked wild celebrations from the traveling TFC band of supporters.
Whitecaps dominate match before falling apart late
Neither team generated many scoring chances in the first half. Whitecaps left midfielder Kekuta Manneh was able to get past TFC right back Nick Hagglund, who is normally a center back but played out of position on Wednesday, multiple times, but his crosses were all cleared to safety. The best scoring chance in the opening half fell to Whitecaps defensive midfielder Matias Laba. The Argentine's shot at the top of TFC's 18-yard-box was well saved by TFC goalkeeper Alex Bono, and Whitecaps left back Jordan Harvey fired the rebound over the net. Toronto FC entered the half-time break up 1-0 on aggregate, and if the result held, they would leave BC Place with the ACC trophy.
Yet the game completely changed in the 46th minute. Half-time substitute Nicolas Mezquida drifted in between TFC center back Drew Moor and TFC left back Justin Morrow and headed in a well-weighted Jordan Harvey pass to give Vancouver the 1-0 lead and tie the championship on aggregate.
TFC seemed shell-shocked by Mezquida's goal, but quickly regrouped and shifted their formation to a 4-3-3 to try and generate more offensive pressure. One of their best scoring opportunities in the second half came in the 59th minute. TFC forward Mo Babouli dribbled around Whitecaps defensive midfielder Pedro Morales and unleashed a fierce shot towards the Whitecaps' goal. 'Caps goalkeeper David Ousted was up to the task, diving to his right to tip Babouli's shot over the bar.
But nine minutes after Babouli's shot, Vancouver took the lead on aggregate. After a Whitecaps corner kick was cleared, Caps midfielder Laba lofted a hopeful, 30-yard pass back into TFC's box. Caps right back Tim Parker controlled Laba's pass with his chest before firing a left footed shot past TFC 'keeper Bono, sparking wild celebrations in the stands and on the Whitecaps bench.
TFC manager Greg Vanney threw on forwards Tsubasa Endoh and Jordan Hamilton in an effort to find that crucial away-goal, but Vancouver's defensive midfielders and back line did a great job clearing TFC crosses out of the box. Whitecaps substitute Alphonso Davies could have put the game to bed in the 81st minute, but his left footed shot--and midfielder Christian Bolanos' follow-up shot--were both blocked by Bono and TFC defenders.
The game began to open up more as TFC pushed for an equalizer, with Bolanos having his shot well-saved by Bono in the 85th minute before TFC forward Sebastian Giovinco had his left footed shot blocked just seconds after. TFC substitute Raheem Edwards had his shot saved by Ousted in the 86th minute, and fellow substitute Endoh could only head Edwards' pinpoint cross into goalkeeper Ousted's grateful arms. By that point, it looked like TFC had finally run out of ideas, and they almost gave up a 3rd goal in the 91st minute, when Whitecaps substitute Blas Perez's shot rolled past Bono before hitting the left post and rolling to safety.
TFC fans will be thankful that Perez's shot hit the post instead of rolling into the net, because just minutes after Perez's near-miss, TFC grabbed a dramatic away-goal that won them the championship. Forward Endoh dribbled past the midline before lofting a floated ball towards TFC forwards Giovinco and Jordan Hamilton. Whitecaps center back Kendall Waston was in a good position to head the ball away, but he backed into onrushing Caps goalkeeper David Ousted, who came out of his box to punch the ball away, before he could head the ball to safety. Both players collided, and the ball fell right to TFC midfielder Johnson, who smashed the ball past three Whitecaps defenders on the goal line to stun the Whitecaps fans in attendance.
Johnson was injured on the play and was helped off the field by TFC's medical staff, and TFC fans will be hoping that their hard-working midfielder will not be sidelined for long. Johnson's goal turned out to be the last action of the match, and when the final whistle blew, the TFC substitutes and coaching staff ran onto the field to celebrate, while the stunned and dejected Whitecaps walked off the field, with some Whitecaps shedding tears after losing the trophy that just moments ago was in their grasp.
Men of the match
Toronto FC: Will Johnson
Johnson etched his name into TFC lore after scoring the goal that propelled his team to their first ACC trophy since 2012, but he also put in a ton of work as TFC's second central midfielder. The Canada international completed more than 85 percent of his passes and ran his lungs out trying to win the ball back for his team. His sumptuous left footed strike rifled past three Whitecaps defenders, but he was unfortunately injured on the play. TFC fans will be hoping that Johnson's injury was just a minor one, because an injury to Johnson would deprive TFC of one of their best players.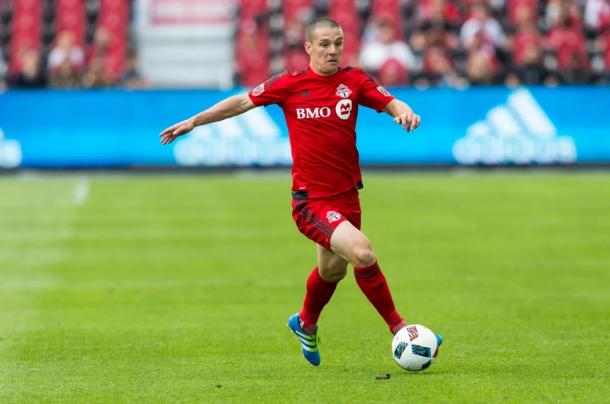 Vancouver Whitecaps: Nicolas Mezquida
It was quite an eventful 50 minutes of action for Mezquida. The little Uruguayan somehow got between TFC center back Moor and left back Morrow to head home Harvey's long cross and tie the game on aggregate. Mezquida made a whopping five key passes and only misplaced two passes, which shows just how effective Mezquida was in the playmaker role for Vancouver. He also chipped in with four recovery tackles and worked hard to harry TFC into committing turnovers. But Mezquida's efforts were all for naught after fellow man-of-the-match Will Johnson scored in the 95th minute. Mezquida had to be consoled by multiple Whitecaps players after the final whistle sounded, and it's a shame that the Whitecaps wasted such a good game from Mezquida on Wednesday.
What's next for both teams
Toronto FC will certainly celebrate their ACC final victory, but must quickly turn their attention to Saturday's match against the struggling Seattle Sounders. The Sounders are coming off of a 4-1 penalty kick shootout, U.S. Open Cup victory over Real Salt Lake on Tuesday, but have so far struggled in MLS play. They've lost five of their last six games and currently sit ninth in the Western Conference. TFC will be fatigued after playing Wednesday's match, but should still be able to earn a full three points against a misfiring Sounders squad.
The Whitecaps will have to shake off the bitter disappointment of losing the ACC final when they travel to the Stubhub Center to take on the Los Angeles Galaxy on Monday, July 4th. The Galaxy tied the San Jose Earthquakes 1-1 in last weekend's California Clasico, and are tied for first in Major League Soccer with eight ties in 16 matches. They are still undefeated at home, however, and even though the Whitecaps beat the Galaxy 1-0 at Stubhub last year, the 'Caps poor defense (29 goals conceded, the second-most goals allowed in MLS thus far) could let them down against the Galaxy on Monday. The Whitecaps' high-powered offense should pose problems for the Galaxy defense, but the Whitecaps should still be considered underdogs when they face off against the Galaxy next Monday.