On Friday, FC Kansas City announced the signing off defender Molly Menchel. Menchel had been training with Kansas City's practice squad. She will be available for selection for Saturday's game against the Washington Spirit.
Vlatko Andonovski happy to have Menchel
FC Kansas City head coach Vlatko Andonovski is excited to add Menchel to the team.
"We are very excited to get Molly on the roster. She has been with us for a few months and has put a lot of time and effort in to win this part. I am very proud of her and pleased with her work ethic and mentality."
Menchel played at the University of Virginia
Menchel is tied for first in the University of Virginia's history after appearing in all 96 games during her college career. She is also the all-time leading scorer in Cavaliers' history when it comes to defenders. During her four years, she scored 13 goals and eight of those were game-winning goals.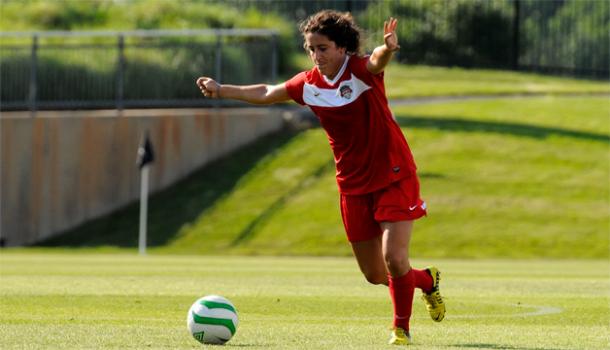 Between college seasons, Menchel played for the D.C. United Women and the Spirit Reserves in the USL W-League. She was selected by the Washington Spirit in the third round of the 2014 National Women's Soccer League College Draft.
Joins deep defensive team
Menchel will join an FC Kansas City team that has recorded three shutouts in their last four games. Kansas City has always had a solid defensive and the addition of Menchel will only make it tougher for opposing teams to score. The 24-year-old Menchel has an opportunity to learn a lot from team captain Becky Sauerbrunn. Sauerbrunn is a three-time NWSL Defender of the Year and is arguably one of the best center backs in the league and on the international stage.
Menchel will wear number 24 according to the press release sent out by the team. It is not known if she will see time this weekend when the Blues take on the Spirit at Maureen Hendricks Field Maryland SoccerPlex in Boyds, MD. Kickoff is scheduled for 7:00 pm ET.
quote courtesy of FC Kansas City press release.