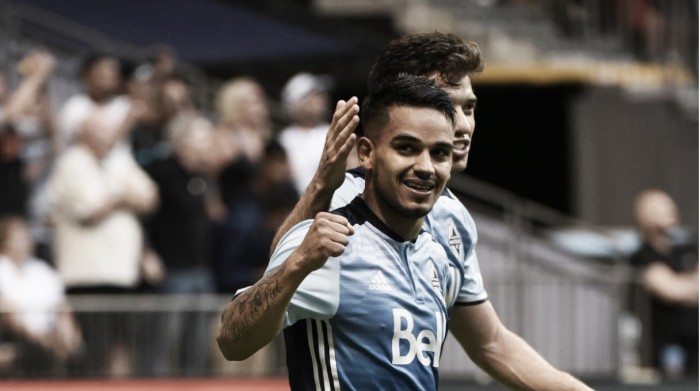 A Cristian Techera goal-of-the-week nominee and a Justen Glad own goal helped the Vancouver Whitecaps beat Real Salt Lake at BC Place in Vancouver, British Columbia on Wednesday.
With the win, the Whitecaps move to (win-loss-draw) 8-8-4 on the year and remain in sixth place in the competitive Western Conference. As for Real Salt Lake, manager Jeff Cassar's men move to 8-6-5 on the year and remain in third place in the Western Conference. Whitecaps manager Carl Robinson will be delighted that his players could earn their fourth shutout--and third shutout victory--of the year. RSL manager Cassar will applaud his team's valiant effort and will hope his club can bounce back against the New England Revolution on Saturday.
Organized Whitecaps maintain focus to earn maximum points
Real Salt Lake fielded a team of mostly second-stringers on Wednesday night but had the game's first scoring chance. Midfielder Jordan Allen got to the byline and crossed the ball to right winger Olmes Garcia, who headed the ball back across the Whitecaps' six-yard-box. RSL striker Yura Movsisyan, one of the few starters to start on Wednesday, headed the ball towards goal, but Whitecaps goalkeeper David Ousted acrobatically saved Movsisyan's header and center back Kendall Waston cleared the ball to safety.
After an uneventful passage of play, the Whitecaps took the lead in the 34th minute. 'Caps right winger Christian Bolanos played a good ball to an oncoming Matias Laba, who played a dangerous ball across RSL's six-yard-box. Right back Tony Beltran tried to clear the ball to safety, but his attempted clearance deflected off the chest of center back Glad and into the back of the net.
Just three minutes later, midfielder Cristian Techera doubled the Whitecaps lead with a jaw-dropping strike. A Whitecaps free kick was cleared to midfielder Bolanos, who inadvertently redirected the ball to Techera. Techera moved to his left before unleashing a swerving strike from 25 yards out that rocketed into the top left corner of goalkeeper Jeff Attinella's goal. It was Techera's second goal in as many games and it gave Vancouver a 2-0 lead at halftime.
In the second half, the Whitecaps continued to press this hardworking RSL side. In the 50th minute, midfielder Nicolas Mezquida dragged a right footed shot from the top of RSL's 18-yard-box just wide, before Techera hit a left footed shot just wide in the 53rd minute. RSL manager Cassar decided that his team needed an attacking boost and threw on Argentine playmakers Javier Morales and Juan Manuel Martinez in the 66th and 67th minute.
The Whitecaps responded by subbing on Caps debutante Marcel de Jong for Techera in the 66th minute. In the 86th minute, RSL striker Movsisyan hit a hard right footed shot that forced Ousted to go to ground to save, and as the clock wound down, RSL threw men forward in an attempt to steal a point. RSL winger Garcia's left footed shot was well saved by Ousted in the 92nd minute, and forward Movsisyan hit the crossbar with the last kick of the game. When the final whistle sounded, the Whitecaps fans applauded their team's solid defensive effort and the players celebrated their fifth home win of the season.
Men of the match
Vancouver Whitecaps: Tim Parker
The 'Caps 23-year-old center back was one of the best players on the field on Wednesday and continues to grow as a player for this young Whitecaps team. Parker finished Wednesday's game with four recovery tackles, one open-field tackle, four clearances, and two interceptions. He and center back partner Waston seem to have a good rapport with each other, and with both players healthy, the 'Caps may be able to pitch more shutouts throughout the rest of the season. Both are dominant in the air and strong in the tackle, and as long as Waston keeps a clean disciplinary record, the 'Caps can clear away almost every cross into their 18-yard-box.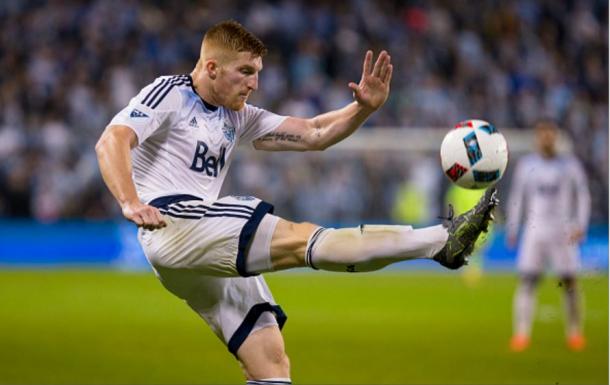 Real Salt Lake: Yura Movsisyan
28-year-old Azerbaijani striker Movsisyan has enjoyed a successful 2016 season for RSL thus far, with seven goals and an assist entering Wednesday's match. Although Movsisyan couldn't add to his goal tally on Wednesday, he displayed some tremendous hold-up play and had a bullet header well saved by Ousted in the 15th minute. He also expertly laid the ball off to teammate Luke Mulholland for a shot that went over Ousted's bar in the 57th minute. Movsisyan's last kick of the match was a close-range shot that rattled the bar in the 93rd minute, and it was just not meant to be for the on-loan Spartak Moscow man.
What's next for both teams
The Whitecaps welcome Orlando City to BC Place on Saturday, July 16, at 7:00 PM PT. Orlando City has dropped two of their last three games and has looked lost on offense without injured Designated Player (DP) Kaka. The Whitecaps will be confident after winning on Wednesday and should collect another three points against an Orlando City side that is searching for answers at the moment.
Real Salt Lake will return home to Rio Tinto Stadium to take on the New England Revolution on Saturday, July 16, at 7:00 PM PT. RSL are still undefeated at home (5-0-3 on the year) and face a Revolution side that has only won one game on the road this year. RSL should have their first-choice squad well-rested and ready to play on Saturday, but will need to neutralize the Revs' two main attackers, Lee Nguyen and Kei Kamara, in order to take all three points at home on Saturday.