 The historic fourth season of the NWSL has not let us down as far as quality players in the league. Since the beginning of the season we have seen week in and week out the change in team rankings, and the rise of teams that some thought would be out of contention. We have also seen the struggle for teams who we thought were going to be stronger in league standing, such as the Seattle Reign and Chicago Red Stars.
After the Olympic break there are only five more weeks left in the season for teams to make their case for points. That's also five more weeks to make the case for some individual accolades. Here, I will be discussing possible Defender of the Year candidates.
Breaking it down by teams
Boston Breakers: Whitney Engen.
Despite their rough season and current ranking, Engen has been a bright spot in an otherwise gloomy year for Boston. After being unable to score in what felt like an eternity, Engen, a defender, opened the scoring for the Breakers. Her ability to lead her back line and be vocal on the pitch for them shows us why she's captain.
Chicago Red Stars: Arin Gilliland.
Chicago's entire defense held them a top of the rankings in the 1st half of the season. Any members of their back five could be an option here, especially her outside back partner Casey Short. However, it is hard to overlook Gilliland. She's only in her second year in the league and is showing no signs of slowing down. Her fearless play this year is earning her praise from fans and media.
Orlando Pride: Steph Catley.
Before the second half of the season the Pride has one of the best defenses in the league in part thanks to Catley. However, national team camps and call ups have since interrupted the backline chemistry. Before heading off to the Olympics to represent Australia, Catley was a solid attacking left back for Orlando in a backline with names like Ashlyn Harris and Josee Belanger.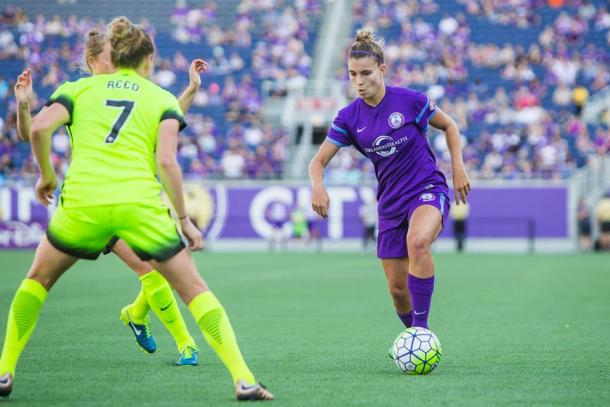 Portland Thorns: Emily Sonnett.
Picked number one in the 2016 NWSL College Draft, Sonnett has made her presence felt since week one on the pitch. She is currently listed as an alternate for the U.S.A in the Olympics. Her physical play, ability to cover in one-v-one situations, and her smooth transition from college to pro all could very well earn her Rookie of the Year as well as defender honors.
Seattle Reign: Rachel Corsie.
The Seattle Reign have had a bit of an awkward season to date. Both the offensive and defensive aspects of their game have been a bit suspect even though they have a roster brimming with talent. They have managed to stay in the hunt for the playoffs, all while having to play with three different goalkeepers and dealing with major injuries. Corsie has helped the backline manage despite the constant inconsistencies.

Sky Blue FC: Christie Rampone.
Both a national team and Sky Blue veteran, Rampone has had an excellent NWSL season. She withdrew herself from a national team call up, and has since helped Sky Blue rise in league standings. Her leadership, communication, and intelligent play are just some reasons why she is captain. Her speed, ability to recover and take players off the ball, make her a choice candidate.
Washington Spirit: Ali Krieger.
The Washington Spirit have maintained their top three standing all year long this season. Along with denying the opposition position, she captains the team. Krieger's first touch on the ball is second to none in the league. You pair that with her speed and her ability to read the field and it makes a lethal combo.

Western New York Flash: Jaelene Hinkle.
The Flash broke into the standings with an impressive win streak and phenomenal goal scoring. Hinkle has shown her versatility with the Flash as more of an attacking outside left back. She has the attributes to both help an offensive run of play and defend. Her ability to contribute on set pieces for her team has helped their rise in the league.
Goalkeepers in contention too
FC Kansas City: Nicole Barnhart.
The defending league champions have had some challenges this year. Retirements and maternity leave have kept out some players, and they are currently in the lower half of league rankings. Barnhart, their goalkeeper, is currently Player of the week (week 14) after a 24 shot/14 save performance. Her amazing display of keeper skills has more than kept her team in games despite their record.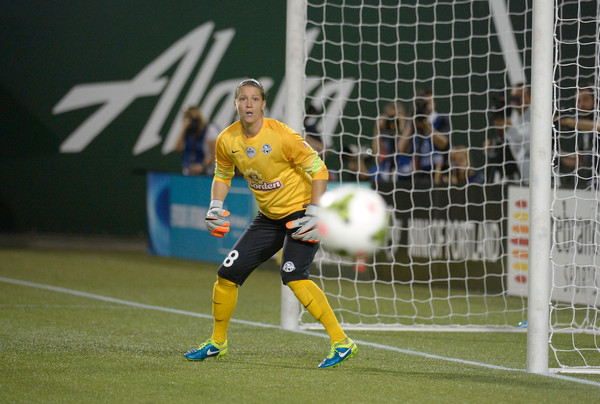 Houston Dash: Lydia Williams.
The Dash are another team who unfortunately have an outstanding goa keeper who keeps them able to chase points, yet are unable to score goals for her. Originally presumed to be a back up to Bianca Henninger, Williams won the starting spot and kept it until her Olympic international duty for Australia came calling.

The NWSL will break for the Olympics after this week. While regular season play resumes August 26, the Washington Spirit and Houston Dash will play a make up game on August 18.