 United States Women's National Team goalkeeper Hope Solo has been suspended by U.S Soccer for six months and was also terminated of her national team contract following her controversial statements made after elimination from women's soccer tournament at the hands of Sweden in the 2016 Olympics Games in Rio de Janeiro just two weeks ago.
Hope in Hot Water
After the U.S. was eliminated from the Games via a penalty shootout, the 35-year-old shot-stopper criticized the winning Swedish team, calling them "a bunch of cowards." Following such backlash, the American federation made it clear that the veteran should be punished for such actions against the Scandinavian side.
Solo, as a result of her actions, will not be eligible for selection to the U.S. Women's National Team until February 2017.
"The comments by Hope Solo after the match against Sweden during the 2016 Olympics were unacceptable and do not meet the standard of conduct we require from our National Team players," said U.S. Soccer President Sunil Gulati.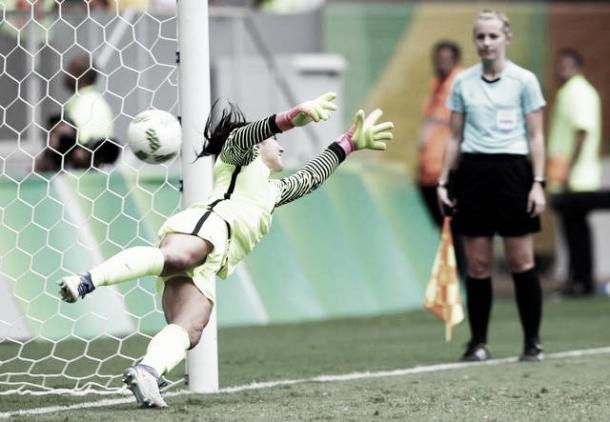 Appeal underway
Following the suspension, Solo took to social media to speak about the decision stating that ''I could not be the player I am without being the person I am, even when I haven't made the best choices or said the right things.'' She will also appeal the decision of the suspension in order to prepare herself for the upcoming matches in 2017. Richard Nichols, the executive director of the USWNT Players Association, said the union will file an appeal on Solo's behalf.
This has not been the first time that the goalkeeper has been suspended by the federation. In 2015, she was suspended for 30 days following similar conduct. She has also been in the news for her misdemeanor domestic violence charges after a 2014 incident in which Solo was accused of being intoxicated and assaulting her sister and 17-year-old nephew.
Hope Solo has been a part of the national team setup since 2000. Since then, Solo has appeared in 200 matches and has won two Olympic gold medals, in 2008 and 2012, as well as the FIFA Women's World Cup in 2015.