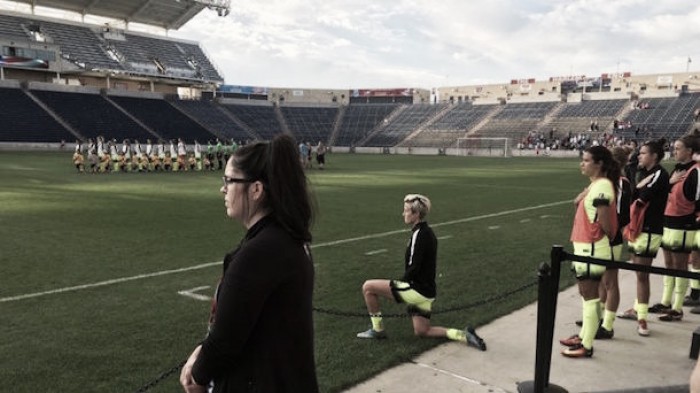 All eyes have been on the NFL and Colin Kaepernick over the last few weeks as the now infamous player continues to kneel during the playing of the national anthem in order to show his support to the Black Lives Matter movement and protest police brutality. It was clear that many executives of NFL teams were less than thrilled with Kaepernick's demonstration, but that did not stop it from resonating with fans across the country, and even other athletes.
Megan Rapinoe, a member of the Seattle Reign and the USWNT, kneeled for the anthem in the Reign's game against Chicago and announced that she did not plan to stand until she feels that a proper dialogue has commenced. Her actions garnered the attention of numerous news outlets and activists that otherwise likely would not tune into an NWSL game. Her protest seemed to be better received by members of the community than Kaepernick's, until of course Wednesday night when the Washington Spirit's owner, Bill Lynch, elected to play the national anthem while the players were still in the locker room in order to prevent Rapinoe from "hijacking" it. Many followers of the NWSL expressed their frustration, and as a fan of the Spirit, I joined them.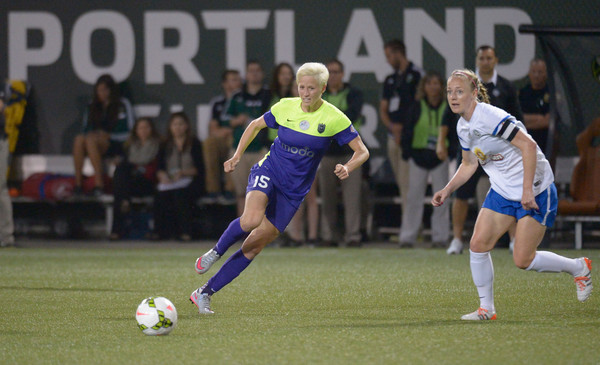 Why I found it concerning
I have believed for a long time that athletes should not be confined to being a perfect role model and public figure at all times. Athletes are the epitome of passion and grit, and it makes sense for that passion to leak into other aspects of their lives, such as politics. They should not be faulted for speaking their mind, as what may be perceived as being aggressive or disruptive is likely what allowed them to claw their way to the top of their sport in the first place. I also believe that everyone should have the right to protest non-violently.
Some other people who believed that happen to be the founding fathers of the United States, who wrote the constitution that is at the core of what we would like for our society to be. By kneeling during the anthem, Rapinoe was not hurting anyone or really being all that disruptive. This shouldn't be seen as disrespectful. Instead, it should be seen as accountability. In all aspects of life, it is dangerous to become complacent and accept everything we see at face value. We should be unafraid to challenge what we perceive to be unfair because true love for one's country means sometimes acknowledging that there are things worth improving in order to make the country as great as possible. Rapinoe could have protested in countless other ways; she could have smashed windows, banged pots and pans, or burned a flag, but instead she took the route of diplomacy and discussion, which should be commended rather than condemned.
How should we move forward?
As a fan, I found it deeply troubling to find the team that I love so much doing something that I disagree so strongly with. Normally, If a company did something you disagreed with, you would simply withdraw your support until you saw the changes that you wanted, but with the NWSL, it's trickier than that. As a young league, the NWSL functions with a lot of volunteer support that it can't afford to lose, making the decision to boycott even more complex. I have elected to continue to support the league as a whole, the Washington Spirit front office needs to understand that I wholeheartedly disagree with how they handled the situation.
The NWSL prides itself on being an inclusive and safe space for people of all races, genders, ethnicities, and sexualities, and hosts a wide variety of players from a variety of different backgrounds. If anything, the NWSL should be a leader in fostering discussion and attempting to understand all opinions, including those of Lynch, but that won't happen by preventing protest. This is not about the opinions of individuals, it is about what the league is going to become as it grows older. If we want to continue to be at the forefront of acceptance and inclusion, then we need to be aware that once we start silencing certain opinions, it's a slippery slope to individuals having totalitarian control over the voices of individual members of their organization.
Going forward, it's important for Rapinoe to assert that she means no disrespect to veterans, despite common perception. It will also be important for the Spirit players to clarify that the views of the club's owner do not necessarily reflect their own personal opinions, so as to avoid losing the support of their fan base as they have already secured a home playoff match. Lastly, it is absolutely vital that the Reign do not withdraw their support of Rapinoe's choice to protest. It is hard to villainize a player when their organization is speaking in their defense. I have faith that this will be resolved in a way that is satisfactory to both parties because, like Rapinoe, I love my country and I love my team, which means I know that both can, and will, do better.