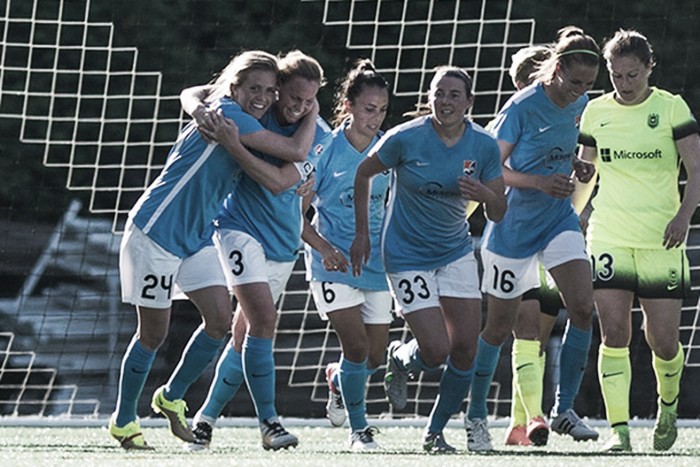 After three and a half hours, Sky Blue FC had conducted all their business in the 2017 NWSL Draft and picked up some interesting choices that addressed some needs for the team going into the new season.
Every position on the field is selected by Sky Blue
With a goalkeeper, defenders, midfielders and forwards, Sky Blue have seemingly touched base with every position on the field. Their fans however, may feel that not enough question marks were addressed during this draft, namely the lack of depth in the defenders part of the roster. The first pick for the team out of New Jersey was USC's Kayla Mills who was selected fourth overall in the draft. After that, the coaching staff picked a number of players but not necessarily those that the fans would have expected them to pick as they were looking to maybe address the goalkeeper position as well. Head coach Christy Holly will feel as though he has added exactly what he needed to the team and will probably ask the fans to be patient as he implements more of his ideas onto the team.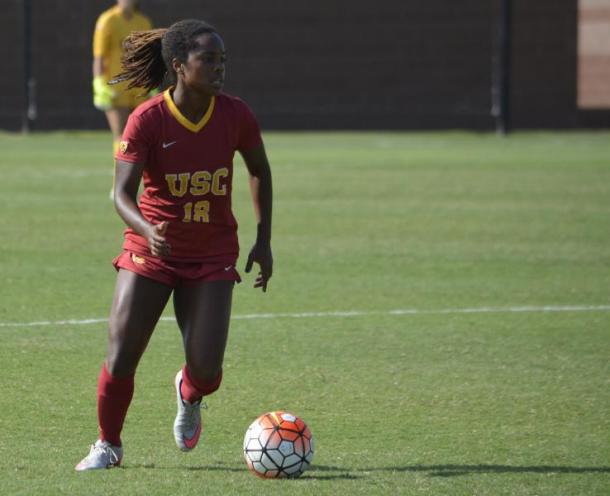 Kayla Mills
The defender out of USC fills a big need for Sky Blue. Usually featured at left back, her pace and versatility would not only aid the team at left back but also at defensive midfield, where Kayla Mills has featured for her college team before. Mills has also been involved in the youth national team set up and has recently been called up to the U23 side for the United States Women's National Team.
Her two goals and eight assists in 89 games for USC helped her earn a spot on the 2015 NSCAA All American team and the honor of being the 2015 PAC-12 Defenisve Player of the Year.
Miranda Freeman
Coming in as the tenth overall pick is Mill's teammate at USC, Miranda Freeman. The center back is another solid choice for Sky Blue as her play in 2016 helped USC to a NCAA Championship and the title of the PAC-12 Defensive Player of the Year. Freeman, like Mills, is versatile enough to play in defensive midfield and has also earned a call up to the U23 national team like her fellow Trojan.
Both of these early picks do cause speculation on what the future holds for Sky Blue captain and USWNT veteran Christie Rampone.
Kailen Sheridan
Canadian goalkeeper Kailen Sheridan is highly regarded at both the collegiate and national level by many people and was one of the top goalkeepers in the draft. With some inconsistency in the goalkeeping position for Sky Blue last year, this pick made perfect sense for a team looking for a steady starting goalkeeper. Sheridan played 76 games for Clemson in that time completed 229 saves, allowed only 63 goals, posted 28 shutouts and 2 career assists. Her play also propelled her to the MAC Hermann trophy watch list and earned her a pace in the All-ACC team for her four years at Clemson.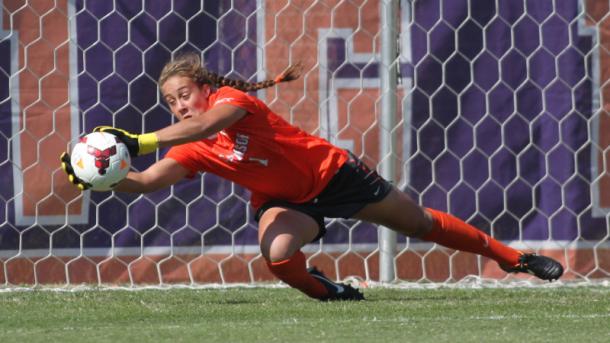 Madison Tiernan
Jersey native Madison Tiernan from Rutgers was the next pick for Sky Blue. The forward will add depth at the forward position for Sky Blue but might not see the field straight away. Tiernan was productive at the collegiate level, scoring 25 goals and recording 16 assists in 88 games for Rutgers, but she is still raw and thus will probably be on the bench for Sky Blue more often than not.
Catrina Atanda
Another Jersey native joins the ranks for Sky Blue in forward Catrina Atanda. Atanda really took centre stage in 2016 as she helped Clemson to a very good season in the NCAA. Her 12 goals and four assists during the 2016 season pushed Clemson into the 'Sweet 16' for the first time in a long time and Holly will be hoping that Atanda can take that productivity into the professional game. Atanda is another who is expected to mostly come on as a substitute to begin with but Holly is known for giving his players a chance and if she performs well, Atanda could find herself in the starting lineup for Sky Blue.
McKenzie Meehan
The last pick made by Sky Blue was for Boston College forward Mckenzie Meehan. The Rhode Island native had a stellar senior season for her team in a tough division and it helped push her up the rankings of college players across the country. Meehan finished her collegiate career with 12 goals in 2016 and her performances in her final year probably brought her to Sky Blue's attention. Meehan has also featured at the youth level for the national team but will find the NWSL a different prospect altogether. Meehan is probably another potential depth player for Sky Blue but should the likes of Sam Kerr or Kelley O'Hara not return to the NWSL this season, Meehan could be someone that Holly looks to to fill the gap.