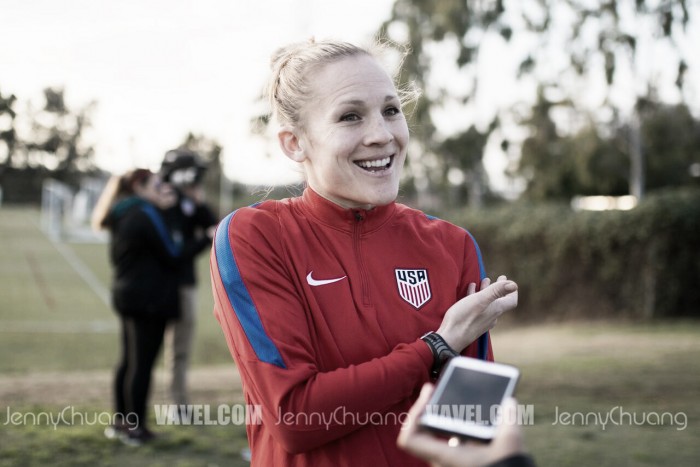 The U.S. Women's National Team kicked off its first camp of 2017 last week in Carson, California. This will be the only time the USWNT meets before their annual She Believes Cup taking place during the first week of March. With this in mind, head coach Jill Ellis has called in new and old players alike, trying to see what direction the team should head for not only this year, but the 2019 Women's World Cup. On top of focusing on national team goals, there have been quite a few surprises to start off the new year. VAVEL USA was able to speak to a few players in regards to camp, the draft and the beginning of the North Carolina Courage.
New year, fresh start
The most common theme throughout the camp is a clean slate for everyone. 2016 is far behind and the players, as well as the coaching staff, look to improve and build for the future. Starting a new cycle of tournaments is exciting, and this camp takes a look at where players stand in relation to how Ellis and company want to improve the team.
"Start of a new year comes with a lot of new players," veteran Crystal Dunn explained to VAVEL USA. "just new information. We're excited to get out there and train and play some soccer."
Some faces that were new at the end of 2016 returned once again for this camp, such as now North Carolina Courage forward Lynn Williams. "It's really exciting anytime I get an opportunity to come in with this team - with these incredible women. It's such an honor," she expressed on being called back into camp after a successful 2016. "I'm just hoping that this year continues to go as well as the end of last season."
In the midst of all the returning and new faces comes a face that the USWNT hasn't seen in awhile. Forward Amy Rodriguez, who's coming back from having her second child, has found herself back in the mix. Rodriguez also missed out all of the 2016 NWSL season, but that hasn't stopped her in the slightest.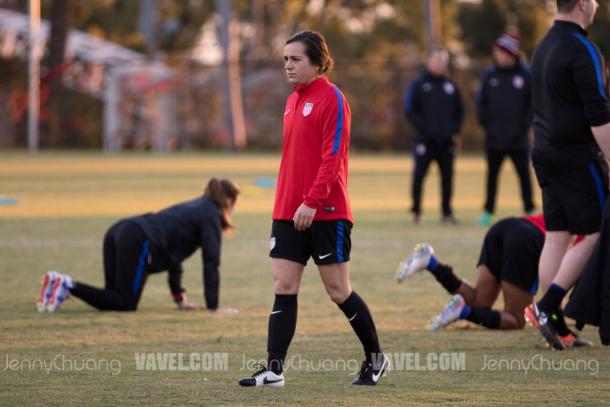 "It's been over a year since I've played with this team. Training on my own is just not the same," she admitted. "I miss the girls. I miss the playing environment. I really miss the quality of training that this team provides and the competition that comes with training [here]."
When asked about what the mindset is for 2017 Rodriguez said, "It's a re-evaluation period. The ultimate goal for us is 2019, but you don't just show up to 2019 being ready. It starts now."
Yet it's more than that for the forward, who missed out on not only the season with FC Kansas City, but the 2016 Rio Olympics. To her, 2017 is her comeback - to prove herself. "This is when I need to be sharp. I need to be ready to go," she explained. "It's gonna be really intense, but I think it's gonna be really good."
Draft picks in camp
The USWNT kicked off camp the day after the 2017 NWSL College Draft, where 40 collegiate players were chosen to continue their professional careers with one of the 10 teams in the NWSL. It is no surprise that some of the top draft picks are also in camp, most notably first overall pick Rose Lavelle.
"I feel like we always have number one draft picks coming into camp, you know you had [Emily] Sonnett and Morgan [Brian]," defender and co-captain Becky Sauerbrunn said. "It's great for Rose, I think she's really excited about going to Boston. She's a great player and I think she's gonna help that program out a lot."
Sauerbrunn, who plays for FC Kansas City, was also pleased with head coach Vlatko Andononvski's picks from the draft, including one of her very own current USWNT teammates. "First and foremost really excited about Christina Gibbons," she shared. "I mean, having a defender of her caliber is going to be really helpful for us."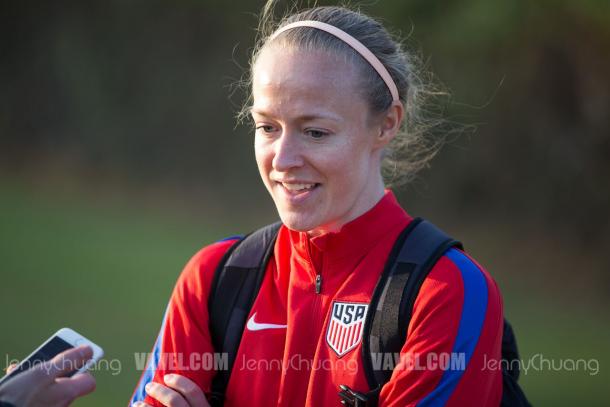 Duke's Christina Gibbons was the fifth pick overall in the draft. FCKC teammate Rodriguez expressed her excitement on Gibbons as well. "I introduced myself last night and said 'hey we're teammates!'" she laughed. "So [I'm] happy to start forming that relationship there and I'm just excited for the girls."
Western New York goes to North Carolina
Aside from the exciting draft, the other big news going around the league is Western New York Flash's move to North Carolina as the North Carolina Courage. Not only did the move take some fans by surprise, but forward Amy Rodriguez was shocked by the move as well.
"I had no idea that was happening. That came as a big surprise for me," she admitted to VAVEL USA. "but [I'm] pretty happy the league is growing. I can see there's interest and that we're moving forward."
Lynn Williams, who won the championship with the Flash in 2016 and now enters 2017 as part of the Courage had to thank the family that helped the Western New York area with women's soccer first by saying, "The Sahlens family, first of all, I thank them so much. They put so much into this league - into our team as well."
Though the change is abrupt and new, Williams thinks it'll be an exciting time for the league. "We're going to be playing on real grass, so in that sense it's amazing," she said. "And I think North Carolina just brings a fan base that we didn't have in Western New York. I think for the growth of the league it's going to be amazing."
USWNT runs until January 23. They will meet again for the She Believes Cup, where a smaller roster will compete against the world's best teams.