 Not even two weeks removed from being picked by the Seattle Reign in the 2017 NWSL College Draft, Arielle Ship is heading to her second team. Ship is being sent to the Washington Spirit along with the Reign's natural third round pick in the 2018 NWSL College Draft in exchange for Canadian International Diana Matheson.
Matheson spent all of her NWSL career in Washington
After spending her entire NWSL career with the Spirit, Matheson will be joining the Reign and brings an immense amount of talent with her to a team that is already loaded with talent. In 67 games, 58 of them starts, with the Spirit, Matheson is the Spirit's all-time leader in both goals scored (23) and assisted (12). She earned NWSL Best XI honors in 2013 when she led the team in goals. In 2014, she helped lead the Spirit to their first ever playoff appearance in 2014 and led the team with six assists.
Matheson spoke about the move out west; "I am excited about the move out west and the opportunity to join a club like Seattle. They are a club I've always enjoyed competing against in the past, and I'm looking forward to the chance to play with the great players and coaches there."
At the international level, Matheson has been capped 191 times and has scored 17 goals to go along with 20 assists. She has represented Canada in four World Cups and three Olympics. She scored the game-winning goal in the bronze medal match in the 2012 London Olympic Games. She also earned a bronze medal during the 2016 Rio Olympics.
Ship moves from the West Coast to the East Coast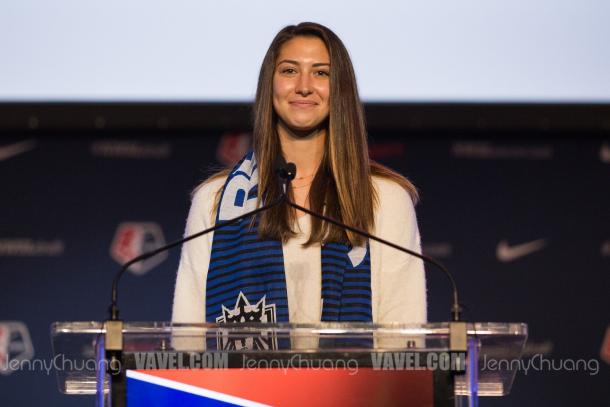 Ship, the Reign's 2017 NWSL College Draft third-round selection, will change teams before even competing for Seattle. The former University of California product scored 29 goals in her college career and became the first ever Cal player to be named Pac-12 Player of the Year.
At the time that she was selected by the Reign, Ship had this to say; "It was one of the best days of my life. I've been dreaming of being a professional my whole life. I'm over-the-moon happy."
General manager and head coach Laura Harvey had this to say about Ship after the draft: "Ari Ship is a creative midfielder who can score goals and has great movement off the ball. She was in the Pac-12 so we got to see her quite a lot, and I think she can impact the squad. Obviously attacking midfield is an area we want to improve so I'm super excited we could get her involved."
Now Harvey has a proven player to put in the midfield and knows that her experience will help the Reign in their effort to make the playoffs in 2017.
"Diana has proven over the four seasons in the NWSL that she is a top talent. She will bring experience, leadership and proven ability to our squad. We are really excited to bring Diana on board with our club and thankful she will be scoring goals for us and not against us!"
quotes courtesy of Seattle Reign FC press release