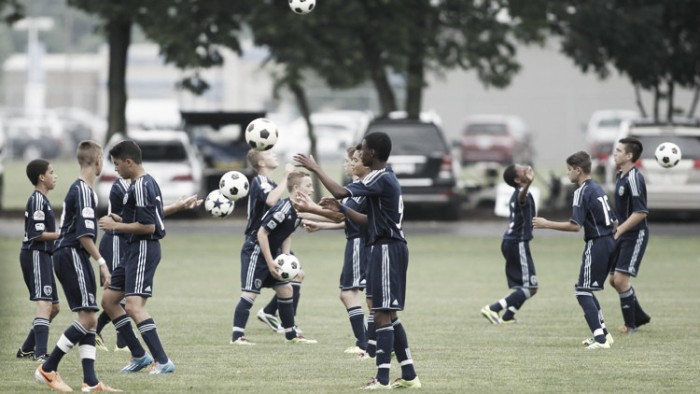 More than 6 years have passed since that incredible night of July 11th 2010, when every Spanish soccer fan sang with José Antonio Camacho the eternal "¡Iniesta de mi vida!" (Iniesta of my life). That was the precise moment when Spain achieved its first World Cup victory, an accomplishment desired by every player, National team Head Coach or fan. Making a broader interpretation of this event, I have to say that it really was the success of a game style; the high point of an era that started years before that memorable evening of 2010.
Luis Aragonés, alias "Zapatones de Hortaleza": A soccer savant, a veteran in soccer competitions, decided to give an extreme turnaround to the game style that up until that moment nobody dared to take on. In a classification match, the Spanish National Team faced the Danish National Team, Aragones decided to start the match with those whom he used to call "los bajitos" (the short men) in comparison to the rest of the players one is used to seeing. They were a group of soccer players with great technical and tactical quality, who were dedicated to the fact that their height wont hinder them from achieving greatness.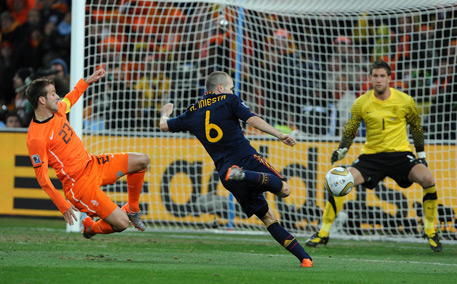 They created the simple idea of maintaining the ball possession, with a lot of ball movement, while creating spaces to take advantage of the rivals' defense. They created an effortless way to play the game which soon gave an identity to the Spanish soccer style, that after all these years, created a world renown game model. A style named affectionately by the famous sports journalist Andrés Montés as "tikitaka".
The entire country was building a game model
It was on that July 11th that the world began to focus on the Spanish system/style. But not everything ended there: every category in Spanish soccer tried to introduce this style, knowing that they were going to improve their soccer level, including the youth categories. This way, the entire country was building a game model for every player who dreamed of becoming a professional in order for them, when the time came, to achieve that dream.
This began the "Spanish soccer fever" attracting not only the Spaniards but countries from around the world. The world began to demand the Spanish methodology and, even more so, the world began to request Spanish soccer coaches. But a certain country showed more interest for this game model and that was the United States of America. United States, despite its broad experience in women's soccer, has never been able to compete among the top 10 countries in the world when it comes to men's soccer, therefore, they needed to generate momentum.
This implementation is occurring in two prominent areas: professional and educational, this one being the most important one. More than 'copying' the Spanish game model, what United States wanted to do was to have the knowledge of the Spanish coaches and with that provide an intense style of training to their youth divisions in order to build a solid base. Professional soccer in North American has begun to take more interest for improvement and has centered on the concept of offering a more elite formation/training which in return will impact its soccer quality.
Experience is an advantage
On the professional level, unlike the grassroots of soccer, there are just a few coaches that have succeeded in developing part of their career in North American soccer as a Head Coach. This is partly due to the fact that American philosophy promotes their national product, which is a significant aspect in this globalized world. For that reason, it is very important that this "national product" has a great educational base (something that will be discussed later).
A great number of Spanish coaches are found on professional or semi-professional teams as well as in college level (assistant coaches). In this country, unlike the rest of the world, each team has several assistant coaches forming part of the team's staff.
Bases for a future
The youth academies are the base for any soccer team whether they are a local, professional or national team. They are rough diamonds that need gentle care. These diamonds have to be polished and shaped so that one can see results in the future. This training methodology is the perfect system for a country to apply if they are in the reforming stages of their soccer's grassroots. It has been tested, approved and achieved greatness throughout history.
United States is the country that combines the social condition as well as the economics one, to grow successfully in a sport that each day has more and more fans.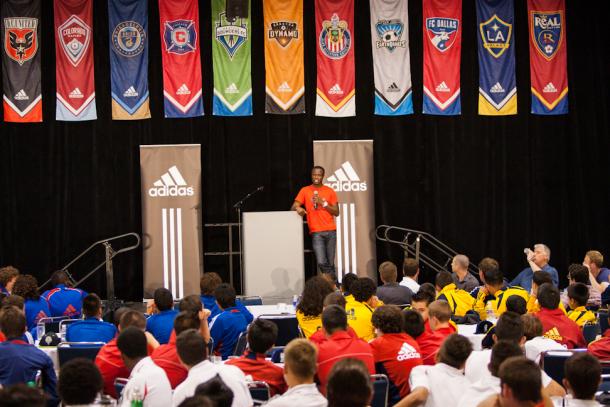 Up until now, soccer was considered a minority sport. Not many people practiced the sport, even more so it was considered a women's discipline. As years progressed, there has been an increase of children and youth practicing soccer in parks and fields around the country. Whatever the reasons might be, soccer in American soil has grown tremendously and is now competing in numbers with the Big Three (baseball, basketball, and football.)
For soccer to become one of the top sports in the U.S., every generation needs to have a better soccer education/formation. Each franchise of Major League Soccer (MLS) has recently been instructed to develop teams in different categories. By doing so, the youth generations from these academies can get a better insight and grow as players. Throughout the country this idea has trickled down to youth where children can receive a more advanced formation.
Experience overseas
The aforementioned academies have had much success. It is in those academies that the Spanish coach concept has been taken more seriously. The ideology of the Spanish soccer model is crucial when it comes to fundamental soccer, it is there that this so called system has had a positive impact and definitely helped the growth of soccer.
One of these many coaches that decided to be part of the soccer growth story in the United States is Guillermo Escalera. After being trained in teams like CD Galapagar, CD El Escorial and Atletico de Madrid, he arrived to the United States with Continental FC (one of the best academies in Philadelphia).
Coach Escalera expressed his first impressions and differences between the Spanish soccer model and the North American one. He also mentioned how he analyzes the progression/improvement of his players.
"Methodology is where you can find the biggest difference"
"Methodology is where you can find the biggest difference between both styles. In the United States they work a lot analytically and on a physical level constantly repeating the same exercises. Perhaps thats because of the influence of baseball, basketball, and football. In those sports, players work with repetitive and predictable movements. For us Spaniards the "rondos" or drill exercises of ball possession in small spaces have become paramount in our system. It also catches my attention that fundamentals of American soccer focus first on the dribble and the shooting, and if they have time, on the control of the ball and the pass".
About the possibilities of implementing his training style, Guillermo explained that "clubs support my ideas and the game model. As a matter of fact, teams' staff loves to learn from European coaches. If there is one problem, it certainly is dealing with the level of the team which is normally low. The perfect example is that at the very beginning the players are reticent to work with a "rondo", because they find it boring and tedious, but this happens because their lack of awareness."
Forming Trainers
In this country, the National product is the priority, and that is something the MLS rewards. It is well-known that society and sports overflow patriotism and we uphold that. But we aren't talking about implementing the Spanish way, this goes beyond that. We are saying that the way the Spaniards have focused on the education of their coaches is what essentially changed their outcome.
There are quite a few rules to make up the roster/squad, like a minimum of native players or credit terms in the salary limitation when the teams hire native players.
What if instead of exporting coaches, they could export knowledge? What if instead of importing coaches to the United States they could import wisdom and understanding how to create a training system that can improve a player technically and tactically at a world class level?
All the North American coaches have received a fundamental formation from different cultures, although the principal characteristic in their game model is the physical strength. Most of the North American Teams standout for their physical game before the game style itself. Principally this occurs because in almost every sport played in the United States, having a good physical condition is one of the most important skills.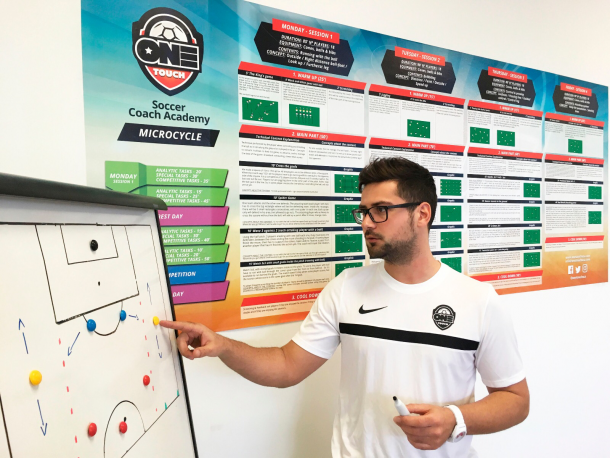 North American soccer must understand the importance of having prepared coaches. Coaches who are taught with a similar method and game model, having a broader comprehension of the "why," "how," and "when" of each training session. That is exactly what one entrepreneur has done, setting up the First Soccer Coach Academy in the United States basing his knowledge on the Spanish system but with the North American needs in mind. This academy is ONE TOUCH Soccer Coach Academy.
The idea behind this training center popped up because of the demand for soccer education based on Spanish style. One Touch S.C.A. has seen the potential of a country that lives every sport, a country where soccer is a growing sport. The success of this academy will be based on its pedagogy which is inspired on a game system that has proved itself worthy.
Their teaching is managed, as in Europe, by soccer coaches of fundamental soccer or youth categories. One Touch S.C.A. will educate coaches so they can have an indepth knowledge. This way, academies focus on their grassroots levels by giving coaches the knowledge of a professional or an elite coach. This is how the Academy will prepare coaches for teams in the United States: to create a fundamental model that will give them performance in the near future.
Odds say that we will see the Spanish game model succeeding in United States of America. It is very important that this influence is arriving to fundamental soccer; that little by little, step by step, things are beginning to change in North America and many people are determined to take the steps needed for soccer in the U.S. to have a solid base so in the future the USMNT can compete head to head with the best countries in the world.