 On February 2, 2017, by Michael Lewis, a BigAppleSoccer.com editor confirmed suspicions that 2017 will most likely be Christie Rampone's last year playing soccer at the competitive level. Rampone first told reporters of this news at the NWSL and A&E Networks announcement last Thursday.
The New Jersey native will be honored for her long career with the U.S. Women's National Team (USWNT) on Saturday, March 4th in Harrison, New Jersey. Few details are known about how Rampone will be honored at the game. It is unlikely that she will play that day in the team's match against England as part of the SheBelieves Cup.
All around athlete
Born in Florida, Rampone grew up in southern New Jersey near the beach. After high school, Rampone went on to play three sports at Monmouth University. The tri-sport athlete played soccer, basketball, and lacrosse while at Monmouth. During her senior year at Monmouth, Rampone gave up basketball to begin her long career traveling with the USWNT.
For Country
Rampone, age 42, has over 300 caps for the USWNT. As a defender, Rampone has played on the national level at four Olympics (2000, 2004, 2008, 2012) and five Women's World Cups (1999, 2003, 2007, 2011, 2015). Rampone has two World Cup championships and three Olympic gold medals. Rampone made her first appearance with the Senior National team in 1997 at age 22. Rampone started every World Cup match played in 2003, 2007, and 2011.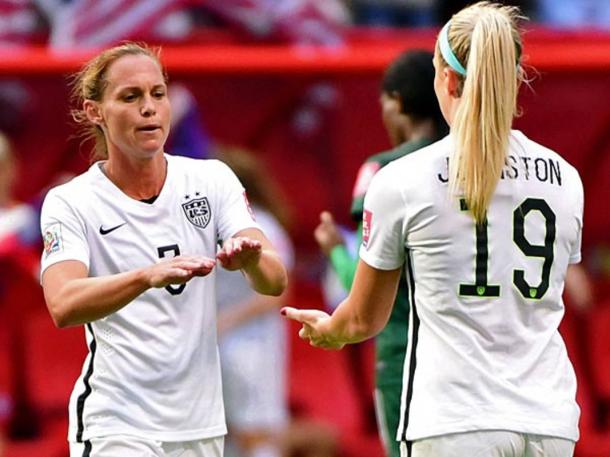 For Club
Rampone has played for the number of women's soccer leagues in the United States. First was the W-League (WUSA) run by the United Soccer Leagues. The WUSA played its first match in 2001, but the league folded in 2003. Then came the Women's Professional Soccer league (WPS) this too folded after seasons being played from 2009-2011. Finally, in 2013 the National Women's Soccer League (NWSL) came along and gave Rampone stability at the end of her career. ​Rampone has been playing SkyBlue FC of New Jersey since the NWSL has begun.